Mike Dilger – enthusiastic naturalist, freelance presenter and author of My Garden and Other Animals –  on the rewards and challenges of creating a wildlife sanctuary on his doorstep.
You always wanted to own your own nature reserve – do you remember what first stirred your interest in wildlife?
The trite answer I always give to this question is that as I was dropped as a small child! As no other members of my immediate family were interested in wildlife I think my passion for natural history may have been genetic. I have vivid memories of spending hours watching butterflies on a huge buddleia bush in our next-door neighbour's garden when I was around seven and also wanting to know what all the bird songs were. What really started me off was when I acquired my first pair of binoculars (10 x 50 Prinz from Dixons, for the record) at the age of eight, leading to me learning the calls of all the different birds, starting with the wood pigeon. That was over 30 years ago and I've never looked back since!
What were some of the pitfalls and high-points of creating your own garden wildlife sanctuary? Any surprising visitors?
One of the pitfalls of creating an attractive and inviting place for wildlife is that it is impossible to dictate (unlike an immigration officer), as to what comes in. For example, having built compost bins in the hope that grass snakes would take up residence, I was more than a touch dismayed when only rats seemed keen to take advantage of the warm, moist accommodation on offer. I was also keen to provide home for as many nesting birds as possible, but after three sleepless nights, the jackdaws building a nest in our chimney simply had to be evicted before we lost our sanity.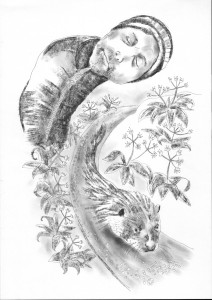 In terms of high points, there were simply too many to recount – you'll have to read the book to uncover them all! The meadow stood out as a stunning success, and in addition to turning up a wide variety of wild flowers, enabled me to add grassland butterflies, like ringlet and gatekeeper, to my garden tally. The simple of addition of a pond resulted in an incredible six species of damselfly and dragonfly laying their eggs into the water. With plenty of food also permanently on offer for the birds, a grand total of 61 species were recorded visiting the garden throughout the year. With foxes and badgers all regular visitors, the biggest surprise of all was the brief appearance of an otter in the brook at the bottom of the garden, which I was lucky enough to spot early one morning whilst listening to the dawn chorus! (see picture – right)
In many ways the best aspect of turning the garden over to nature was the fact that it was a joint effort with my partner Christina – with the project soon becoming our labour of love. When it finally came to producing the book, I provided the words whilst Christina produced the lovely art-work which can be seen studded throughout.
How is the garden doing now after the interesting weather we have been having this year?
Currently the garden is looking soggy to say the least and to be honest the flower borders are 'twixt cup and lip', but the feeders are still being emptied on a daily basis and on a warm day the pond is still a hive of activity. Come the winter I'm looking forward to getting stuck in again and have a list as long as my arm of jobs to undertake… Creating a wildlife garden is one of the best projects I have ever undertaken, and continues to reward us every day, but sometimes it can feel like we're painting the Forth Bridge – with wildlife gardening you can never stand back and say "finished!"
If anyone is inspired to undertake their own garden wildlife project, what would be your top tips to help them on their way?
Don't be daunted! You don't have to be the world's most practical person to construct a wildlife garden – I certainly wasn't, and yet am delighted with the results. Size is not important either. With our garden only marginally larger than the Centre Court at Wimbledon, we concentrated on quality (of habitat) rather than quantity.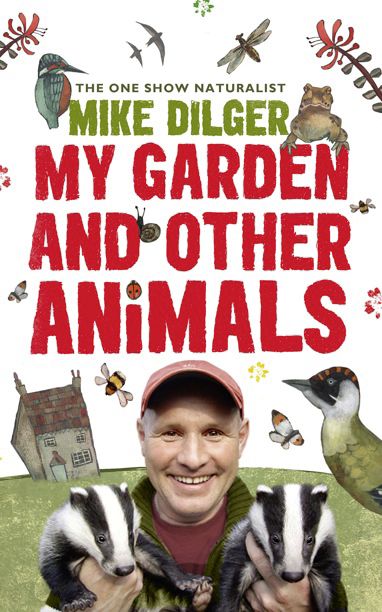 The single, easiest way to improve your garden for wildlife is to dig a pond. It doesn't have to be the size of a swimming pool (or even a bath-tub) but you'd be amazed at how it draws in the wildlife. By keeping it free of fish, we were able to provide a home for everything from pond skaters and pond snails to aquatic beetles and dragonflies. Plus the constant supply of freshwater also pulled in the birds too!
It's also sometimes not about what you do, but what you don't do. A quiet, unkempt corner, for example, can be worth its weight in gold in providing a refuge for some of the more introverted members of the garden wildlife brigade.
My Garden and Other Animals by Mike Dilger is available now in paperback from NHBS