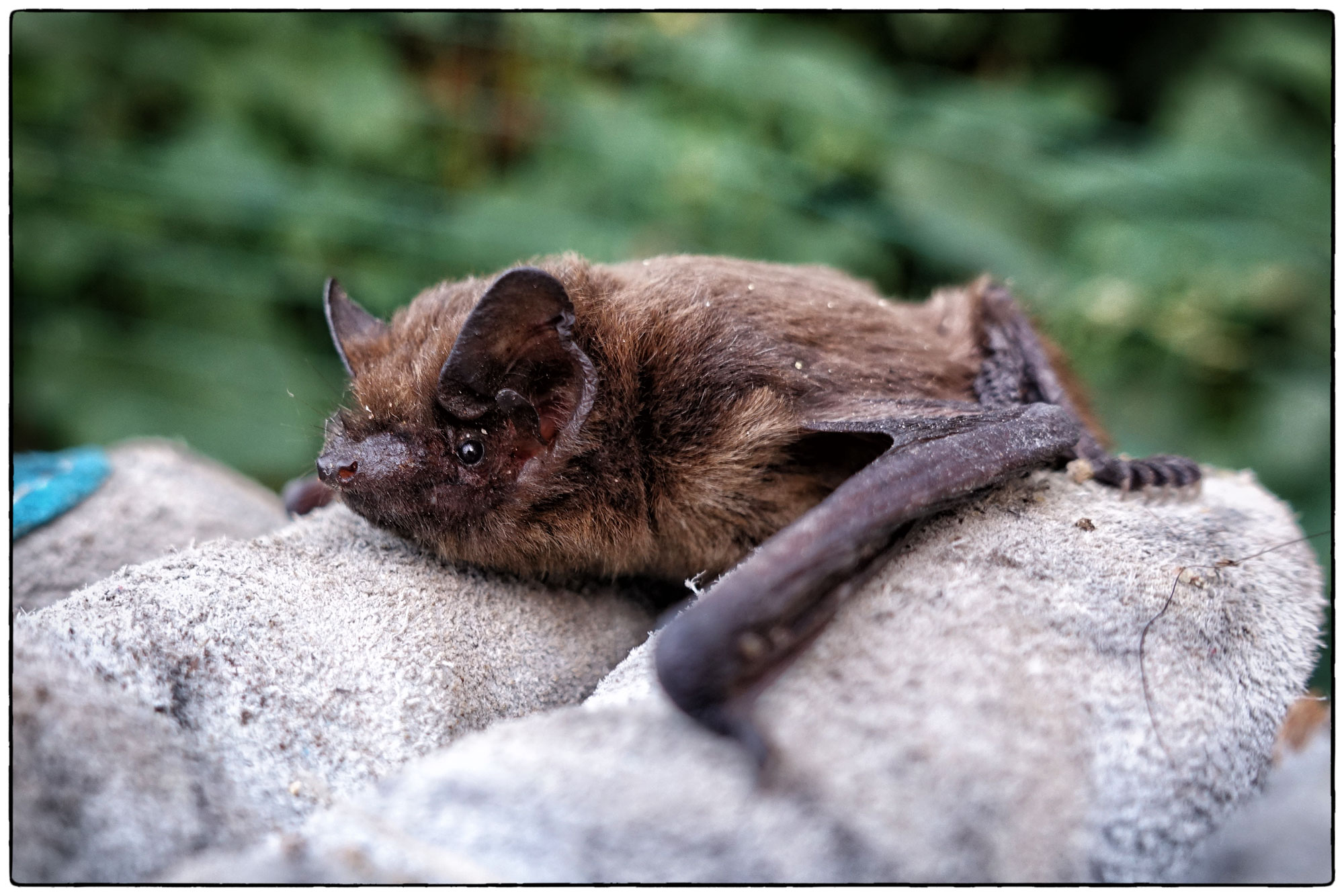 With Spring around the corner and the bat survey season fast approaching, it is a great time to make sure you have everything ready for the busy months ahead. Over the winter we have been busy reviewing our current products and cataloguing new ones. Here, we have picked out some exciting new products as well as some old favourites to take a look at.
The NHBS Harp Trap
Designed and built on-site at our workshop in Totnes, our three-bank Harp Trap features some innovative designs such as a winding line carrier and anti-tangling system that makes assembly and disassembly, easy and efficient. Made mostly from aluminium, the trap is surprisingly lightweight at just 15kg, whilst remaining sturdy and durable during use. The harp trap is 190cm long and has a catch area of about 4m². The catch bag is approximately 60cm deep and its entrance is about 39cm wide. When collapsed, the catch bag wraps around the disassembled frame and is held tightly with Velcro straps so that it can be neatly stored and carried in its bag. Initial feedback on its design and function has been very positive and we are excited to develop our design based upon suggestions from professional bat workers. Our standard trap will be a three bank, but if you would like a bespoke two or four bank trap, please contact us so that we can discuss your requirements.
BTHK Tree-Roost Net
Based on the design by Henry Andrews from the Bat Tree Habitat Key (BTHK) project, the BTHK Tree-Roost net is uniquely designed for trapping bats as they emerge from tree roost sites. The net is set up against a roost site prior to dusk so that it will catch any bats that emerge, keeping them safely in the bag ready for identification, measuring and ringing. The diamond shape of the net head can pivot and collapse inwards to ensure that the net fits flush against any tree, making it safer for bats and easier for surveyors. The net bag is made from fine woven nylon mesh that is soft and will not damage the delicate wings or feet of bats. The net bag can be easily removed for cleaning and features a clear plastic rim that fits around the collar and prevents bats from climbing up and out of the net when it is in place. The length of the handle is 4 meters (breaks down into 3 sections for ease of transport) and the depth of the bag is 1 metre. You may also be interested in the book Bat Roosts in Trees which is a guide to finding tree roosts.

Song Meter Mini Bat Detector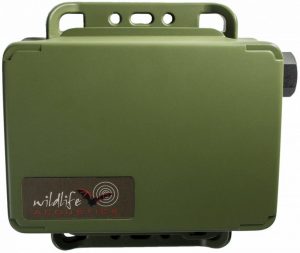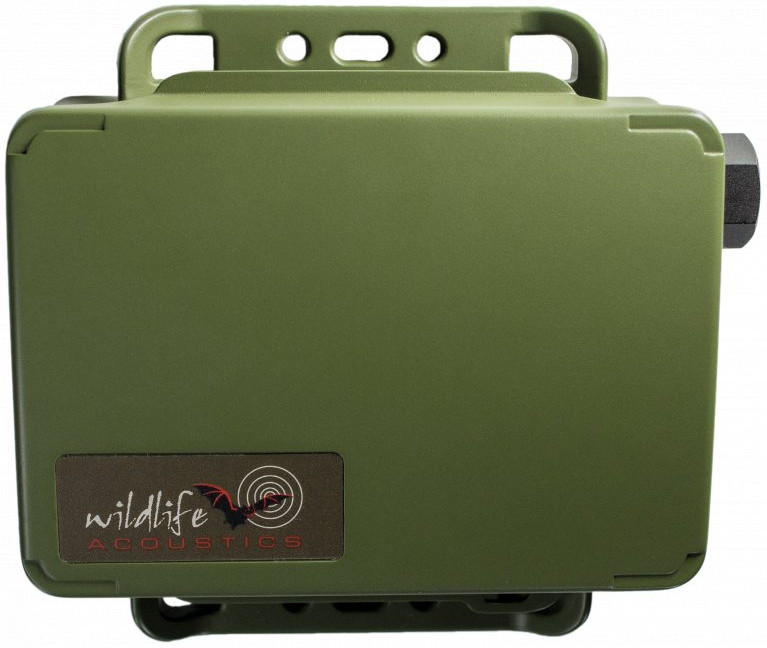 The Song Meter Mini is a more lightweight and affordable alternative to the SM4BAT (see below). This lightweight detector  – weighing only 290g including batteries – allows you to set up and schedule your recordings using your mobile device and a free, simple-to-use app. The detector performs full-spectrum and zero-crossing recording and can record for up to 30 nights using four AA batteries. An optional acoustic microphone allows you to record birds and other wildlife when not recording bats. For more details, see our dedicated blog post where we test this new detector in the field.
Titley Chorus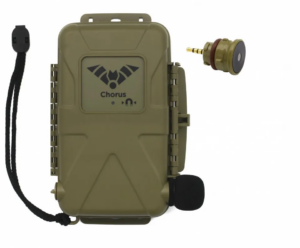 The latest static detector from Titley Scientific, capable of functioning as both an acoustic or ultrasonic recorder to suit all acoustic surveying needs. Lightweight (435g without batteries), compact and robust, this weather proof detector can be deployed for up to 40 nights in full spectrum ultrasonic or 300 hours acoustically. Set up and calibration is handled through the internal OLED screen and the internal GPS receiver automatically sets the clock, calculates sunset and sunrise times, and records the location of the device, making deployment incredibly straightforward. As standard, the Chorus comes with an acoustic microphone, and a second can be purchased for stereo recording, please see the chorus ultrasonic options for bat surveys.
Elekon Batlogger M2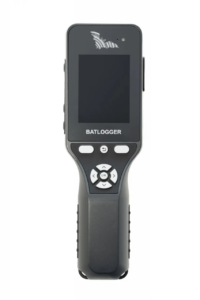 An ergonomic and sophisticated bat detector from Elekon, this is designed as a successor to the ever popular Batlogger M. Featuring an omnidirectional weatherproof microphone which allows for the recording of full spectrum ultrasonic bat calls, the M2 also features real-time heterodyne monitoring capability for the listening in the field.
Files are saved in WAV format onto the external micro SD card along with other useful data including temperature, humidity, light levels and GUANO metadata. An upgraded menu system with preset recording profiles for different survey applications, as well as the ability to build custom ones, makes the M2 a reliable and initiative option for bat work. For more details, see our dedicated blog post, where we tested this bat detector in the field.
Echo Meter Touch 2 Pro
The Echo Meter Touch 2 Pro lets you record, listen to, and identify bat calls in real-time on Android devices. All you need is your compatible Android device (see the nhbs.com website for compatible models), your Echo Meter Touch 2 Pro, and the Echo Meter Touch App which is free to download. When plugged in, the Echo Meter Touch 2 Pro enables you to listen to bats in real time, view live sonograms in full colour, record onto your device, and identify calls to species level in seconds. If your device has GPS functionality, the Echo Meter Touch 2 Pro will also log the recording location and path of the recording session. In addition to full spectrum recording, the Echo Meter Touch 2 Pro allows playback in real time expansion and heterodyne listening modes. Trigger sensitivity and sample rate are adjustable, and three gain settings allow users to optimise their detector to their target species and ambient conditions.
SM4BAT FS
The SM4BAT FS is a full spectrum detector for passive surveying use. Robust and weatherproof, it will record 16-bit full spectrum calls and can store up to 512GB of data. A versatile scheduling function allows you to set when you want to record and the battery can last up to 450 hours. The SM4BAT FS is easy to fit to a tree or post and is compatible with a variety of accessories such as GPS unit and microphone extension cables. The SMM-U2 ultrasonic microphone is available with the SM4BAT FS and is a highly sensitive microphone that produces high quality, low noise bat recordings over long distances. Easy to set up and producing detailed call recordings for analysis, the SM4BAT FS is ideal for unattended use in the field.
Anabat Swift
The Anabat Swift from Titley Scientific is based on the excellent design of the Anabat Express, but has the advantage of recording in full-spectrum, as well as zero crossing. Users can choose between sample rates of 320 or 500kHz and data is saved onto an SD card. Two SD card slots are available, allowing you to save more bat calls without changing cards. The Swift also has a built-in GPS receiver that automatically sets the clock, calculates sunset and sunrise times and records the location of the device. It will also record automatically from sunrise to sunset every night (based on GPS coordinates) as one of the automatic recording settings.
BatLure
The BatLure can be used as a lure to improve catch rates of bats for survey or research, to attract bats to new artificial roosts such as bat boxes or constructed hibernacula, with bat detectors at training events or prior to bat walks and for calibration of bat detectors. The Batlure can playback sounds with frequencies of up to 100kHz and is capable of playing both real time and time expanded recordings of bat vocalisations. It is very compact and robust and has a tripod attachment mount, making it easy to set-up in your desired location. It plays sounds from an SD card which is supplied complete with several pre-loaded recordings. Users can also add their own recordings onto the card.
Ecotone Ultra Thin Series M mist net for bats
The Ecotone Ultra Thin Series M is ideal for catching bats and is available in 2 mesh sizes. Both are made from nylon (0.8mm monofilament) and have 4 shelves. Available in lengths from 3m to 21m, you can pick the mesh size and length that best suits your survey and situation.
Explorer Premium Digital Endoscope Camera
The Explorer Premium Digital Endoscope is lightweight and easy to operate. It can record still images or video on to a microSD / microSDHC card (not included). The screen can be detached whilst the camera is in operation and viewed up to 10m away. The camera head has a diameter of 9mm and the cable is 91cm long, giving easy access to nest boxes, burrows, nests, crevices etc. Lighting levels can be adjusted to minimise disturbance to animals.
Accessories
Below are some accessories that may come in use when surveying bats:
Further Reading
Below are some books that may come in use when surveying bats:

Bat Roosts in Trees
British Bat Calls
Bat Surveys for Professional Ecologists
The Bat Worker's Manual
The Handbook of Acoustic Bat Detection
Bat Calls of Britain and Europe
Social Calls of the Bats of Britain and Ireland
A note on licensing
Please note that in the UK, all bats and their resting or breeding places are protected by law. Any bat survey work must be undertaken by a licensed bat ecologist and when purchasing certain products, we ask you to confirm your license or give an appropriate reference. For more information, please visit https://www.gov.uk/government/collections/bat-licences.