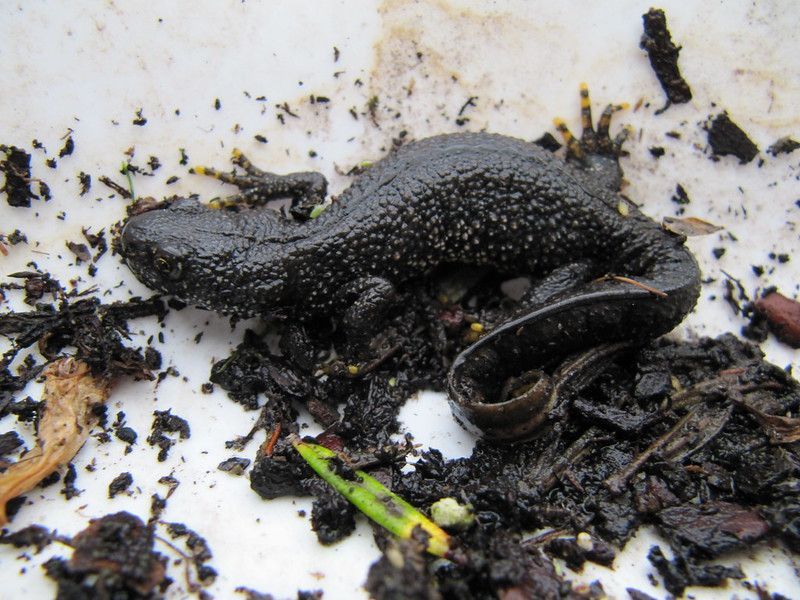 Great Crested Newts are the UK's most strictly protected amphibian, requiring licensed ecological surveys if a development may affect them. As the first signs of spring emerge, ecologists are preparing for the start of this year's newt survey season. Below, we have compiled a list of the most common newt survey methods and the equipment needed for each, so that you can ensure you have everything you need as the survey season approaches.
Netting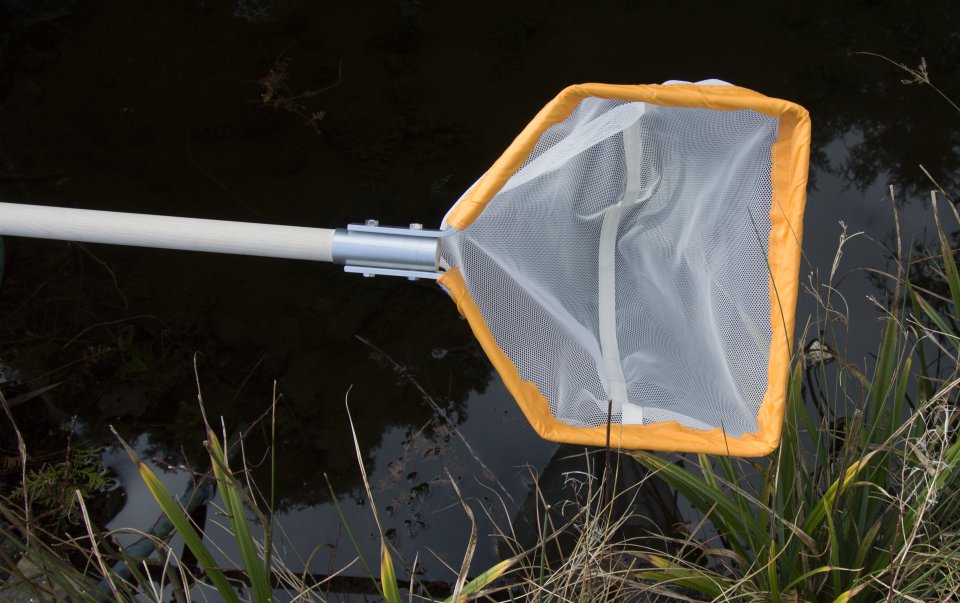 Netting for adult and larval newts can be a useful tool in both survey and relocation. Here at NHBS, we have designed an amphibian net specifically for the safe and efficient capture of newts. The net bag is attached by a wide velcro collar which prevents newts from becoming caught between the frame and the bag. The bag can also be removed from the frame to be disinfected between sites. The seams have been carefully placed so that they do not come into contact with the front edge of the net, and the material of the bag is a soft 2mm mesh. The net head is 300mm wide and comes with a sturdy, wooden 1.2m handle. We also sell a diamond-shaped amphibian net that comes in either standard depth or deep. Its shape is ideal for easy and safe capture for amphibians and is also available in a collapsible frame for easy transport between sites.
Dewsbury Trapping
The Dewsbury trap is an innovative design of newt refuge trap that is exclusive to NHBS. The clever design of this trap ensures that any trapped newts have access to both fresh air at the top of the trap and a thermally stable refuge at the bottom of the pond. They can be easily deployed from the edge of the pond meaning that not only is this trap safer for newts, but it is also safer and more convenient for surveyors too. In preliminary trials the Dewsbury trap was found to be more effective at catching newts than traditional bottle trapping methods and can be left unattended for up to 24 hours meaning night visits are not necessarily required.
Please note: we recommend that you contact your national licensing authority (Natural England, Natural Resources Wales, Scottish Natural Heritage, etc) before you purchase this trap. The Dewsbury Newt Trap is not included within either the Level 1 or Level 2 Natural England Class Survey Licence and a separate licence is required
Bottle Trapping
Bottle trapping is a popular method of surveying for both detecting and assessing populations. It can, however, become quite labour intensive, especially if you are looking to cut bottles into traps yourself. To save yourself some valuable time, we sell pre-cut bottle traps with the head inverted and ready to deploy. These can be bought in packs of 40 or 120 and are cut from 2L PET bottles with a 28mm neck diameter. Alternatively, we sell the whole bottles if you would rather cut the traps yourself.
Torching
Torching is a less invasive and effective method of counting/observing newts without the need for capturing them. Torches are recommended to be between 500,000 and one million candlepower and need to ideally last several hours at a time. The Cluson CB2 range is very popular among ecologists and provides 1 million candlepower with long lasting battery life and an easy-to-use pistol type grip. For a more lightweight and economical option, the Lifesystems Intensity 370 Torch is a powerful torch that offers up to 370 lumens and an adjustable beam that can last up to 60 hours on a low power setting.
eDNA Monitoring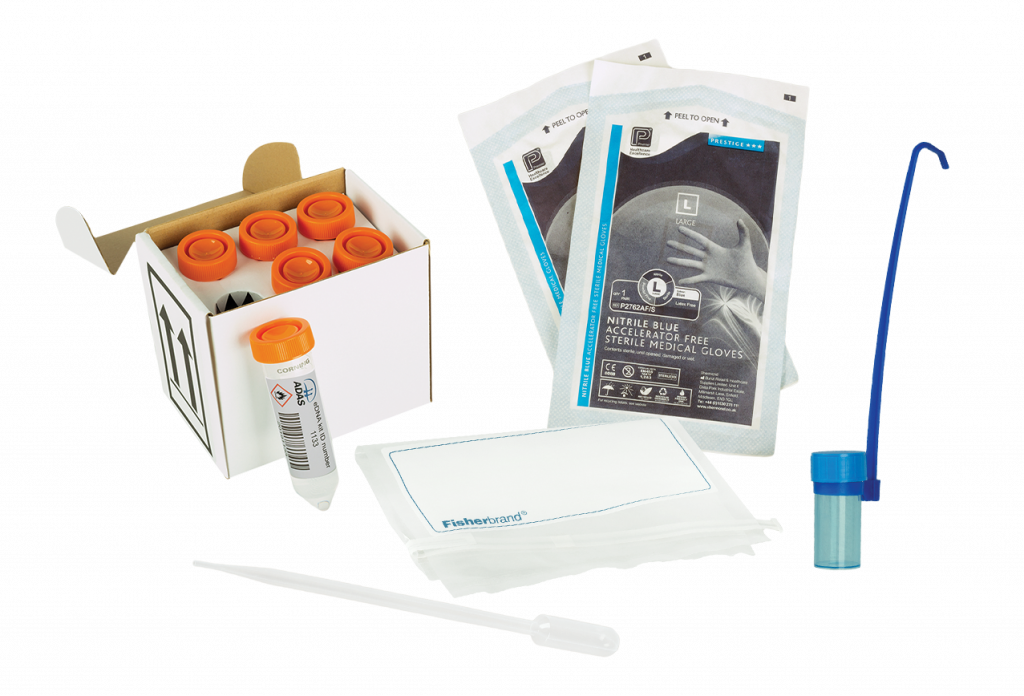 eDNA or environmental DNA is a powerful and increasingly popular tool for determining the presence of Great Crested Newts in a body of water. The technique is approved by Natural England and causes minimal disturbance to any newts or other wildlife in the area. All that is required to confirm the presence of newts is a water sample, meaning that surveying time is reduced and samples can be collected at any time of day. The survey window specified by Natural England for eDNA sample collection is 15th April to 30th June. NHBS have teamed up with specialist consultancy ADAS to supply Great Crested Newt eDNA kits for the 2022 survey season. There are a variety of analysis services from Non-priority (1 month turnaround) to Super-fast track (2 working days). Collected samples are then sent back to ADAS where the analysis is carried out.
Drift Fencing
Fencing can either be used to temporarily exclude or contain newts in mitigation projects. It can also be used to aid the capture of newts for relocation and is typically a short barrier with the base buried underground. Our Tristar Newt Fencing comes in rolls of 100m, is made of UV stabilised polythene sheeting and tinted green. It is designed to resist weather damage and has a life expectancy of 5 years, making it ideal for temporary mitigation projects during development works. It is easy and simple to put up and can be fixed into place with our soft wood stakes.
Pitfall Traps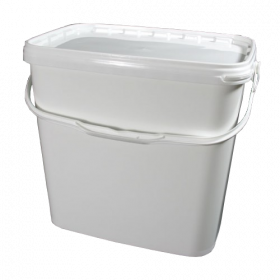 Often, pitfall traps are used alongside drift fencing in order to trap and translocate newts in relocation projects. They consist of a container that is buried underground often flush with the edge of drift fencing. Both rectangular buckets and round buckets have been shown to be effective and we supply several options depending on your preferences.
Recommended Accessories
A note on licensing
Please note that Great Crested Newts and its habitat are protected by law. Any Great Crested Newt survey work must be undertaken by a licensed ecologist. Different levels of license are required for different survey and mitigation methods. For more information, please visit https://www.gov.uk/government/collections/great-crested-newt-licences#great-crested-newt-survey-and-research-licences