Fast becoming one of our most popular trail cameras, the Recon Force Elite HP4 delivers outstanding quality video, super-fast responses and some great new features, all for excellent value.
The model joined the ever-growing suite of highly regarded trail cameras offered by Browning at the start of 2021. What sets the Recon Force HP4 apart is that, while introducing some useful new settings and providing generously rich image and video resolution, it doesn't stretch the budget too much, the way some of the higher-end trail cameras currently do.
With the HP4, Browning has successfully found a way to keep the cost of a top specification camera reasonable without compromising on any of the quality they are renowned for. After some time experimenting with this camera, we feel sure that it is set to become one of our most desirable models, fulfilling every need you would have for a trail camera.
As is the case for most of the high-spec Browning trail cameras, the HP4 includes a front-facing colour screen, but at a bumper 5cm in size, this screen really is ideal for reviewing footage while in the field, particularly if you are capturing smaller wildlife. It also can't be stressed enough just what a great aid this large screen is when setting the camera up, as it is so much easier to check that the camera's positioning, angle and height are all set as desired before deployment.
Despite increasing the screen size, Browning has still managed to reduce the overall size of the camera itself, which is handy when it comes to transportation, discreetness and ease of attachment to trees. The back of the camera features a sturdy metal bracket for threading a strap or cable lock through, as well as the usual tripod screw on the underside, giving you plenty of options for mounting the camera.
Some of the more notable features of the HP4 include its smart IR video, which continues capturing video as long as an animal continues to be active in view of the camera, with recordings lasting up to a maximum of 2 minutes in daylight and 20 seconds at night. Its SD card management function is another useful addition, providing the option to overwrite older images on the card if the memory gets full.
Using its top-quality specifications, the Recon Force HP4 reliably and beautifully documents the wildlife you wouldn't normally see and is both versatile and affordable enough that it should be suitable for most circumstances.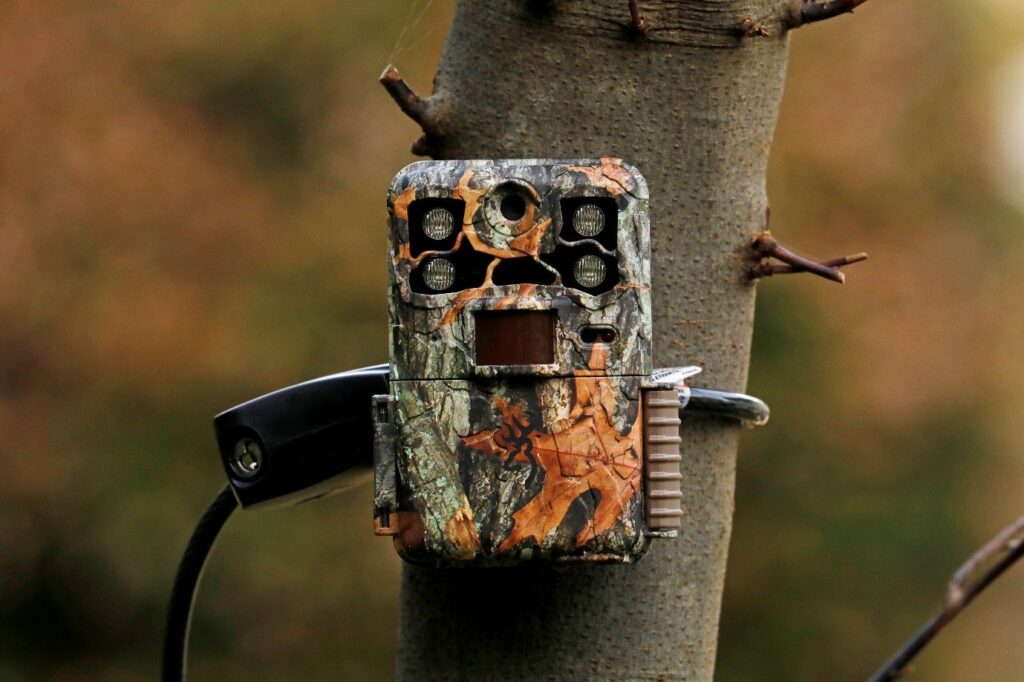 How we tested
For an insight into the camera's performance and its suitability for different circumstances, we used the camera in a variety of habitats where the behaviour of different wildlife could test the camera's range of functions. After setting the camera up with a full set of AA batteries and a 32GB SD, we first focused on smaller mammals by using the camera in a low canopy broadleaved woodland setting. We used a Python Mini Lock to secure the camera to a suitable tree and positioned the camera overlooking a small woodland clearing where a few peanuts were scattered. We left the camera out here for two days and nights under the following settings:
Mode: Trail Cam; Photo Quality: Ultra; Photo Delay: 1 Secs; Multi Shot Mode: Off; Image Data Strip: On; Motion Detection: Long Range; Trigger Speed: Fast; IR Flash Power: Long Range.
The camera was then moved to a more open garden setting, where we focused on video. We set the video length to 10 seconds, but also turned on the smart IR video function.
Motion tests were performed before leaving the camera running, which is a very convenient feature to ensure that the triggers are operating as expected before deployment. This simply works by checking that a red low glow is emitted when waving your hand in front of the camera.
We also tried out the programmable stop/start timer, which informs the camera to only trigger during specified timeframes. This is another very useful feature, especially if, for example, you are targeting only nocturnal or diurnal wildlife or baiting a site and wanting to avoid excess triggers from unintended species that may be attracted to a bait during the day/night.
What we found
Under these settings, the camera captured significant activity from brown rats at night and grey squirrels during the day. In terms of still images, which are captured at 22MP, we felt that the quality, colour contrast and detail recorded is fantastic and the black and white IR images were not too grainy.
It was interesting to see that with the 1-second photo delay, whole sequences of squirrels finding and then burying peanuts in front of the camera were nicely captured, just like a broken-down video, showing the camera wasn't missing any action in front of it.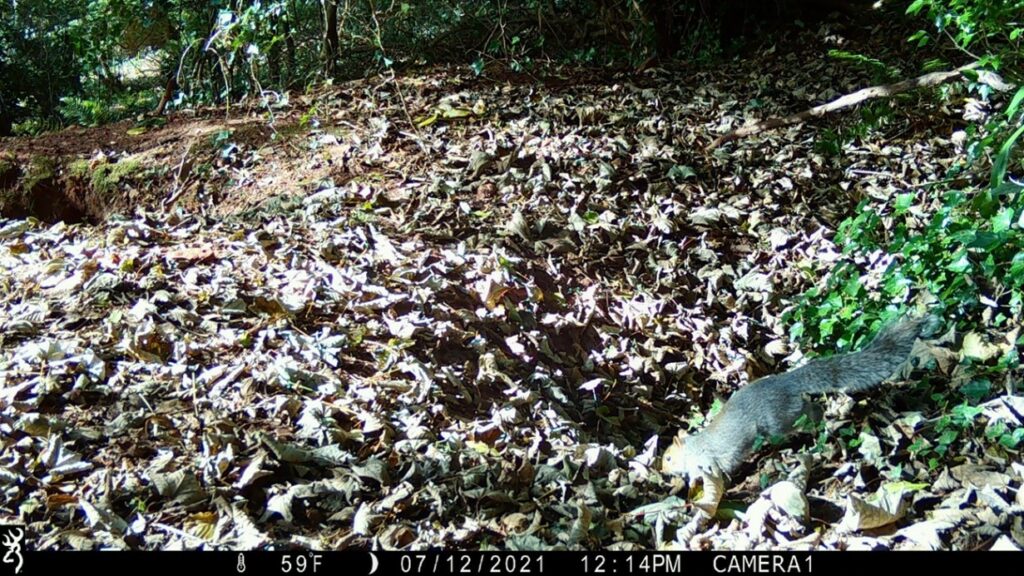 Even when a fast-moving squirrel was leaping in and out of frame, most of the images captured were sharp, showing the value of the impressive fastest trigger speed setting of 0.2 seconds (s). It is worth noting, however, that this fast trigger speed did result in many captures of animals just as they were entering the field of view, rather than more in the centre.
In response to this, we adjusted the trigger speed to the slower 0.7s to see how this affected the captures going forward. This resulted in some captures of rats further into the centre of the image. Also, when a slow-moving domestic cat approached the area, the first capture was made once the cat had made its way into a fairly central point of the frame, resulting in a more useful image. This demonstrates the value in having an adjustable trigger speed, which allows the user to customise the set-up to the particular circumstances or the habits of target wildlife.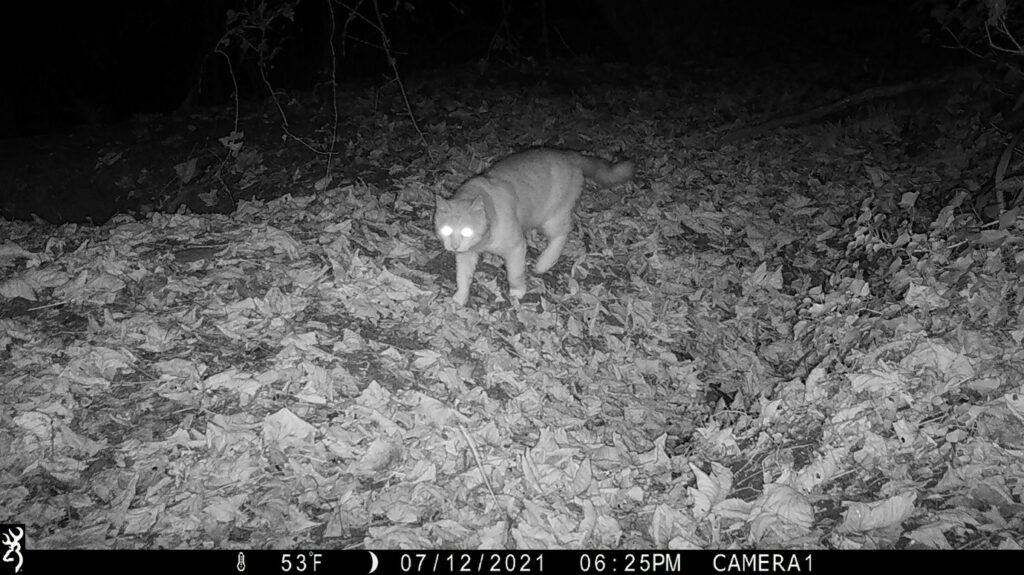 The Recon Force HP4 boasts a great infrared sensor with a detection range of 34 meters and utilises new long-range LEDs, so it was very encouraging to see the camera triggering when a rat was passed by at approximately 5 meters away, outside the main detection zone and partially obscured by leaf litter. Although we have not yet had a chance to put the full detection distance to test, we already feel from these captures that the detection and trigger speeds can be relied upon.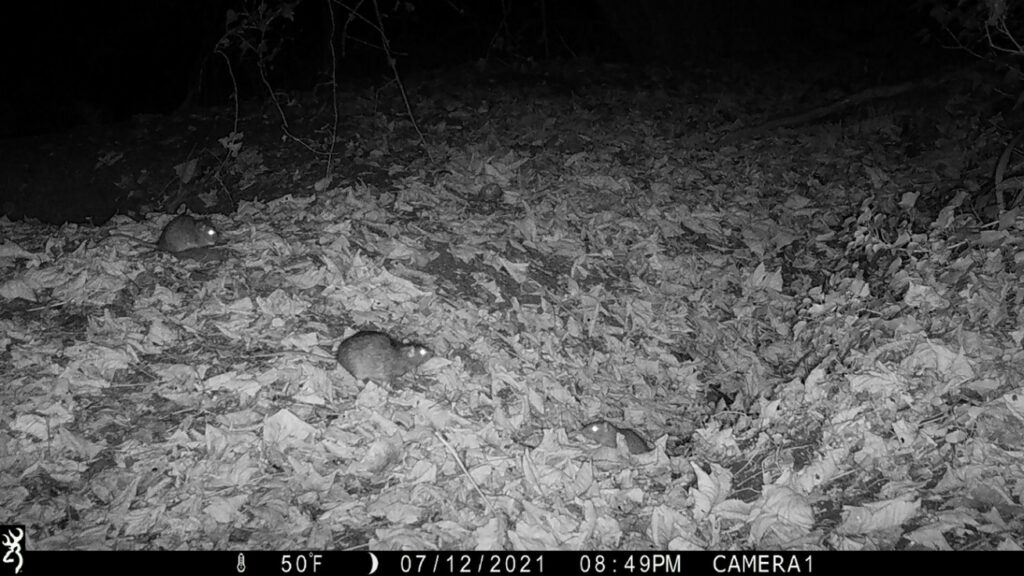 It is worth noting though that for small mammals and birds, they can often be a challenge to identify unless they are triggered very close to the camera and within the core detection zone.
When testing in the garden setting, we hoped to capture foxes but instead recorded several domestic cats alongside garden birds. Here we decided to also test the smart IR video which worked well and resulted in 20-second night videos of cats sniffing around while they remained in view.
This setting proved particularly helpful when the camera was later returned to the woodland and was triggered by a passing badger. The recording did not end until the badger had fully left the frame. Using this function therefore greatly reduces the risk of interesting behaviour being missed just because a video has been timed out by default.
After reviewing the video footage, we were first struck by just how sharp and smooth the quality was at 1920 x 1080 taken at 60 frames per second, revealing plenty of detail both during the day and at night. The level of detail produces attractive footage that could perhaps help with the identification of individual animals.
It was also a pleasing result that we found no false triggers under both the long and normal detection range and the fast and normal trigger speeds, even under some windy conditions.
Our opinion
We would have no hesitations in recommending the Recon Force HP4 for both serious naturalists, researchers and even a first-time user looking to capture reliable and quality footage in their garden or local area.
Certainly, one of the most practical features is the large 5cm colour screen which really does make a difference to set up, alongside the no-nonsense menu navigation and instruction manual. Even those that are not so technically minded should have little problem using and enjoying this camera. Large front-facing screens are by no means unique to this model, but most others are usually significantly higher priced.
The super fast picture trigger and recovery speed of 0.01s and 0.6s respectively and video trigger and recovery speed of 0.38s and 0.7s, shouldn't fail to capture anything, but the trigger speed is adjustable which is great for flexibility. Depending on the circumstances of your detection zone and what wildlife you are targeting, switching to the slower trigger speed could be more convenient, for instance for recording slow-moving large mammals, so this function covers you for all options.
One aspect to consider is that it lacks a hybrid mode that would enable both video and still images to be captured simultaneously, which can be useful in many circumstances. It is also worth being aware that the HP4 is a red 'low glow' camera, and the discreet red light emitted during night-time triggers did appear to draw occasional minor attention from some wildlife on occasions. But as is often reported, most wildlife is not spooked or adversely affected by this, so the most important reason to opt for a No Glow camera instead would be if using the camera in public areas.
The field of view is 40.2°, just slightly narrower than that of a similar model, the Browning Strike Force HD Pro X. Based on our findings however, it is hard to see that this minor difference will have any significant impact on your success rates.
We found that the images and videos captured during the depths of night were particularly impressive and significantly less grainy than many older models. The sharpness and colour contrast is very aesthetic and allows for details such as fur texture to be visible on even the smaller animals.
Other highlights we found included the relatively wide range on the adjustable trigger speed, and the smart IR video which made the most of the behaviour being captured.
To conclude the HP4 is an outstanding trail camera that builds on Browning's long-standing reputation for durable, easy-to-use and high-performance trail cameras. Even if you are considering a more entry-level trail camera, after seeing the quality of videos this camera produces it would be hard to resist not treating yourself to this camera as an upgrade, given its price.
---
The Browning Recon Force HP4 can be found here. Our full range of trail cameras can be found here.
If you have any questions about our range or would like some advice on the right product for you then please contact us via email at customer.services@nhbs.com or phone on 01803 865913.