The Easylog USB Temperature and Humidity Logger with LCD Screen (EL-USB-2-LCD) from Lascar electronics is a great addition to any field kit bag. This is one of the most popular models in the EasyLog range, offering a very high degree of accuracy for its recordings, measuring a range from -35°C to + 80°C, plus a humidity range from 0 to 100% RH.
What's in the box
The EL-USB-2-LCD is packaged inside a static shielding bag and comes with a translucent plastic cover to protect the USB stick. A quick start guide is included with clear step-by-step instructions on set up, replacing the battery and a mini-guide to the different LED flash alarms.

Setting up
The first step in preparing to use your EL-USB logger is to download the EasyLogUSB software from the website here.
The software is free to download and is compatible with 32 bit and 64-bit versions of Windows 7, 8 and 10. Please note that the software is not compatible with Apple or other devices not specified.
Once installed you will need to insert the logger into a USB port and click the Setup and Start USB data logger which will take you through a series of steps to calibrate and personalise your logger, ready for use. This will give you the opportunity to set the parameters of the logger to your requirements.
Some of the features of the logger that can be customised include:
Logger name
 °C / °F
Logging rate (10s, 1m, 5m, 30m, 1hr, 6hr, 12hr)
High and low alarms
Immediate, delayed, and push-to-start logging
Display off, on for 30 seconds after button press, or permanently on
Data rollover (allows unlimited logger by overwriting the oldest data when memory is full)
Once the setup is complete, you will receive a confirmation message and the logger should then be removed from the USB port, to preserve its battery life and cool down before use. It is now ready to go.
Use in the field
We tested the logger on the banks of the River Dart in south Devon in early August 2021. We set the logger to record every 10 seconds and monitored the site from mid-morning to early afternoon.
When using the logger, always keep the clear plastic cap on to protect it from the elements. When ready, start the recordings using the single button.
This button can be used to navigate between settings, although we found it rather stiff, requiring a firm push for activation. The LCD screen then displays the live temperature or humidity reading (you can switch between the two) and previous maximum and minimum readings for both too. The little LED for both will also flash to indicate when recording is in progress and will alert you to any temperature or humidity alarms, if reached, too.
In many circumstances, where the logger is being used to record temperature or humidity at a static field site, it can be attached to a tree, cane or post via a cable tie or tape, or placed in a secure location. Alternatively, it can be simply carried or clipped onto a belt/lanyard if needing to accompany a surveyor along a route.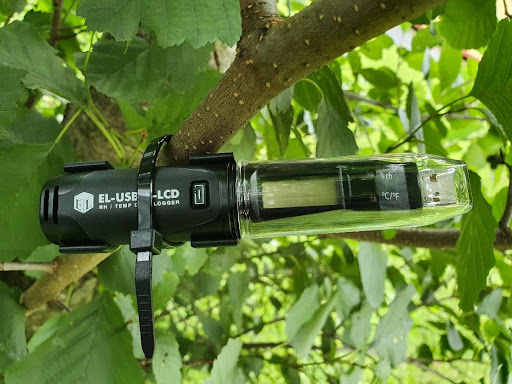 We found the accuracy of the readings superb and far more sensitive than those that might be produced by, for example, a phone. The device is small, lightweight, and easy to navigate, so is ideal for taking out into remote or inaccessible locations. It can be equally as helpful for constant monitoring, for instance when checking incubators, animal habitats and enclosures, or even a room or fridge. With an impressive battery life lasting up to two years and the capacity to store 16,000 temperature and humidity readings, it's a particularly versatile logger, suitable for many circumstances.
The EL-USB-2-LCD is also one of the EasyLog's most robust models with a sturdy casing that has been tested to IP67 standards. And so, when the protective cap is correctly fitted, it has excellent protection against water and dust.
Software
Once you have collected your readings, insert the logger back into a USB port and click the Stop USB Data Logger and Download Data. The data will then be transferred to your computer and can then be viewed. The display will first default to show your temperature, humidity, and dew point readings all in an axis graph.
Here is an example we produced from our readings: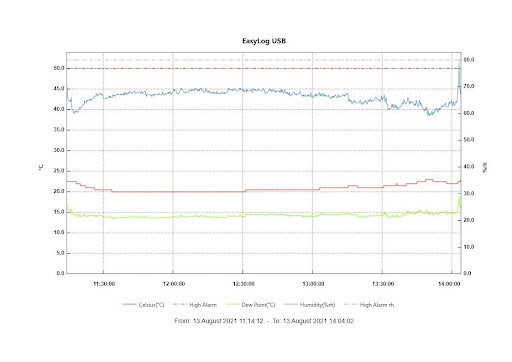 Below is a key to the graph information.
Vertical axis, including scale and unit
Horizontal axis, including time-related information
Data logger name
Low alarm trigger level, a horizontal dashed line
High alarm trigger level, a horizontal dashed line
Plotted data line
Marker line that follows the mouse pointer
Marker line data for the current marker line position, or the logging period if no marker line is shown
Within the top toolbar, there is the option to save, export, zoom in and out, and switch from a graph to a data view. Under the view tab, you can also sort and organise your data under very useful different parameters that include data range, gridlines, mark samples, statistics, and data view.
Each of these tools can help further filter or analyse your results. Then using the Export function, you can easily produce and extract professional reports saved as either CSV data files, JPEG images, a PDF document of the data, a graph summary, or an Excel spreadsheet.
We found that extracting specific information from the data was quick and straightforward with these functions. The toolbar is kept simple so that the display does not appear cluttered with too many options and functions. Overall, the software is very intuitive to navigate.
Summary
Although there is now a wide range of temperature and humidity loggers available to choose from, the outstanding accuracy of this model, alongside its customisable features and tough weather-proofing makes the EL-USB-2-LCD a standout choice.
The EasyLog range starts with the entry-level EasyLog Mini USB, which is limited to only recording temperature and at 30-minute intervals. At the top end of the range is the EasyLog Professional Data Logger which covers the greatest temperature ranges, offers the longest battery life (3 years), recording capacity (32,000) and the most flexible parameter settings, including the option to record every second.
We find the EL-USB-2-LCD to be the best 'all-rounder' within the range, covering both humidity and dew, as well as a wide range of temperature recordings, all at an affordable price. We also feel it has an advantage over the similar EasyLog USB Temperature and Humidity Logger. For a relatively small increase in price, we found the LCD screen a particularly useful addition when out in the field, as we could check the live temperature or humidity before starting a survey or prolonged recording session. This screen also reassures you that your logger is working correctly, which is valuable if taking the logger out to a remote location, for example.
Users can rest assured knowing that their readings will be highly accurate and that their data can be also quickly converted into effective reports through the excellent software.
Overall, we found the EL-USB-2-LCD superb and would recommend this model for its versatility, accuracy and fantastic settings that should cover most needs and circumstances.
---
The EL-USB-2-LCD can be found here. Our full range of EasyLog products can be found here.
If you have any questions about our range or would like some advice on the right product for you then please contact us via email at customer.services@nhbs.com or phone on 01803 865913.