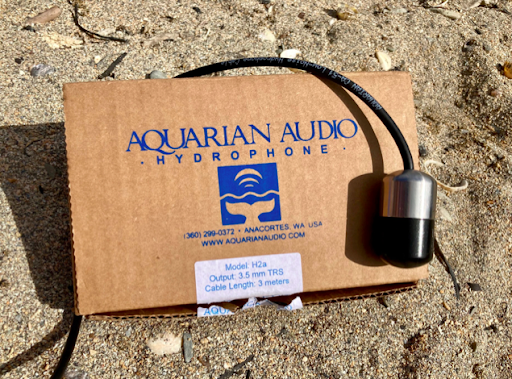 The H2a hydrophone from Aquarian Audio is a mid-range hydrophone, allowing high quality recordings for professionals, whilst remaining affordable for marine naturalists.
Like most hydrophones, the H2a is powered via a compatible recording device. Available with either a TRS 3.5mm jack (plug-in power required), or XLR connector (phantom power required) and a variety of cable lengths, you are sure to find an option suitable for your requirements.
How We Tested
We tested the H2a hydrophone across two days in varying weather conditions in early June 2021.
Our kit was made up of the 3.5mm jack H2a hydrophone, in conjunction with an old DR-05 Tascam recorder and a pair of earphones. The DR-05 is actually a discontinued model, however we do sell it's successor, the updated DR-05X. The H2a will work well with any recorder with a 3.5mm port that can provide plug-in power. Many recorders offer this ability, but if you are unsure please do check your manual.
Setting up the hydrophone system was very straightforward. Once plug-in power was switched on via the recorder's menu settings, we simply plugged in the H2a to the mic-in socket and were ready to begin.
Tests were performed in a number of environments including rockpools, off a small boat in deeper water and a controlled environment (container of water). Between these locations, we did find adjusting the gain accordingly was necessary, however this was straightforward, using the Tascam recorder's input level controls.
In shallower, more disturbed water we tried attaching the cable to a makeshift 'boom pole' aiming to gain greater control over the movement of the hydrophone while reducing handling noise.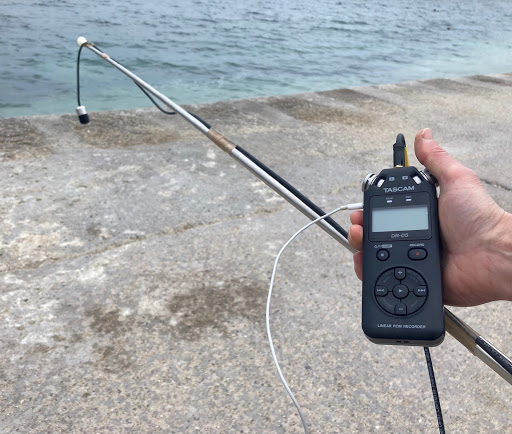 It is built to be durable, with a stainless steel core and rubber covering, but we still handled it with care and rinsed and dried it after each use. Aquarian themselves say the H2a can survive accidental drops, however we chose not to test this!
Recordings were made on the Tascam device, to a micro-SD card and then transferred to a computer. The open-source audio program Audacity was used to view the waveform, including adjusting levels, and also allowed us to plot the frequency spectrum.
What we found
Our initial impression was that the H2a was surprisingly lightweight and compact, measuring just 25mm x 46mm (without the cable) and weighing little over a hundred grams. This made for easy packing in a small rucksack.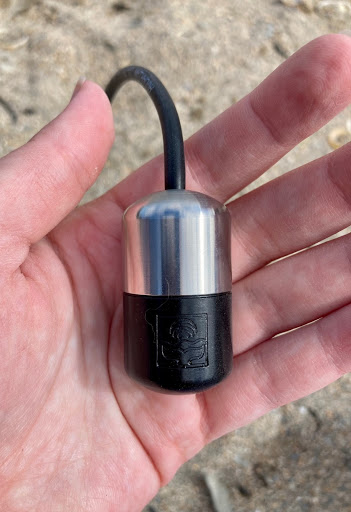 The hydrophone comes in neat cardboard packaging which is not particularly suitable for use on location. Despite the hardiness of the hydrophone itself, it would certainly provide peace of mind to purchase or use some form of carry case. We would not, however, recommend a waterproof case as it may trap moisture and salts that could eventually lead to corrosion.
The hydrophone is highly sensitive and so was vulnerable to signal overload if knocked accidentally or handled roughly. During recording, our main obstacle was noise from cable handling, which was noticeable during playback. This is to be expected with any hydrophone and certainly was not the worst I have experienced, but was still slightly frustrating. We quickly learned to ensure the cable was lowered 'hand over hand' into deep water to minimise noise.
Even with only a 3 metre cable, slight tangling did occur, which over time could lead to damage. For future uses with longer cables we would consider investing in or making a cable spool/reel. A spool would likely also reduce the experienced cable handling noise.
In shallower water, especially along the tide line, the makeshift pole attachment was very successful and made a significant difference to cable noise level. It also allowed us to position the hydrophone with precision and avoid damage that could have occured from the stronger waves dragging it towards nearby rocks.
When working from the boat in deeper water, we simply released the cable by hand as the current was slow. We found the shape and weighting (high specific gravity) to be a clever design that kept the hydrophone more-or-less vertical even in currents. Although it is worth noting that we only tested this ourselves in relatively slow moving water.
Below is a sequence of recordings taken in varying locations. The first exhibits the sound produced by the paddling of the small boat. The hydrophone performed very well while being dragged behind the boat, catching the bubbling as the paddles broke the surface.
Of particular interest to us in the field was the man-made noise pollution from the nearby (0.5 miles away) docks. Despite being rather un-noticeable by air, loud hammering was clear through the hydrophone.
The final recording in the audio above was taken at a rising tide, with gentle waves shifting the sand and sediment below the hydrophone.
While we had heard reports that some people have found sensitivity dropping off at higher frequencies with this unit and other hydrophones, our field tests produced recorded sounds up to 10kHz easily.
Our Opinion
Clear audio with limited unwanted noise was easily produced with the H2a hydrophone. It provides a fantastic way for ocean lovers and scientists alike to explore life underwater.
A few practical accessories such as a pole and spool would be worth considering as they can really improve audio quality while also making work in the field just that little bit simpler.
With further experimentation and potentially a bit of luck with interesting sound sources, I am confident that the H2a will continue to yield high quality recordings at a very fair price point.
---
The H2a hydrophone is available from the NHBS website on its own or as part of a kit including the Tascam DR-05X recorder.
Note: When deciding upon a model it is recommended to choose based first and foremost on compatibility with your recorder's connector type. XLR is however, often the preferred choice for professionals due in part to reduced electromagnetic interference.
Visit nhbs.com to view our full range of hydrophones. If you have any questions about our range or would like some advice on the right product for you, then please contact us via email at customer.services@nhbs.com or phone on 01803 865913.