Hi-Sound Stereo Parabolic Microphone
Parabolic microphone dishes are a great tool for wildlife recording. They offer directional recording by isolating and amplifying sounds within a narrow band (in front of the microphone) without the addition of excessive self-noise (the noise created by the microphone when sounds are artificially amplified). This means that even very quiet sounds can be heard clearly from a distance. These systems are particularly popular for pinpointing birdsong and producing clear and sharp recordings, although they can be used to record any wildlife.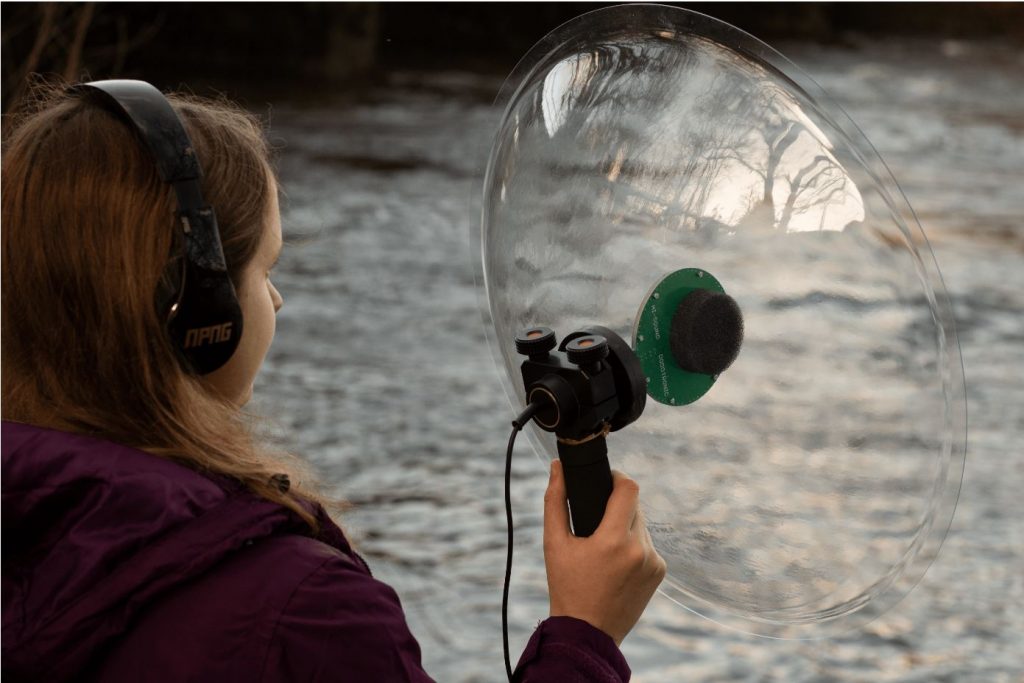 We tested the Hi-Sound Stereo Parabolic Microphone which features a set microphone sensors separated by a baffle to create stereo recordings. Stereo recordings are more immersive and realistic than mono recordings as they accurately reproduce sounds coming from different directions. Each microphone sensor has excellent performance and increases the gain (volume) of recordings whilst keeping the self-noise low, meaning your recordings will remain clean and crisp.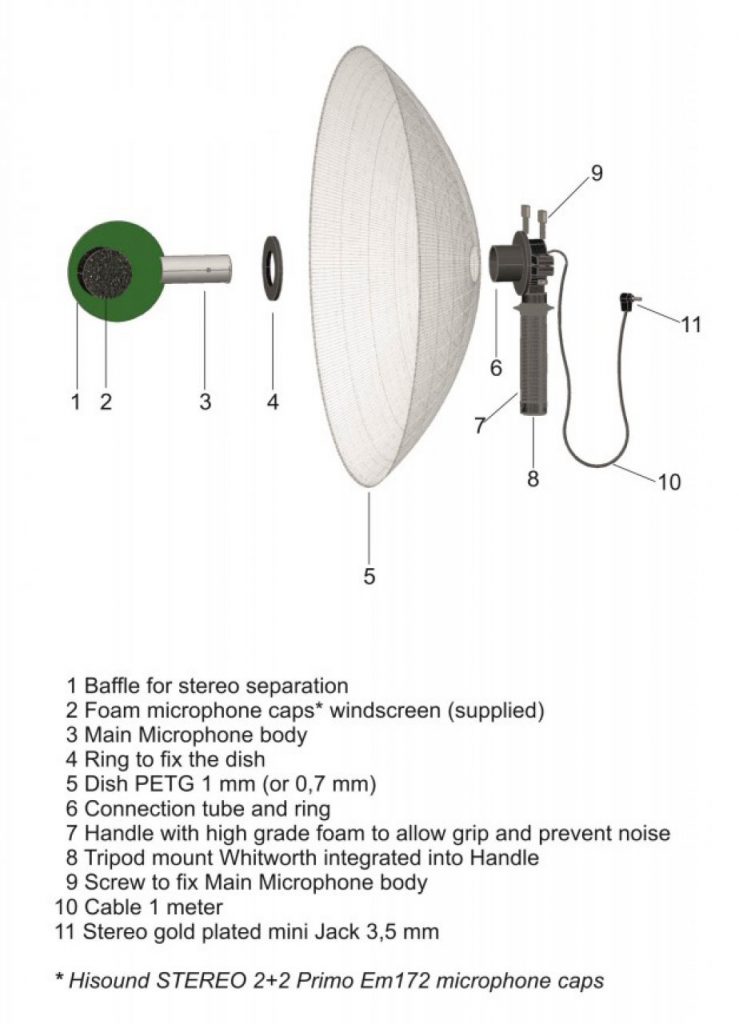 Setting Up
The Hi-Sound is easy to put together and is powered through plug-in-power (where the power is supplied through an attached recording device). We paired the Hi-Sound with the Tascam DR-05X portable handheld recorder and a pair of standard, good quality headphones. Our settings on the Tascam were:
Mic Power: On (very important! If your recording device does not detect the microphone, double-check this setting is on)
Low Cut: 80Hz (this removes some of the inherent noise at the lower frequencies)
Pre Rec: Off (you may want this on if you are recording wildlife that you might miss. When on, the Tascam will record the previous two seconds before 'record' was pressed)
Auto Tone: Off
We chose a still, dry day to test this microphone. For optimal recording, it is useful to go somewhere away from roads or background noise. For example, we took the Hi-Sound into a bird hide and although it picked up a wader call beautifully, it also picked up the floorboard creaks, coat ruffles and binocular case velcro from everybody else in the hide. You'll be amazed at how much background sound there is in what you thought was a quiet setting!
We tested the Hi-Sound along a riverside walk to record the sounds of the water and how different noises could be pinpointed by aiming the parabolic dish. We also went to some quieter locations to record birdsong and compared recordings between using the Hi-Sound and just using the inbuilt Tascam microphone showing the benefits of this parabolic dish.
What we found

The Hi-Sound produced much cleaner, crisper sound and made recording specific bird calls a lot easier. Aiming the parabolic dish correctly took a bit of practice but once mastered, it was incredibly useful for pinpointing a bird, even if we weren't able to see it. The clear plastic dish helped with this as without it, most of our view would have been obstructed. The stereo aspect of the recordings also made it a lot easier to track birds if they moved. 
It was fascinating to aim the Hi-sound at different points along a river in order to pinpoint different sounds. This demonstrated how good the dish was at isolating sounds from the narrow band in front of the microphone.
Our Opinion
The Hi-Sound is a fantastic piece of kit for wildlife recording. Although the cost of a parabolic microphone can be a significant leap from a standard handheld recorder, their performance and ability to isolate calls and sounds make the investment well worth it.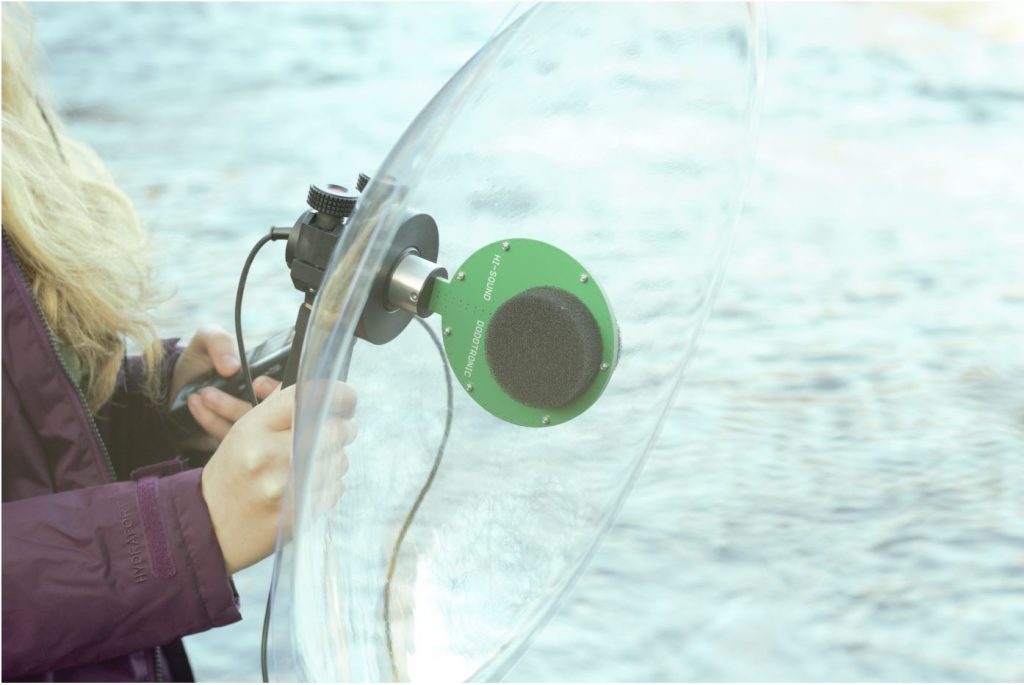 The Hi-Sound was particularly good at amplifying very quiet calls or calls from a long distance away without adding noise or compromising on recording quality. This is something that the Tascam just wasn't able to do by itself. The microphone is easy to use, although perhaps not as easy to transport due to its size and shape. 
We feel that the Hi-Sound will impress both the wildlife recording beginner and the entry-level professional.  The Hi-Sound completely transforms a walk through nature, providing a whole new element to bird watching. If you have never thought about wildlife recording before, I would urge you strongly to do so. It is a rewarding and captivating hobby that is definitely enhanced with the use of a parabolic microphone such as the Hi-Sound. If you are a professional who regularly records, then the Hi-Sound would be valuable to refine your recordings and produce excellent quality audio.
---
The Hi-Sound Stereo Parabolic Microphone is available through the NHBS website.
To view our full range of sound recorders and microphones, visit www.nhbs.com. If you have any questions on wildlife recording or would like some advice on the microphone for you then please contact us via email at customer.services@nhbs.com or phone on 01803 865913