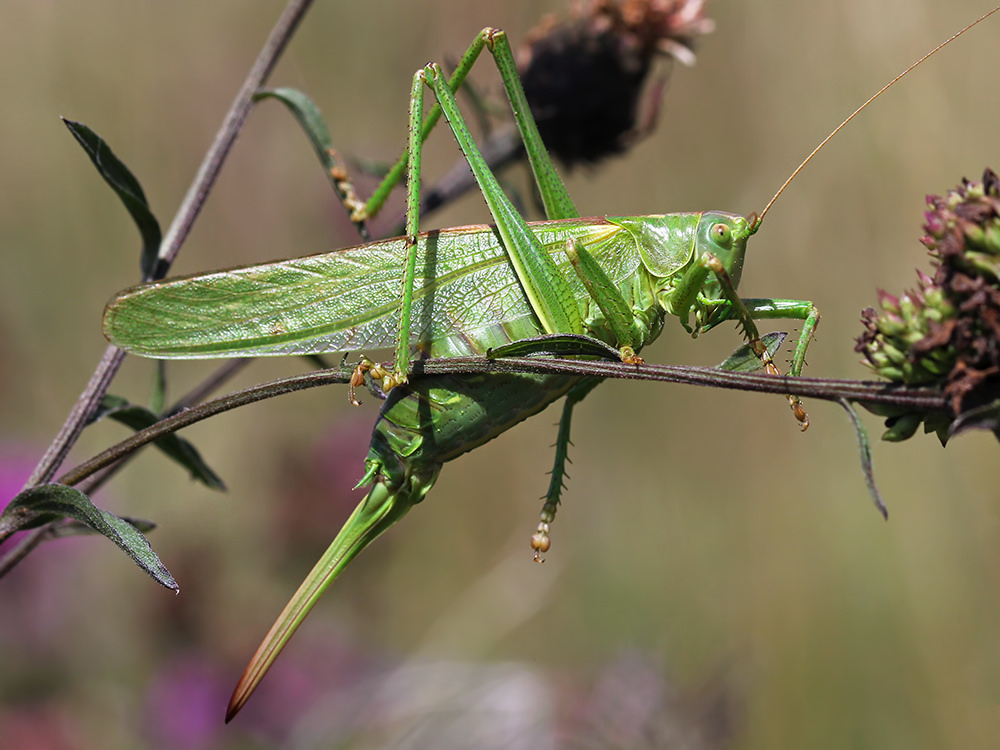 The order Orthoptera consists of the grasshoppers and crickets. Although most suited to warmer climates where they are incredibly diverse, in Britain we have 27 native species, as well as a number of non-native, naturalised species. From a very young age we are aware of these beautiful creatures as the sounds they produce fill our countryside with noise.
The characteristic Orthoptera song or "stridulation" is produced either by rubbing the wings together (observed in most of the grasshoppers) or by rubbing a hind leg against a wing (a method used by most crickets). The sound produced is an important part of the courtship ritual and is also used for other types of communication. As the sound created by different species varies significantly, studying these calls is an excellent way of surveying Orthoptera, and is helpful for finding individuals which can then be identified visually.
Stridulation produces a sound which covers a variety of frequencies – the sound made by grasshoppers is usually audible, but many species of cricket produce a higher ultrasonic frequency which cannot be heard by most humans. The use of a bat detector to listen to these higher frequency songs is an excellent way to listen to those species that we would not ordinarily be able to hear, such as the Speckled Bush Cricket. It also allows us to increase the range at which we can hear the audible ones. Bat detectors are also of use to older surveyors, whose ability to hear higher frequencies has naturally declined.
A simple heterodyne detector is perfect for listening to grasshoppers and crickets – one such as the Magenta Bat 4 or the Batbox IIID is ideal as it allows you to tune it to a specific frequency (as opposed to some of the more "intelligent" detectors which will alter it for you). The detector should be set to a frequency of 35-40kHz then all you need to do is sweep it around in different directions until you pick up your subject. It is best to stand in one place while surveying as the noise produced by your footsteps and clothes moving will produce background ultrasound noise which can confuse what you are hearing. The best days for surveying are warm and sunny; crickets are generally crepuscular (active during twilight) whilst grasshoppers are usually active throughout the day.
Unlike bat detecting, where the peak frequency is a key diagnostic feature for determining species, this information is less important for Opthoptera. Of more importance is the pattern and type of sound produced. The Environmental Records Centre of Cornwall and Scilly has a great guide to identifying Orthoptera including a useful information sheet on the use of bat detectors. They also have a collection of sound files of grasshoppers and crickets that you can use to recognise the typical calls produced by many of the species found in Britain.
Why not take along a leaflet or book to aid your identification: The FSC guide to British Grasshoppers and Allied Insects is a handy fold out guide with a useful key. For those looking for a more in depth guide, try the Photographic Guide to the Grasshoppers and Crickets of Britain and Ireland or the Pocket Guide to the Grasshoppers, Crickets and Allied Insects of Britain and Ireland.
Want to know more? Visit the website of the Grasshoppers and Related Insects Recording Scheme of Britain and Ireland where you will find lots of information and can submit your survey results. Or why not download the iRecord Grasshoppers app which is available for iPhone and Android devices.