The beautiful and historic Sharpham Estate runs alongside the River Dart just outside Totnes in South Devon. Beginning this year, a three-year project called Wild for People, run by the Sharpham Trust under a National Lottery Heritage Fund project, will begin to enhance the biodiversity of this 550-acre area, aided by a passionate team of conservation trainees. Working with Ambios Ltd, who are based on the Estate, this project aims to turn more of the Sharpham Estate organic, re-wild significant parts of the landscape and encourage more people to interact with the nature there.
Jack Skuse, director of Ambios, recently took the time to chat with us about the Sharpham Wild for People project. In this inspiring conversation we talk about the practicalities of rewilding working alongside food production, how the Covid pandemic has affected the first year of the project, and his tips for people wanting to get into a career in conservation.
---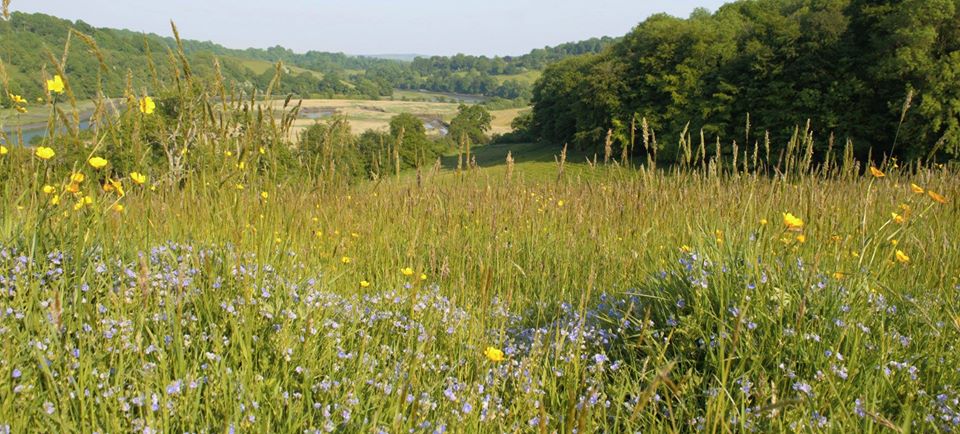 Can you tell us a little bit about the history of the Sharpham Estate and how the land is currently used?
Sharpham is an ancient landscape. People are known to have lived here from at least 1260. The landscape as we currently see it was designed this way during a period when the estate was owned by Philamon Pownell. He was a sea captain who captured a Spanish galleon laden with treasure from South America. With his wealth he set about transforming Sharpham, building the Palladian villa (designed by famous architect Robert Taylor) and creating the Sharpham Parkland – sweeping away hedgerows to open up vistas from the main carriage drives across the estate and into Totnes, and planting trees to accentuate and frame the views. Since his death the estate has had different owners, however, the parkland has remained largely intact, with the vineyard being the main alteration to this landscape in more recent times. Today Ambios rent and manage part of the estate (80 acres) and have recently signed the lease for a further 50 acres for rewilding and nature conservation training, and in partnership with United Response provide a care day service for adults with learning difficulties and disabilities.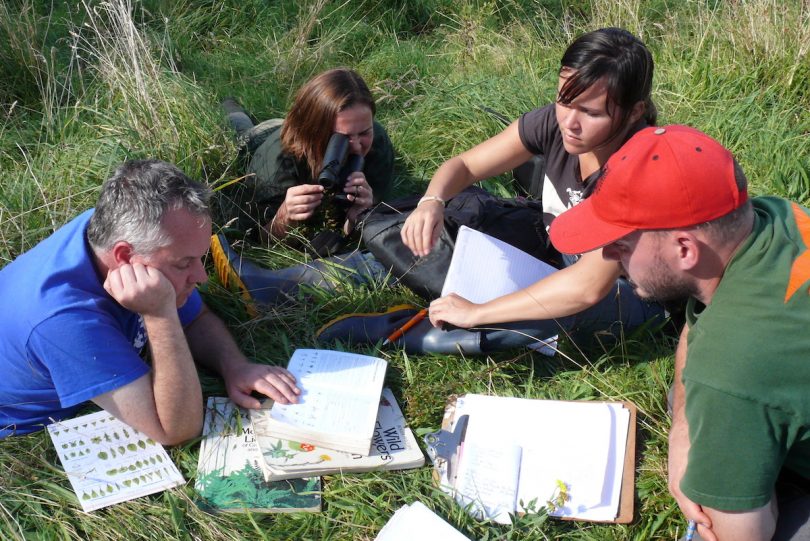 What are your current trainees busy with at the moment?
Ambios offer three-month traineeships for people looking for a career in nature conservation, alongside other nature training opportunities in the UK and EU. Our current crop of trainees have been here since early July, having been through an early Covid-19 quarantine period. The first part of the traineeship is about building confidence in nature, often supporting the academic education many would have had at university with practical skills and applied knowledge – the skills the sector demands. This includes species ID (birds, plants, bats, etc), technical language training, practical skills including basic carpentry and land-based work, as well as engaging with the public through online platforms. Now that they have developed some of these skills, the central part of the placement is about taking ownership of a project that relates to rewilding. As this is our first year rewilding, there are many baseline surveys the trainees are carrying out with our team of trainers supporting their work. Surveys include grasslands, crickets and grasshoppers, river birds, butterflies. One of our trainees has also taken on the task of producing content for our website around rewilding and linking with other projects/information so that people looking at our site can network into the world of rewilding – a learning resource. This is in collaboration with Rewilding Britain.
How has the Covid pandemic affected the project this year?
It is impossible to imagine a year like this one and, as with all businesses, we have been significantly affected. The day service in partnership with United Response closed, and only now we are beginning to reopen. This meant much of the day-to-day work of the farm had to be reappointed to our long term volunteer team – right in the middle of our lambing and calving period! Many of our trainees come from the EU, and our traineeships saw reduced numbers. Our risk assessment put in place some strict measures to ensure everyone was safe and followed protocol. Some of our staff were furloughed meaning our work had to simplify and streamline, and some of our training content moved online (our Effective Camera Trapping Course for instance). Meanwhile, we have been working to enter into a comprehensive agri-environment scheme for our new land to rewild (50 acres) to subsidise our farming practice and allow us to prioritise wildlife. Given the land is listed historic parkland this is not without its complexity – see below!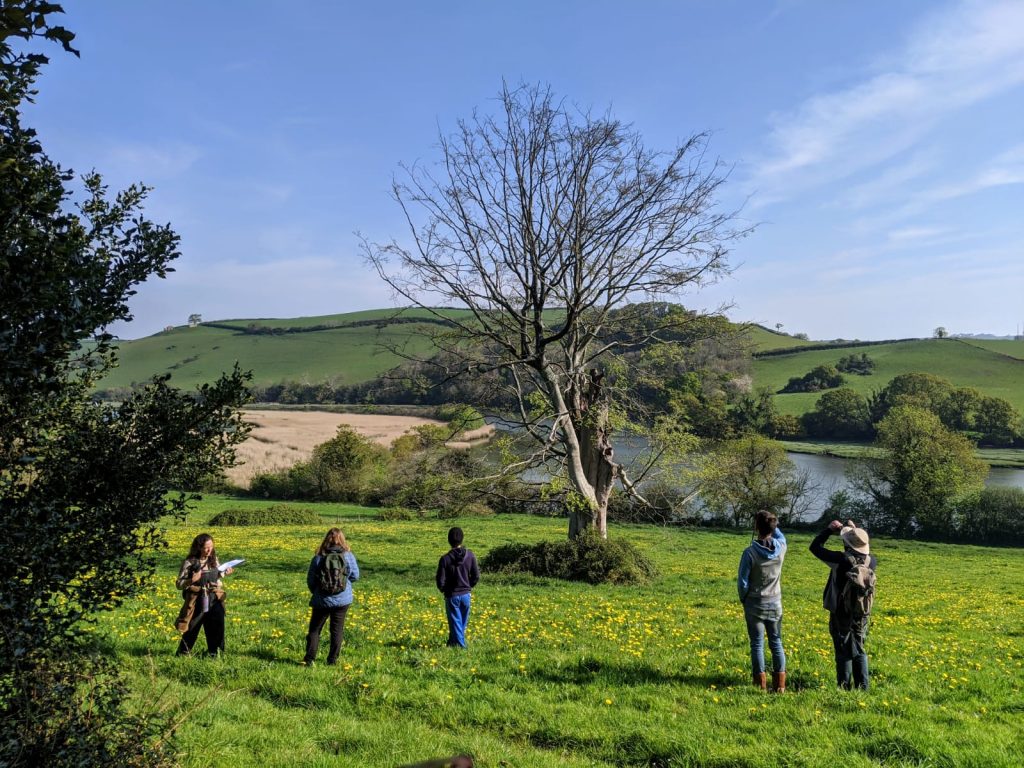 One of the aims of the Wild for People project is to help more people engage with nature on the estate. Is the area open to the public and/or do you host events that local people can get involved with?
In partnership with Sharpham Trust we have been awarded £177,000 from the National Lottery Heritage Fund to run a comprehensive public programme of education and events alongside our rewilding. This naturally has had a slower start than originally planned due to the pandemic but the funding has allowed us to offer fully subsidised placements on our traineeship. Alongside this we will start up a new volunteer day later this year to allow hands on engagement with rewilding. The process over the next three years – the duration of the Lottery project and the first three years (of five) of our tenancy and agri-environment countryside stewardship programme – will be to reinstate the historic parkland at Sharpham, which is in a degraded state, and convert the land to organic status. This will involve planting 140 trees in their original location from over 200 years ago, repairing the bridge over the Sharpham Marsh and allowing permissive access to the historic viewpoint with the installation of kissing gates. It will also allow us to fence the perimeter of the holding to allow stock to freely roam across the full 50 acres, choosing where to forage, dung and rest uninterrupted, passing between the two parcels of land either side of the public access farm track with the aid of gates. This work programme will sit with our public invitation volunteer days, our nature conservation traineeship and the work programme for the people United Response support. Sharpham Trust will also run a series of public events and school visits, culminating in an annual Bioblitz where we can study the impact of our rewilding over an intensive 24-hour wildlife survey period.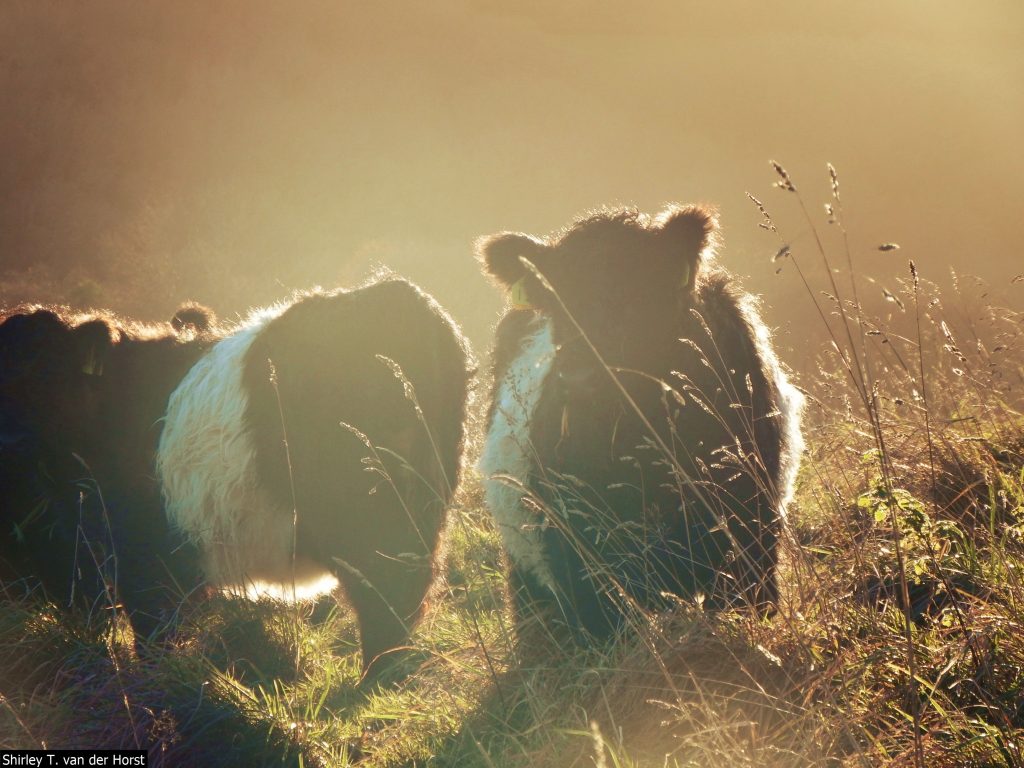 In terms of rewilding, do you feel it is important to strike a balance between the land being 'productive/useful' and leaving it to nature?
In terms of the balance of farming and wildlife, my feeling is that we need to view the role of the countryside through a very different lens to the one we have been viewing it through. The countryside provides many different things to us; from the food we eat and the employment we gain to our recreation and wellbeing, to other 'ecosystem services' including flood defence, carbon capture and of course for wildlife. We have become very efficient at food production, but this has been to the detriment of wildlife, where we have seen the catastrophic decline in species number and diversity since the industrial revolution. In order to halt this decline we need a fundamentally different set of priorities and management approaches for the countryside, that encourage and importantly fund wildlife friendly initiatives. Rewilding is, I believe, the best, most sustainable, most captivating and acceptable approach to wholescale land management for wildlife.
Productive agricultural land should, in my view, have food production as its main objective. However, I believe that marginal land, under a skewed farm subsidy model that pays for land to be farmed regardless of its productivity, should have a different value placed upon it, and should be (un)managed accordingly. A great example is our land at Sharpham. Many of the uplands, steep sided valleys and unproductive farmland could see a regeneration in wildlife that should be supported by a different farm subsidy model and diversified economies that would provide employment, bring people back to the countryside and connect people in a deeper way with nature. And whereby the cumulative benefit would be seen not just in increased wildlife, but in our collective effort to become carbon neutral with thriving ecosystems and connected communities. Our small project is part of this and with a public engagement agenda we hope to share these values with as wide an audience as we can so people can see the true, intrinsic value of nature and the role the countryside has on all our lives.
What is the greatest challenge of the project?
There are many challenges to our project, aside from the obvious and immediate Covid-19. Brexit will see a different relationship with the EU, and the ability of European trainees to study with us to share good practice and learn about rewilding across the continent may be compromised. The values I mentioned above should be supported under the new, post-Brexit ELMS farm subsidy scheme that will replace countryside stewardship in the coming years. However, as we enter a recession the budget available to support these initiatives may be reduced and turn landowners away from wildlife-friendly practices towards more intensive agriculture. These economic factors are very relevant to our long term aspirations and in inspiring and motivating other local landowners in joining the wildlife resistance.
The landscape at Sharpham that is being rewilded has a significant cultural and historic value already – it is an iconic landscape, set within the South Devon AONB and has a grade 2* listing for its historic importance, as well as a national cycle route passing through it. The changes we will see under the new rewilding regime will change the way this landscape will look and feel. Our initial work to restore the historic parkland aims to honour its heritage; our ongoing rewilding will give it a new and relevant role long into the future, and will be part of its story. We hope to be able to share this story so that people can see the value of it, and balance these different values.
We have learnt from the Knepp Estate (a large rewilding project in the east of the UK set on a lowland farm) some of the challenges that rewilding sites face. Indeed, in running our existing holding we have seen dog attacks on our livestock and littering, with livestock eating waste left by people enjoying the dramatic walks and views of the Dart Valley. Our mixed stocking will bring their own challenges when interacting with people, but we have measures in place to manage this risk. Newborn calves for example are very cute to look at, but their mothers can be very protective and feel any proximity to their offspring as a threat. We are definitely not taking these challenges lightly, however, we know that the majority of the public are aware of and respect the countryside.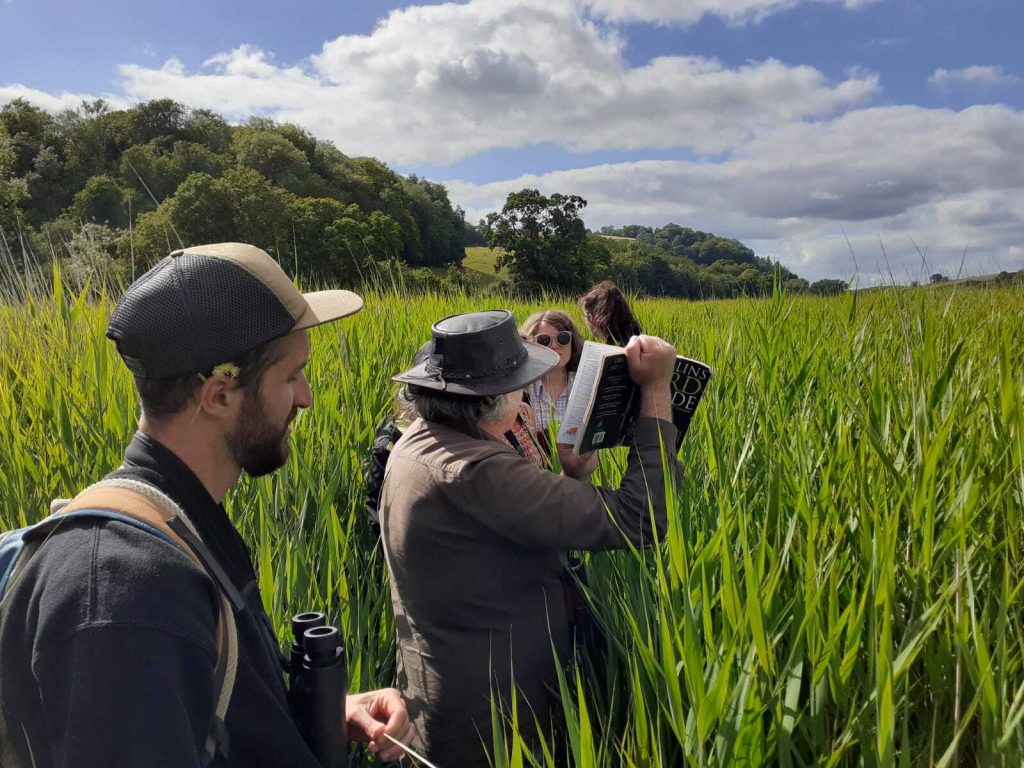 The training scheme offers the trainees a great range of practical field skills and conservation experience. What advice would you give to a young (or not so young!) person who is wanting to get into conservation as a career?
Most of the employers we engage with say that that experience is key. This is however the challenge that prospective employees face – employers requiring experience and employees finding it increasingly difficult to gain valuable experience. I'd say keep going! Find creative ways to gain experience, whether it's practicing your ID skills in your garden or out on walks. When you get the chance to apply or make it through to interview show enthusiasm, be genuine and authentic – the people interviewing you are human too – and try to use good, relevant examples to prove your passion. Also try to be true to yourself – if the job you are applying for isn't necessarily the one you would hope to do long term, be honest with yourself about it, and don't give up!!!
In the meantime, keep linked with job advertisers like Countryside Jobs Service and environmentjob and build your network on professional/social media platforms (like LinkedIn) with employers – nature conservation is a small world. Aim to use relevant examples related to the job advertised; even if the experience you've had is small, don't big it up; be honest and, most importantly, detailed – tell employers exactly what you have done, when, where, for how long and who with. Also, don't be afraid to ask employers what training they offer – they don't need you to be the finished article but they want evidence of your awareness of the world and the role you've applied for and that you have adaptable skills and are willing to learn. Its become a cliché to an extent, but whereas your education will prove a level of understanding of your subject, what employers also want to know is how good you are at some of the softer skills like teamwork, flexibility, creativity, application and dedication, and having good examples of these to hand will be invaluable.
The post-Covid employment landscape will make job hunting even more challenging, so keep an eye on current government initiatives and any opportunities that may pop up over the next 12-18 months. The government has promised to invest in a green economic recovery and this may well see new training opportunities that could be the key to you gaining relevant experience.
Finally, have a look at our blog page. Here, members of the Ambios team offer more advice, support and top tips on how to get a career within the conservation sector.
---
Find out more about the Wild for People project on The Sharpham Trust website or connect with them on Twitter, Facebook and Instagram.
For more information about Ambios Ltd, visit their website. They can also be found on Twitter, Facebook and Instagram.
Enjoy a wonderful birdseye view of the Sharpham Estate as it currently exists today in the video below: