Although we are all familiar with the important role that bumblebees and honeybees play in pollination, over 90% of the UK's 267 bee species are in fact solitary bees. Pollinating animals are responsible for one third of the food we consume and solitary bees are particularly efficient pollinators. Unlike other bees solitary bees do not have pollen baskets and so transfer much more pollen between flowers, meaning a single red mason bee provides a pollination service equivalent to 120 worker honey bees. This makes them a critical resource in our gardens and wider countryside and one that we should all be keen to protect. We have collated some information below on how to help encourage and preserve these fascinating creatures.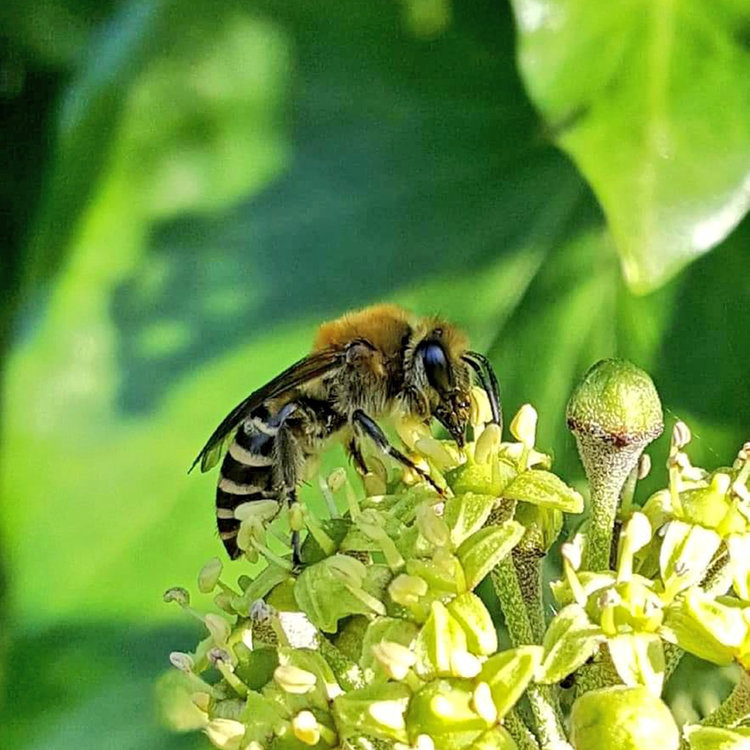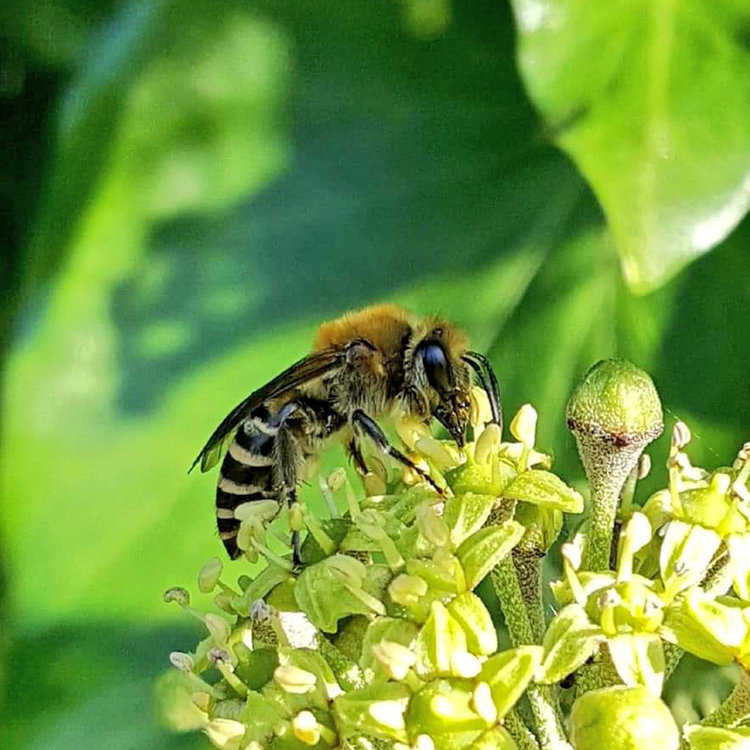 Solitary Bee Ecology
Solitary bees use a wide range of nest sites including tunnels in wood or mortar, plant stems and even snail shells. They lay eggs in a series of cells and then block the entrance with materials such as mud, leaves or fine hair. The female lays an egg with a food source, made from pollen and nectar, before building a partition wall and moving on to the next cell. The bee larvae hatch, eat the food source then overwinter as a cocoon before emerging the following summer as adults.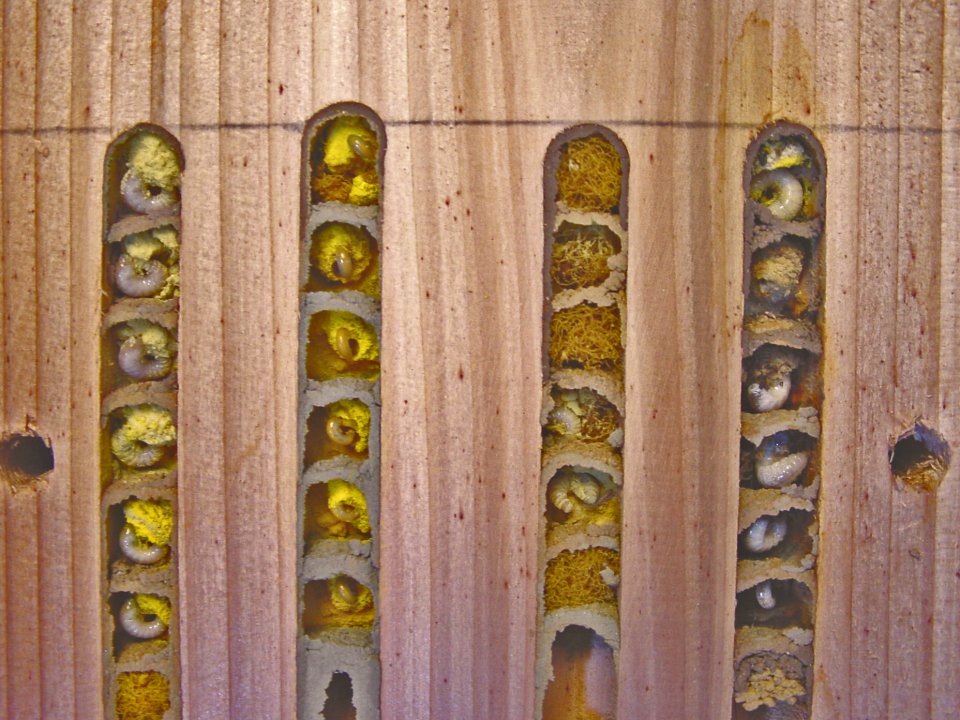 There have been extremely worrying declines in insect numbers recorded across Europe, and solitary bees are no exception. The increased use of chemicals in farming, loss of flower meadow food sources and loss of nest sites in hedgerows and gardens are all combining to drive down numbers. The good news is that it is easy to provide food sources and nesting habitat in your garden to help solitary bees and increase pollination. 
Providing Resources for Solitary Bees
Provide food sources for solitary bees by planting wild flower seeds, native trees such as hawthorn and willow, bee friendly plants such as ivy, foxgloves and lavender and allowing plants such as borage and thistles to flower in your garden. Nest sites can be provided by leaving dead wood and stems standing, creating a patch of bare earth or mud bank for mining bees and by installing wild bee houses.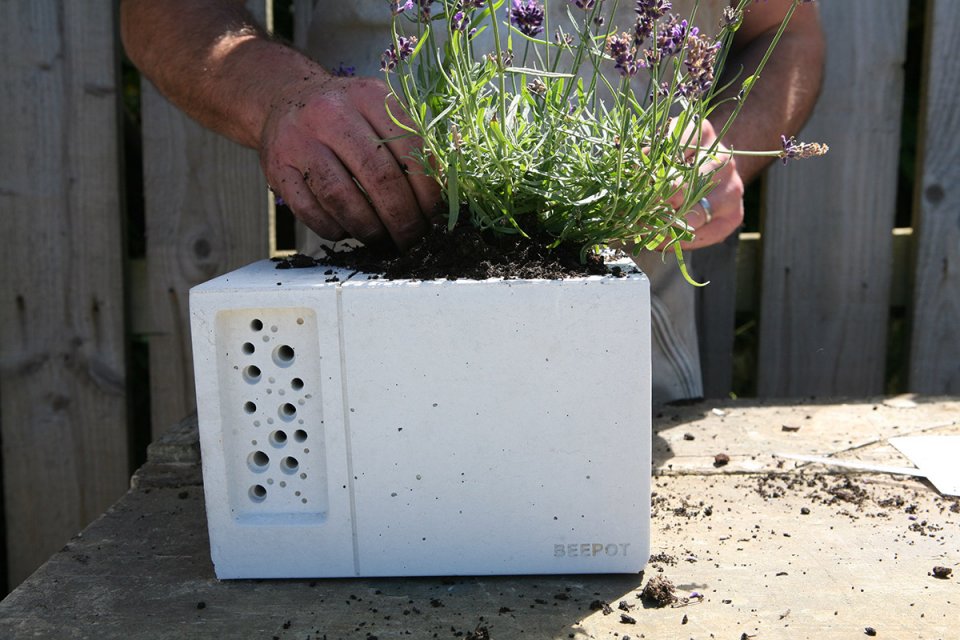 With careful design consideration, bee houses can provide shelter and nesting sites for solitary bees. Bee houses can be manufactured from a variety of materials but should have a good overhanging roof to protect the nesting tubes from rain, nesting holes between 2 and 10mm in diameter and a solid back. It is better to have a number of smaller bee houses, rather than one large house to reduce the risk of parasites finding the nest. Alternatively we have a wide range of solitary bee nesting habitats available on our website.
You can tell which species of bee is using your bee house by examining the material used to plug the entrance hole. Different species also emerge at different points in the year. The most common species likely to populate bee houses are red mason bees who use mud and are active March – July, leafcutter bees who use leaves and are active May – September, and wool carder bees who use fine hairs and are active June – August. Please note that there are fewer solitary bee species in the North of England and Scotland.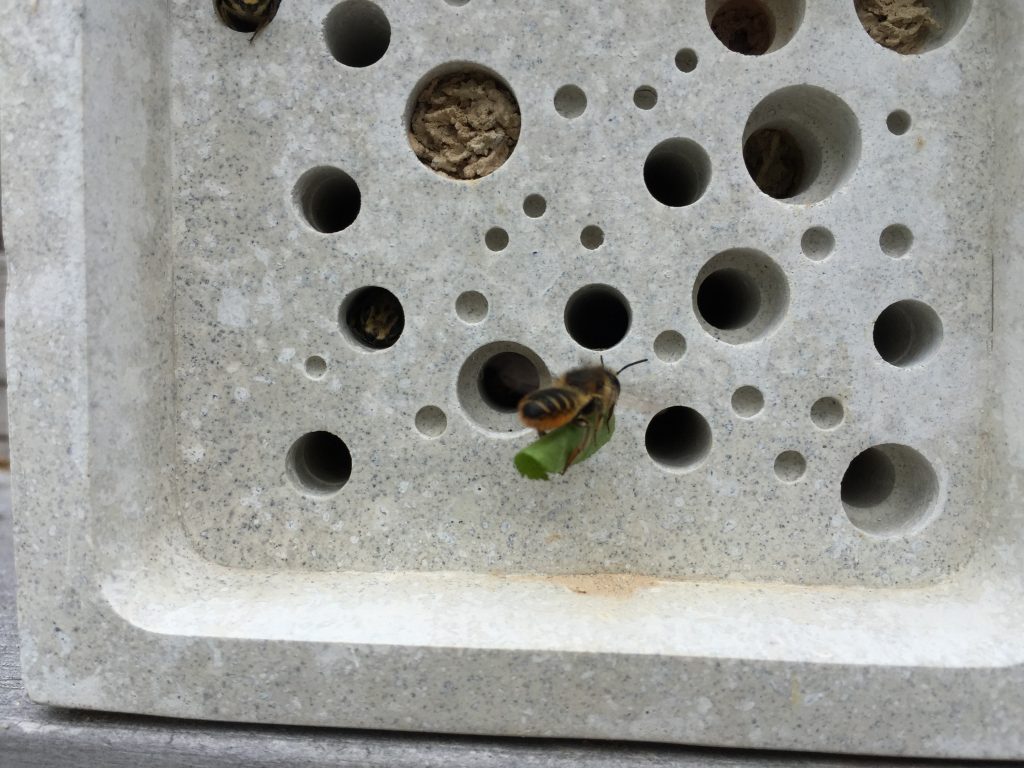 Solitary Bee House Siting and Maintenance
Insect houses should be sited at least 1m off the ground, facing south or south-east, with no vegetation covering the entrance and in full sun as insects need warmth to keep moving. They should be firmly fixed so that they don't move in the wind. If your box is likely to be occupied by red mason bees then it is helpful to ensure that there is a patch of damp mud nearby. In order to maximise the chances of adults emerging successfully from the cocoons, it is a good idea to bring bee boxes indoors into an unheated shed or garage during the winter to avoid them getting too damp. The boxes should then be taken back outside in March in time for the new adults to emerge. There is some debate as to whether brick / concrete boxes should be cleaned but they can be cleaned out with a tent peg and pipe cleaner. Boxes with cardboard tubes should have the tubes replaced regularly. Keep an eye out for failed nests and tiny holes in the mud entrance as this can indicate that the nest tube has been taken over by parasites.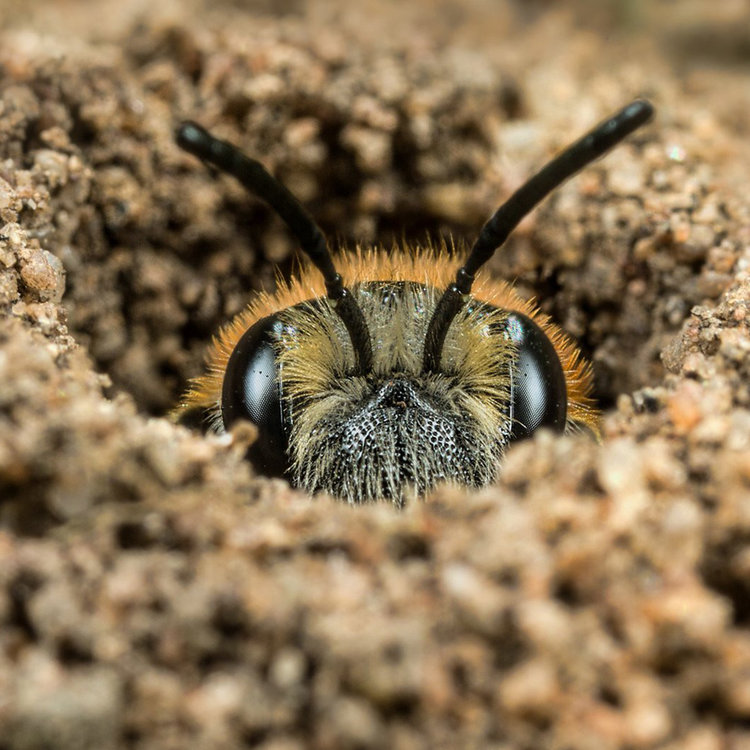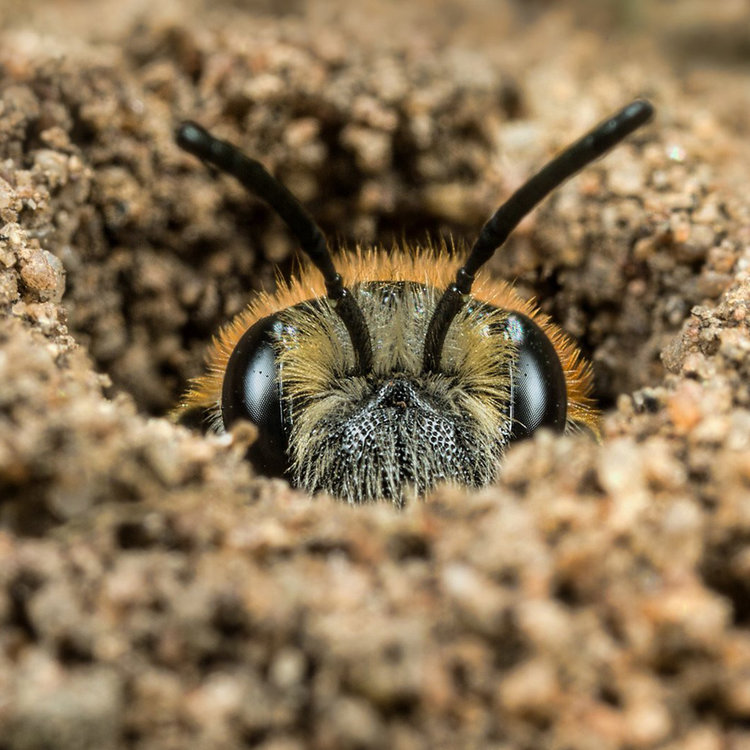 Suggested Solitary Bee Houses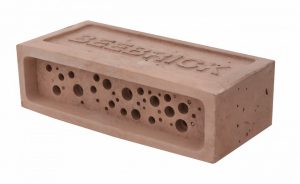 Bee Brick
This Bee Brick can be used in place of a standard brick or as a standalone bee house in your garden or wild patch. Available in four colours. £29.99 £39.99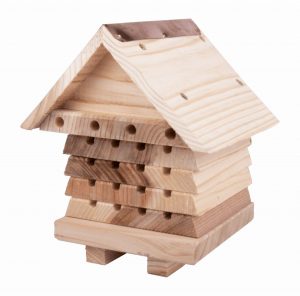 Solitary Beehive
This unique solitary beehive is made from durable FSC timber and designed specifically to attract solitary bees which are naturally attracted to holes in wood. £23.99 £29.99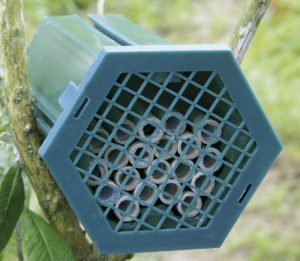 Red Mason Bee Nest Box
The nest box is supplied with 29 individual nesting tubes, two sets of screws and plugs for mounting, and full instructions. £10.99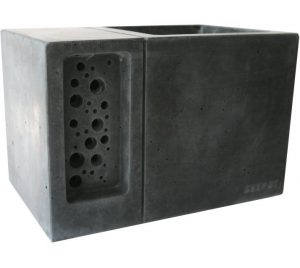 BeePot Bee Hotel
This is a fantastic concrete planter which doubles as a nesting place for solitary bees. Available in a range of colours and sizes, this is the larger size, the mini version is also available. £42.95 £49.99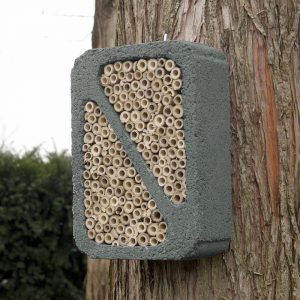 WoodStone Insect Block
This WoodStone Insect Block is constructed from durable, FSC certified WoodStone with a nesting area created from reed stems.
£24.95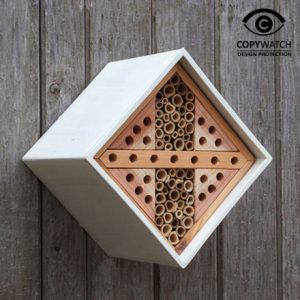 Urban Bee Nester
This urban insect hotel is part of the contemporary range of wildlife habitats that have a sleek design for city living.
£20.99 £27.50
Suggested books on solitary bees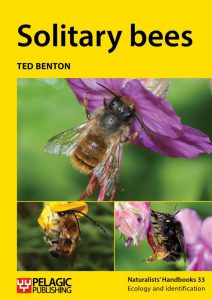 Solitary Bees
Paperback | July 2019| £19.99
An introduction to the natural history, ecology and conservation of solitary bees, together with an easy-to-use key to genera.
The Solitary Bees: Biology, Evolution, Conservation Hardback | September 2019| £27.99 £34.99                           The most up-to-date and authoritative resource on the biology and evolution of solitary bees.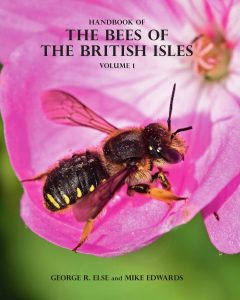 Handbook of the Bees of the British Isles (2-Volume Set) Hardback | October 2018| £130 £150
With photographic material of over 270 bee species, this comprehensive handbook is a once-in-a-generation identification work to the British bee fauna.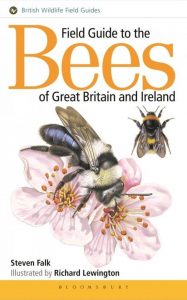 Field Guide to the Bees of Great Britain and Ireland Paperback | December 2018| £27.99 £34.99
A comprehensive introduction to bee classification, ecology, field techniques and recording, a full glossary, and information on how to separate the sexes and distinguish bees from other insects is also included.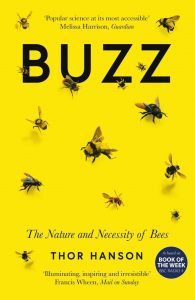 Buzz: The Nature and Necessity of Bees                Paperback | April 2019| £9.99 
Award-winning author, Thor Hanson takes us on a journey that begins 125 million years ago, when a wasp first dared to feed pollen to its young.
In order to increase awareness of how vital a role our solitary bees play in pollination, the first week of July has been designated as Solitary Bee Week. You can get involved by pledging to create nesting sites or plant food sources for bees, writing poetry or recording bee sightings.