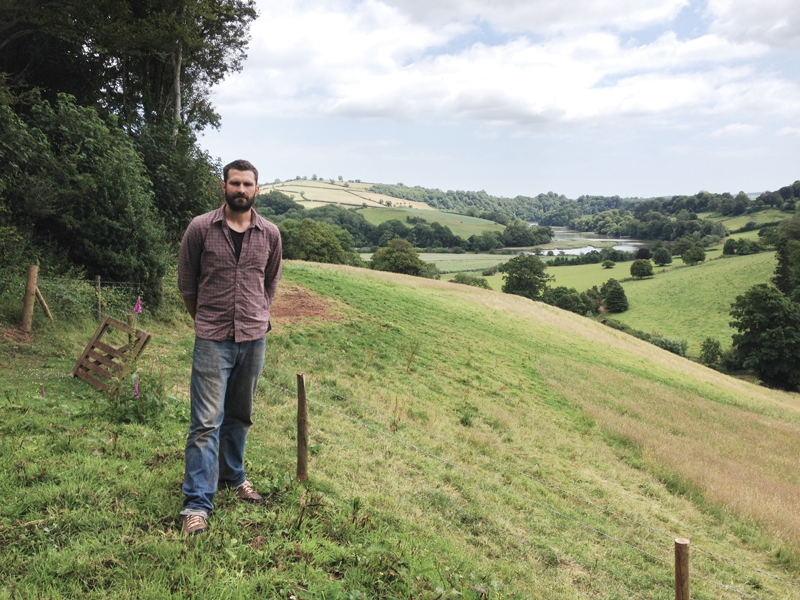 Ambios are an educational charity based a mile or so down the river Dart from NHBS at a tenant farm on the historic Sharpham Estate. They provide conservation education, inspiration and training to a wide range of people at their farm, Lower Sharpham Barton. Over the last few years Ambios and NHBS have worked together on a range of products including the NHBS Kent Bat Box and reptile survey felts. The Lower Sharpham Barton site is managed by Jack Skuse.
Tell us a little about your organisation and how you got started.
Ambios Ltd are a nature conservation training organisation established in 2001. We aim to offer inspirational education, practical action, science and technology training and volunteering opportunities in the UK and EU. In partnership with Robert Owen Communities (ROC), a charity based in South West England supporting adults with learning disabilities, we run a farm on the stunning Sharpham estate outside Totnes, Devon. The aim of Lower Sharpham Farm is to use farming as a way of improving biodiversity, whilst offering people the chance to engage with wildlife and the outdoors – the farm runs as a care farm and base for our residential training activities. In partnership with UK and EU nature conservation organisations people can stay and learn at our farm, or in one of five EU countries including Norway, Hungary and Portugal. The people who engage with our farm (EU trainees, adults with learning disabilities) produce wildlife boxes for sale by NHBS.
What challenges do you face as an organisation working in the ecology/natural history sector?
There are a number of challenges we face, primarily relating to funding. We have historically accessed funding to run training for the next generation of wildlife professionals, as well as engaging and stimulating nature conservation-related provision for disabled people. This funding is proving harder to access, and we are aiming to diversify into a number of areas that generate revenue: training and volunteering placements where the learner pays, or is part subsidised by grant funding; wildlife experiences where learners can stay in our yurts for a number of days and gain employability skills and experience hands-on nature conservation projects, including bumble bee research, bird and badger surveys and practical habitat management; and producing, adding value to, and selling the products of the farm including organic beef, lamb, and eggs along with the wildlife boxes (typically made from wood sourced from the Sharpham Estate!).
What do you consider the most important achievement of your organisation in recent years?
To still be here 15 years later! We are proud of our legacy, and of the number and range of people who have benefited from our training, along with the wide and diverse network we have established here in UK and across EU. The farm tenancy is a leap of faith and grounds us in place and we are proud of the partnership with ROC and of the opportunities created here, and the potential available to us over the coming years.
What is your most memorable wildlife/natural history encounter?
I have seen wildlife around the world, and have strong memories of orca whales in Patagonia, and cobra snakes in Thailand (a close encounter whilst riding a bike). I was lucky enough to work with the Barn Owl Trust here in Devon, radio tracking barn owls whilst they fledged the nest for the first time. This close observation and appreciation of an enigmatic creature that is found here in UK was profound.