Our second article in our Testing the Guide series looks at An Identification Guide to Garden Insects of Britain and North-West Europe, a photographic identification guide to 150 species of garden insects most commonly found in Britain and north-west Europe.
This guide includes an introduction covering how to attract insects to your garden, advice on photographing insects, a description of insect anatomy, the characteristics of the insect orders included in the guide, and the insect lover's year, describing the best places to look for different species throughout the different months and seasons of the year.
From there, each species is presented, grouped by order, with keenly observed descriptions to help you identify even the smallest creature, as well as one or two photographs labelled with distinguishing features. In each of these sections, there are details of its life cycle from egg to adult, a calendar showing the time of year when the adult can be seen, and star facts that give further proof of insects' fascinating lives.
Using the guide
Throughout March, April and May, we tested the identification guide by exploring a garden for a few hours during the day and during the night. The garden is small, with a patch of lawn, bare dirt, a hedgerow of mainly ivy (Hedera helix) and holly (Ilex aquifolium), stone gravel, Japanese camellia (Camellia japonica) and rhododendron (Rhododendron sp.) bushes, a field maple tree (Acer campestre), clumps of daffodils (Narcissus pseudonarcissus) and three-cornered garlic (Allium triquetrum), as well as various other flowering and non-flowering plants. This garden also contains a small insect house which was placed in September of last year. Weedkiller was used once in September but no other chemicals have been used since, nor has the lawn been mowed. Therefore, the garden should be able to support a number of insect species. We attempted to search by eye and by using a tapping tray and stick. Compared to just searching by eye, we found that we had little success with tapping as the vast majority of what we found were spiders and we were unable to identify the few insect species we found using this guide.
What we found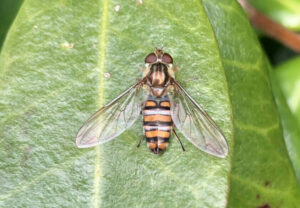 Following the guide, we were able to ID this species as a marmalade hoverfly (Episyrphus balteatus), a small, delicate hoverfly with a unique pattern of twin dark bands separated by lighter bands. As this individual doesn't have 'holoptic' eyes – eyes that meet at the top of the head – we believe this is a female.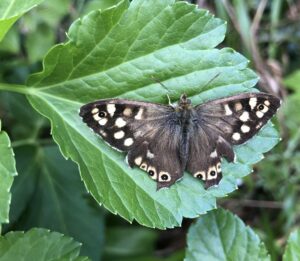 This guide has a large section on butterflies and moths, covering a number of common species you'll likely see in your garden and local green spaces. This species is a speckled wood (Parage aegeria), identifiable through its dark colouration and the spots on its hindwing, which have a yellow outer ring, a black inner ring and a white central spot. According to the guide, it is a distinctive species, and there are no similar species listed. However, for those unfamiliar with these species, their underwing pattern could potentially be confused with other butterflies such as walls (Lasiommata megera) or graylings (Hipparchia semele).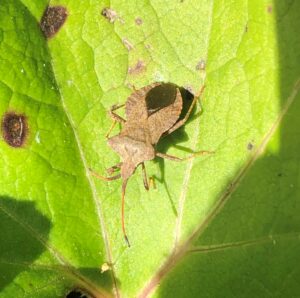 This is a dock bug (Coreus marginatus), a small insect from the family Coreidae. According to the guide, they're common and widespread in Europe, but in Britain, Ireland and Scandinavia, they're restricted to the southern parts. They're identifiable through their shape (upturned, pointed pronotum and broad abdomen with a noticeable scutellum), their red-orange antennae with a black final segment, and their pale-brown colouration. There is variation in the wing membrane colour between individuals, and an important diagnostic feature that can distinguish it from other similar species is the forward-pointing spines between its antenna. This feature can be most easily identified using a hand lens, handheld magnifier or magnifying pot.
This similar-looking species is a (common) green shieldbug (Palomena prasina). Despite its name, this species can range from bright green to bronze, particularly becoming darker prior to winter hibernation. Its brown wing membranes set it apart from similar, non-native species, such as the southern green shieldbug (Nezara viridula), as noted in the guide. If you are able to look closely at one, you'll be able to see it is covered in tiny black dots, with red eyes, feet and antennae (primarily the last two segments). It can also have a red edge all the way around its thorax and abdomen.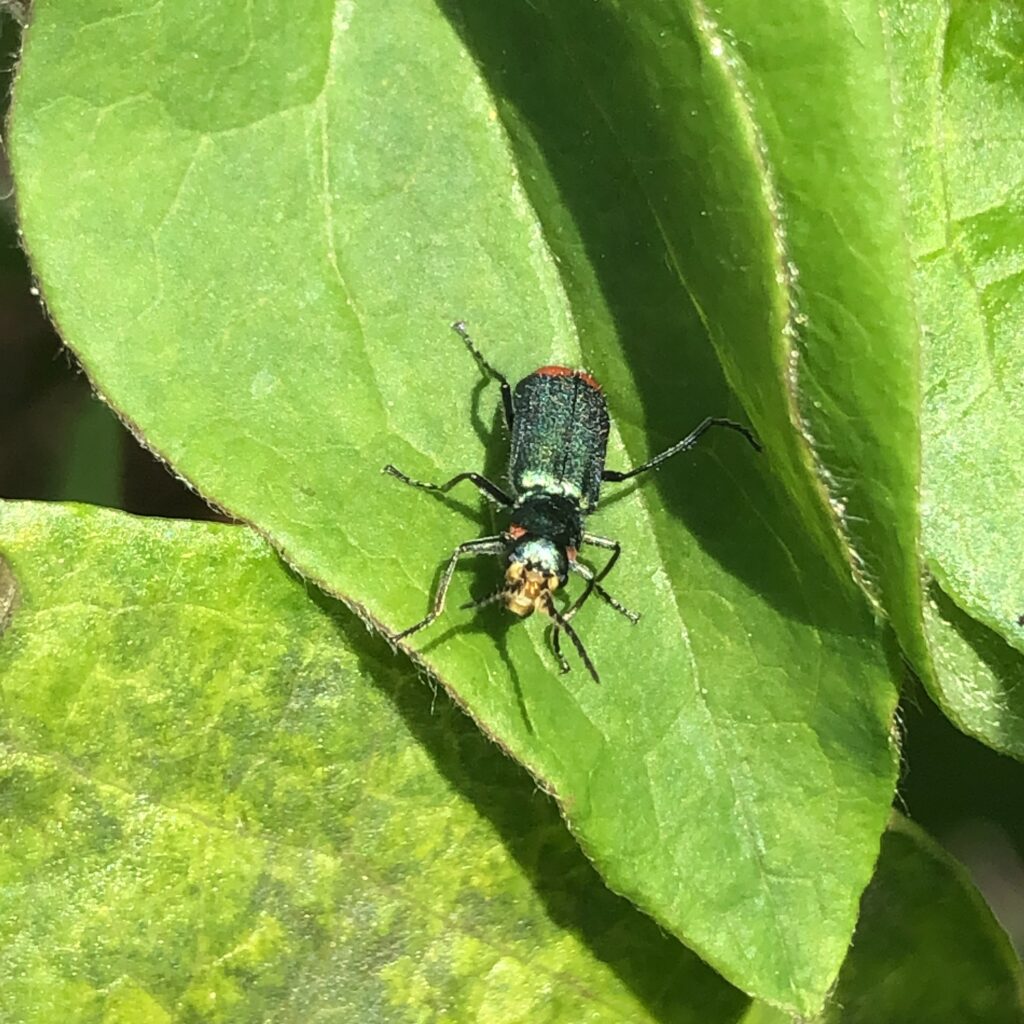 We also managed to spot this colourful species, which we were able to ID using the guide as a common malachite beetle (Malachius bipustulatus). The red 'shoulders' and red spots on the end of the abdomen, helpfully annotated in the guide's photo, made this species easy to identify.
Using this guide, we were also able to identify a scorpionfly, bluebottle, greenbottle, dark-edged bee-fly, thick-legged flower beetle, two-spot ladybird and a buff-tailed bumblebee.
Our opinion
As noted in the introduction to this guide, there are around 24,000 insect species in Britain, and almost three times that in mainland Europe. And so there will always be species you find in your garden that are not in this field guide, which covers only 150 species.  The breadth of the species covered within the guide perhaps could've been expanded, but as it does cover many of the most common species, you are still likely to see a number of these species within your garden and local green spaces. In addition, the paired-down number of species can be useful, as it can be quicker and easier for readers to accurately identify species they've found. Therefore, this is still an incredibly useful guide, particularly for naturalists, beginners and those who want a more concise and affordable insect field guide.
---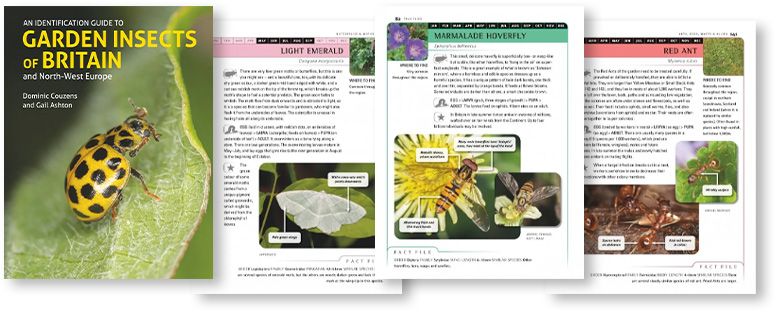 An Identification Guide to Garden Insects of Britain and North-West Europe
Dominic Couzens and Gail Ashton