The Autumn 2023 issue of Conservation Land Management (CLM), out soon, is filled with an informative mix of articles, including the management of conifers for saproxylic invertebrates as part of our Habitat Management for Invertebrates series; the advantages and disadvantages of wildflower seed sowing; assessing and mitigating the disease risk associated with conservation translocations; and the story of Lower Bridge Meadow and how it is managed today. Read on below for a more detailed summary of what you can expect to see in this issue.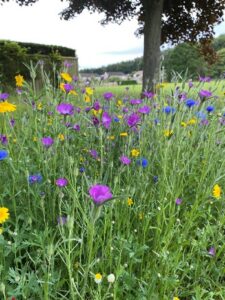 The sowing of wildflower seeds has increased over the past few years, and we now often see colourful wildflower displays in urban greenspaces or along road verges. These mixtures, however, are often made up of non-native species, and so their value can be questioned by botanists and ecologists. Dr Kevin Walker, Head of Science at the BSBI, discusses some of the key issues related to wildflower seed sowing, and looks at the advantages and disadvantages that this can have for native plants and other wildlife.  
Approximately 129 species of beetle are associated with pine in Britain, 44 of which are specialist species of old-growth pine forests, but the ecology of saproxylic invertebrate assemblages associated with pine and other conifers remains poorly known. In the third article of the Habitat Management for Invertebrates series, Keith Alexander describes the features of conifer woodlands that are vital for saproxylic invertebrates, key considerations for landowners involved in managing areas with coniferous trees, and areas where new research is needed to improve our understanding of how to manage these habitats for dead-wood invertebrates.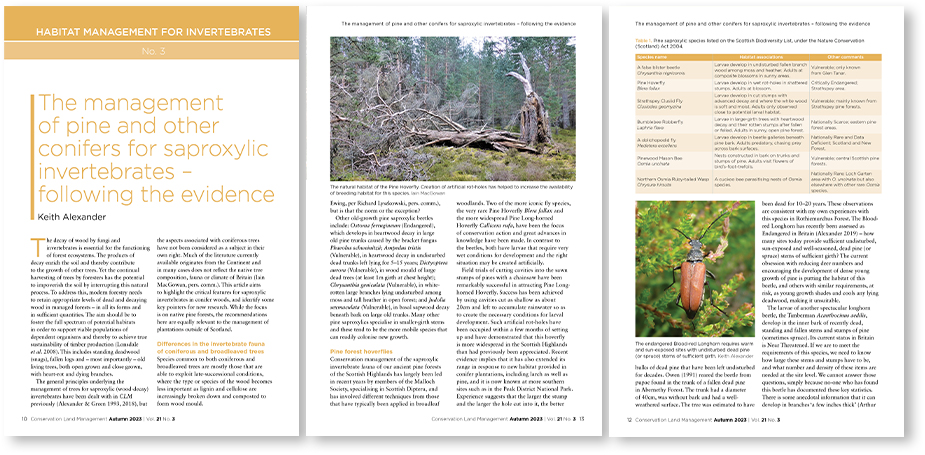 Conservation translocations refer to the movement of animals or plants from one location to another for the purposes of conservation. One important aspect to consider during translocation is the risk of disease; the movement of an animal also includes all the viruses, bacteria and parasites it may carry. Sophie Common and Tony Sainsbury, who are both involved with the Disease Risk Analysis and Health Surveillance project, part of the Institute of Zoology at the Zoological Society of London, describe the impact that introduction of a novel pathogen can have on a translocated animal itself and also on other wildlife, and provide some UK-based case studies, such as the treatment of tapeworm in Hazel Dormice and the screening of the pathogen Crithidia bombi in Short-haired Bumblebees prior to their reintroduction, to illustrate how the risk of disease is assessed and managed.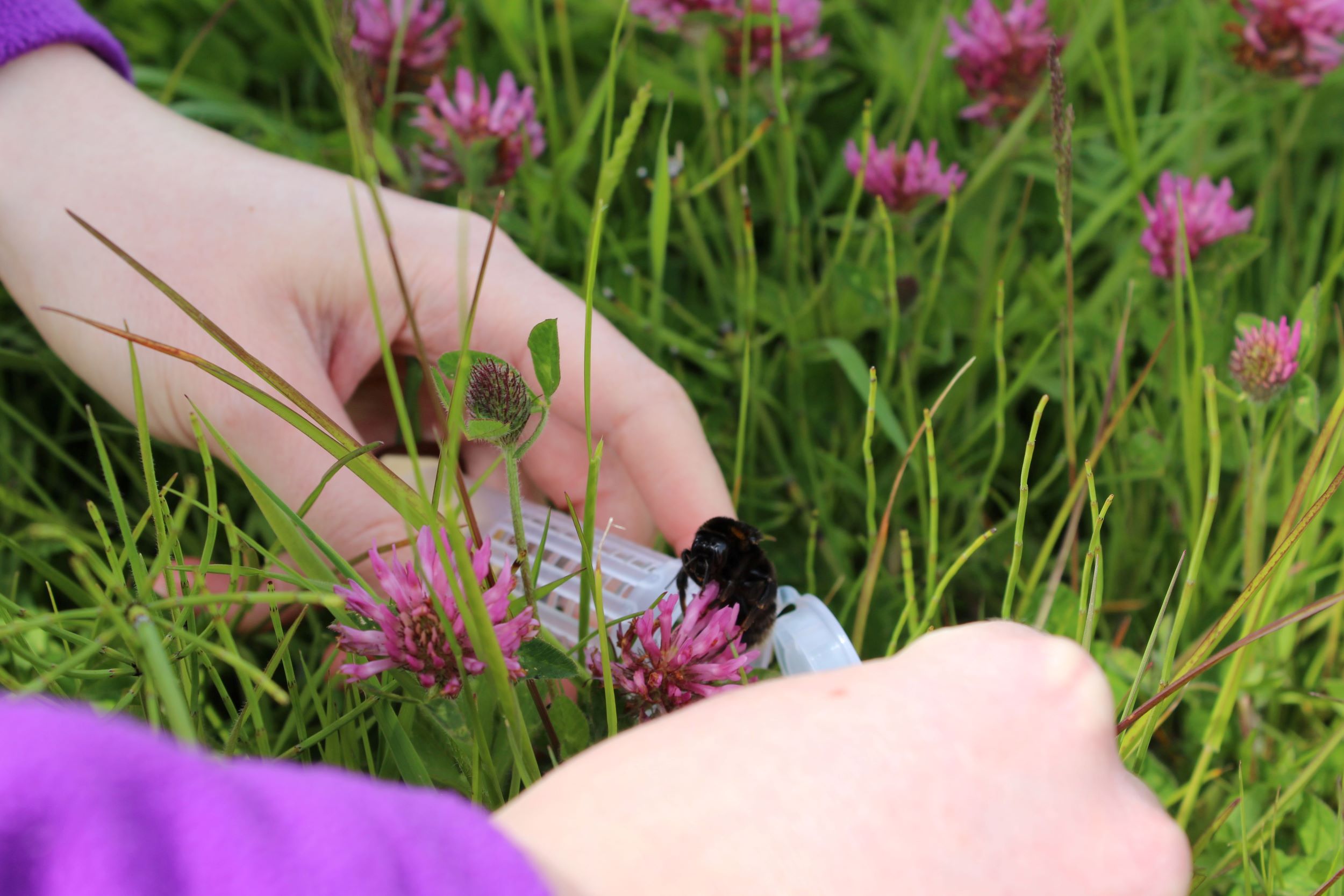 Bucklebury Common, in West Berkshire, is a 340ha stretch of land and the largest open heath in the county. Used as a truck depot in the Second World War, the common is now in part designated as a Local Wildlife Site for its heathland, veteran trees and woodland. The heath is an important habitat for rare birds such as Nightjars and Woodlark, and a necessary part of its management is to control colonisation by Silver Birch from surrounding secondary woodland to prevent it from dominating the heath. After several methods, such as weed-wiping and hand pulling, were attempted with mixed success, an excavator was brought to the site with three different attachments (a flail head, a root fork and a grab) to trial an effective and possibly novel technique for removing birch seedlings. In this article, Alex Cruickshank describes the success of the different methods that were tested, and outlines how management of Bucklebury Common might develop in future.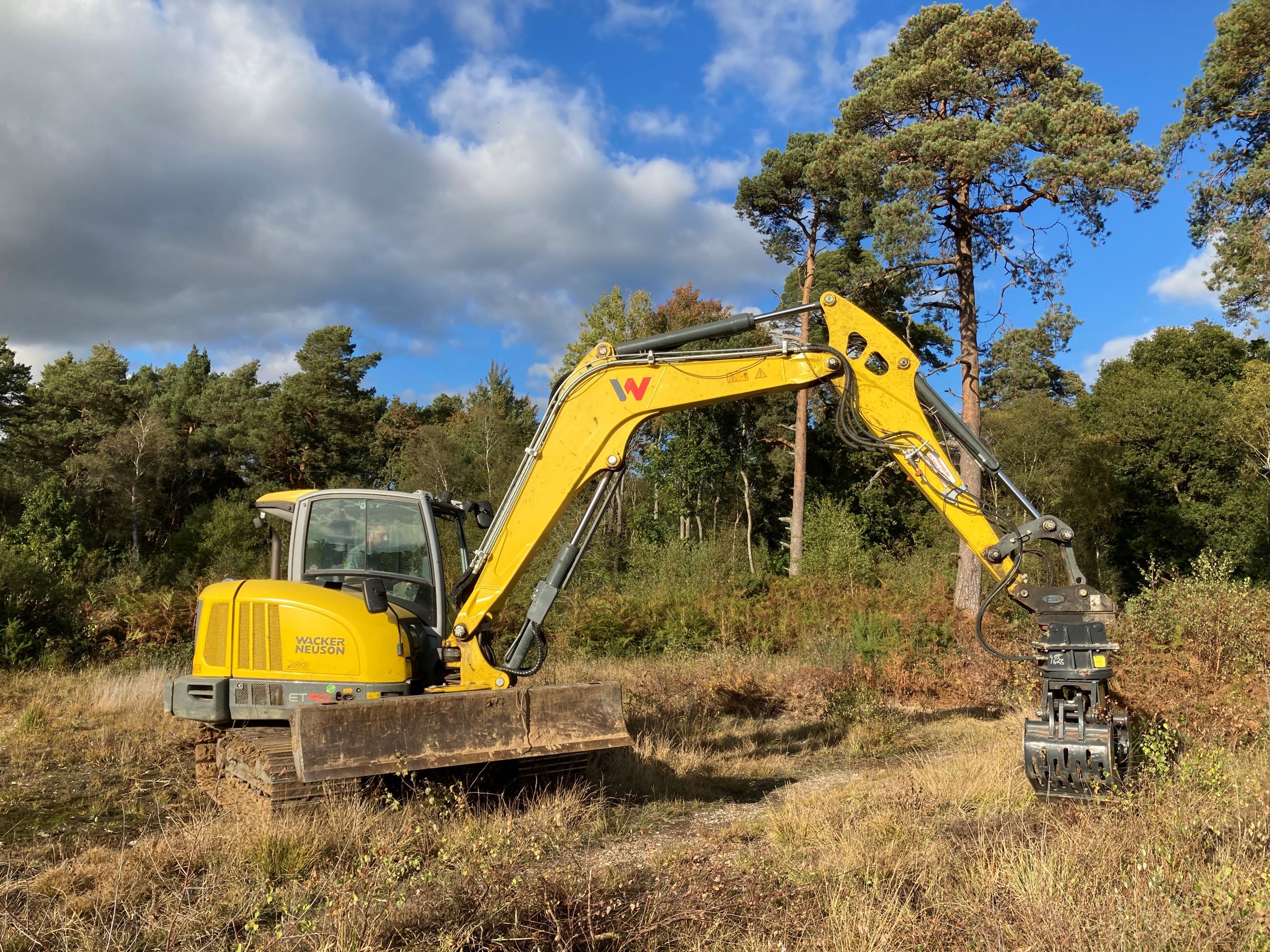 The final article in this issue focuses on a much smaller fragment of land. Lower Bridge Meadow is a 0.86ha Local Wildlife Site in Herefordshire, designated as such for its diversity of wildflowers. Interestingly, the meadow has a long-recorded land-use and management history, and here James Marsden and Helen Woodman describe both past and current approaches to management and speculate what the future may hold for this species-rich grassland. Lower Bridge Meadow is likely to be just one example out of hundreds of small sites that are set aside for the wildlife, but the failures and successes of their management are seldom shared among landowners. CLM is an ideal place to share these experiences – if you are managing a slice of land for wildlife, no matter how compact or inconsequential it might seem, we would love to hear about it. Feel free to get in touch with us to find out more about writing for CLM.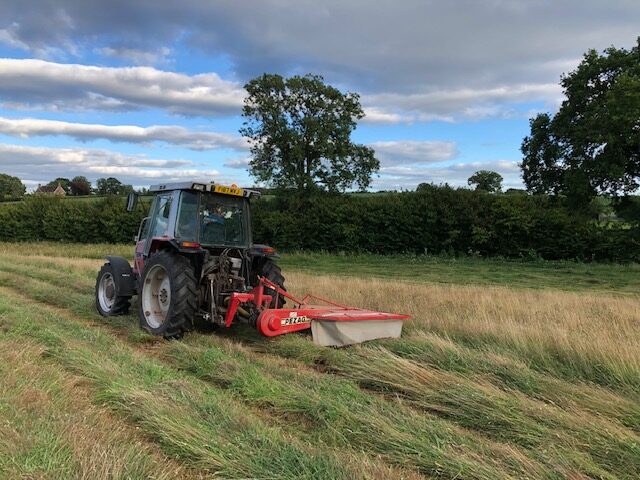 In this and every issue you can expect to see Briefing, keeping you up to date with the latest training courses, events and publications, and On the ground, which provides helpful tips or updates on products relevant to land management. Other features, such as Review, which can include letters from readers or updates from our authors, also regularly appear in CLM. 
CLM is published four times a year, in March, June, September and December, and is available by subscription only, delivered straight to your door. Subscriptions start from £22 per year. If you would like to read any of these articles, back issues are also available to purchase individually (subject to availability).