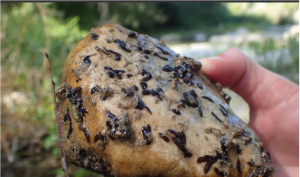 The presence or absence of freshwater invertebrates such as caddisfly (Trichoptera) and mayfly (Ephemeroptera) larvae, dragonfly and damselfly nymphs (Odonata) and planaria (Tricladida) can be used to provide an indicator of the health status of waterways.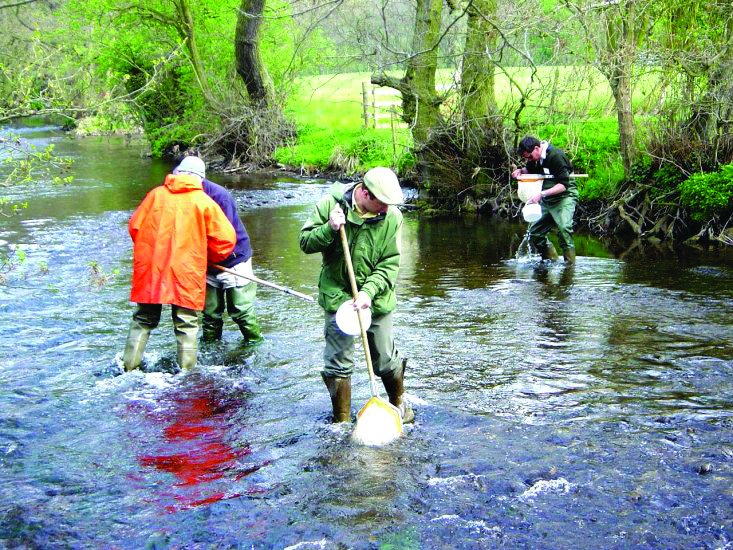 Kick sampling is a useful method for collecting these and other invertebrates from shallow waters and one of the key techniques used in monitoring freshwater invertebrates in rivers. The technique involves agitating the stones or sediment of a river or stream by foot and catching the sample in a sturdy hand net that is held downstream. Stones and logs can also be washed off carefully into the net and samples are usually taken both from faster flowing riffles and still areas of the river. The sample is then rinsed out of the net into a tray full of water for sorting and identification. Kick sampling is primarily a qualitative technique, to look at species diversity or presence/absence, but quantitative measures can be taken if a quadrat or transect is used on the floor of the water body to limit the sampling area and sampling time is controlled.
NHBS manufactures a range of hand nets that are the industry standard for kick sampling and are widely used by environment agencies and ecological professionals. Our Professional Hand Nets conform to the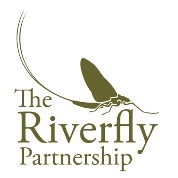 Environment Agency standards and we are the official Riverfly Partnership supplier. The Riverfly Partnership is a network of organisations bringing together anglers, conservationists, entomologists and relevant water authorities whose aim is to protect and monitor the water quality of our rivers.
The NHBS net range also includes smaller nets designed for students of all ages and a wide range of accessories and books to help with sample sorting and identification. Our hand nets are manufactured with a diverse range of net bags and handles to meet a wide variety of surveying purposes. We can also design and manufacture bespoke net designs in our workshop in Devon, so please do get in touch if you have special requirements.
Professional Hand Nets
The NHBS Professional Hand Net has been used for over 30 years in Environment Agency monitoring and was purpose designed to be lightweight, strong and long-lasting, with individual nets often still being used after ten years. Key features of the Professional Hand Nets include: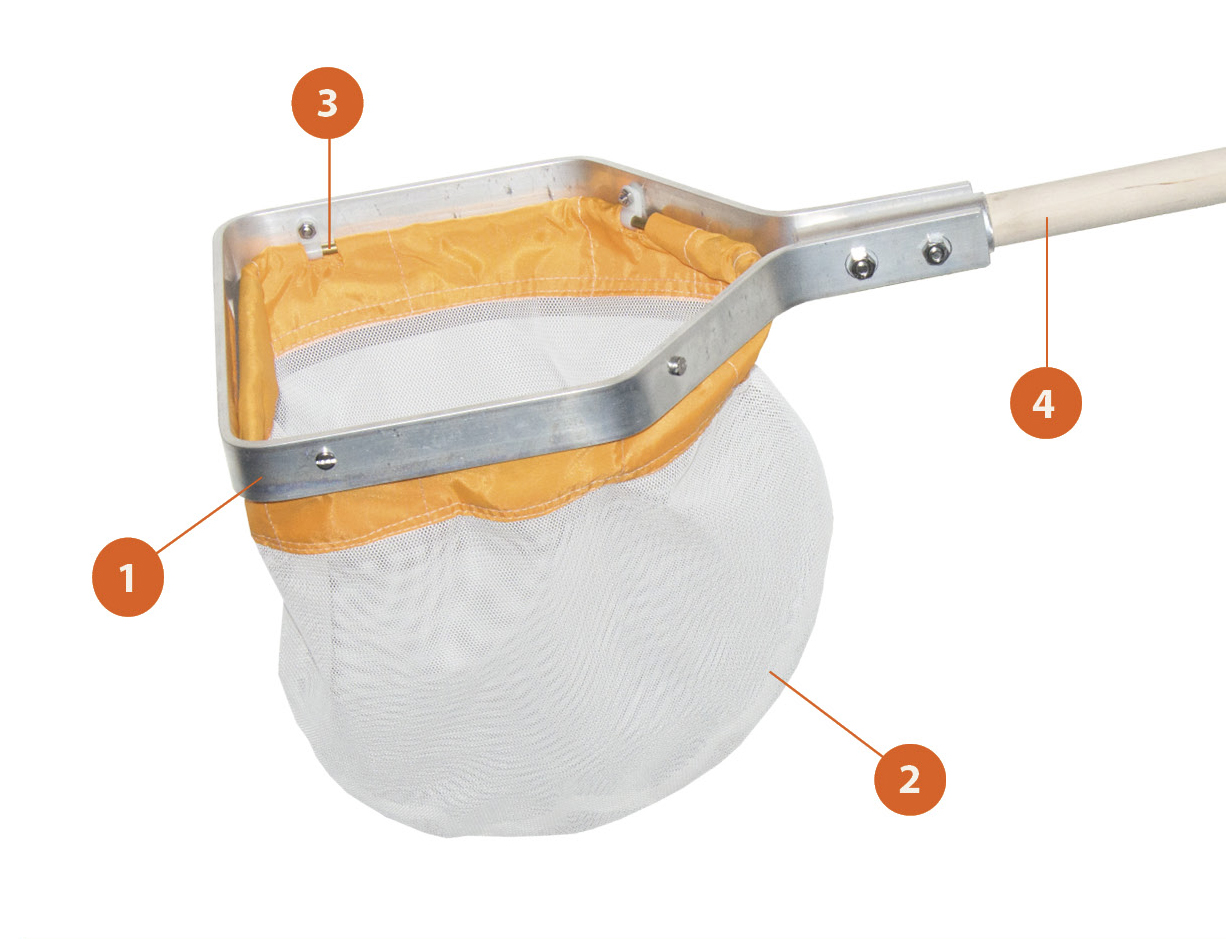 The net bag is protected by the outer frame to minimise abrasion when kick sampling on stony surfaces.
A range of mesh sizes are available, making it the ideal net for aquatic surveying of all macro- and microinvertebrates in shallow water. The bag mesh is either made from 1mm or 2mm woven polyester or precision welded nylon mesh (53µm to 500µm) and manufactured to international standards so that the mesh will stay the same shape and size, even under stress.
The inner brass frame securely holds the bag away from the stony substrate and also allows the bag to be removed for sterilisation between sites.
The comfortable handle is available in either a lightweight FSC wooden or aluminium version and both will float in water.  Two-part and three-part sectional wooden handles are also available, which can be unscrewed for transport or extended with extra sections.
Student Hand Nets
The Professional Hand Net is also available in a smaller Student version that is 200mm in width. This is designed to the same high quality as the larger Professional net but is ideal for educational use. The Student Hand Net is available with either a FSC wooden or aluminium handle and with net bag mesh sizes ranging from 250µm to 2mm, in standard 280mm or 380mm depth. We can design and manufacture bespoke nets so please do contact us with any requirements.
Lightweight Eco-Nets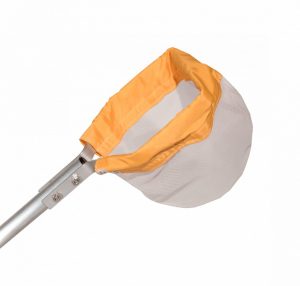 The Lightweight Eco-Net has a strong aluminium frame that will withstand regular use both for kick sampling and pond dipping. Net heads are 160mm in width and 1mm and 2mm mesh bags are available to fit this frame. Bags attach to the head using industrial hook and loop strapping, making them easy to remove for replacement or sterilisation.
Riverfly Partnership Approved Kit
The Anglers' Riverfly Monitoring Initiative (ARMI) is coordinated by the Riverfly Partnership and involves anglers and conservation volunteers from more than 100 partner organisations carrying out regular freshwater invertebrate surveys to check for severe changes in water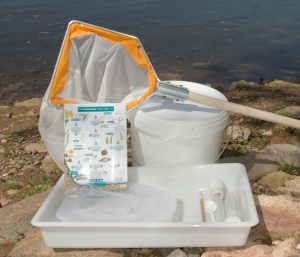 quality. The Riverfly Partnership Approved Kit has been designed in conjunction with the Riverfly Partnership and contains everything the volunteers need to carry out these vital surveys: Professional Hand Net, bucket, sample trays, pipettes, freshwater invertebrate ID guide, spoon, brush and magnifiers.
Banner Net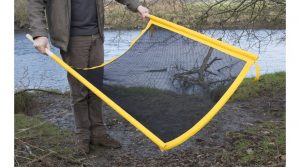 The Banner Net is a rectangular net measuring 90 x 100cm that is supported on each side by a 120cm wooden pole. The bottom edge of the net is reinforced with a removable, flexible rubber rod. Two hook and loop tabs keep the net rolled neatly when not in use. Available with 500mm mesh, which is ideal for kick sampling of benthic macroinvertebrates.
Kick Sampling Accessories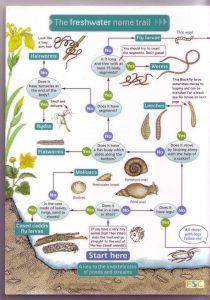 This 8-page fold-out chart is a fully illustrated key to help users identify the main animal groups found in freshwater. None of the identification in the key goes beyond family level, and some of it stays at the phylum or class.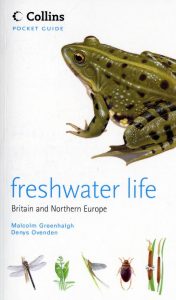 Freshwater Life of Britain and Northern Europe
A beautifully illustrated guide to the wide variety of species found in rivers, streams, lakes and ponds in Britain and Europe.
See our complete range of kick sampling equipment online.