The UK coast is home to many different bird species, which play a key role in the coastal ecosystems. They depend, directly and indirectly, on the marine and coastal environment. Seabirds are often used as bioindicators of marine ecosystems as they are easy to detect and survey, and are top predators; their presence and abundance can indicate the health and status of the habitat and food chain.
This guide contains some key identification features to look out for while out birdwatching by the coast. It is possible to see birds along our coastline throughout the year, but in late spring and early summer, particularly around June, many seabird species are feeding chicks. This is, therefore, the best time of year to spot some of our iconic coastal birds.
Very little equipment is needed for birdwatching, but it is generally recommended to bring a pair of binoculars or a scope, as this helps to see the less obvious features that aid in identifying species. These also allow you to observe without getting too close and disturbing the wildlife. A pen and notebook to keep a record of the species you spot is also a good idea, along with a field guide for the species not mentioned on this list.
Herring gull (Larus argentatus)
Size: length (L): 54-60 cm, wingspan (WS): 123-148cm
A widespread and common (though declining) gull species across the UK. They are large white birds with grey back and wings (tipped with black), a yellow bill and pink legs, and can be seen far inland in almost any habitat from the coast to farmland, moorland, town and city. This highly versatile species is our archetypal 'seagull'.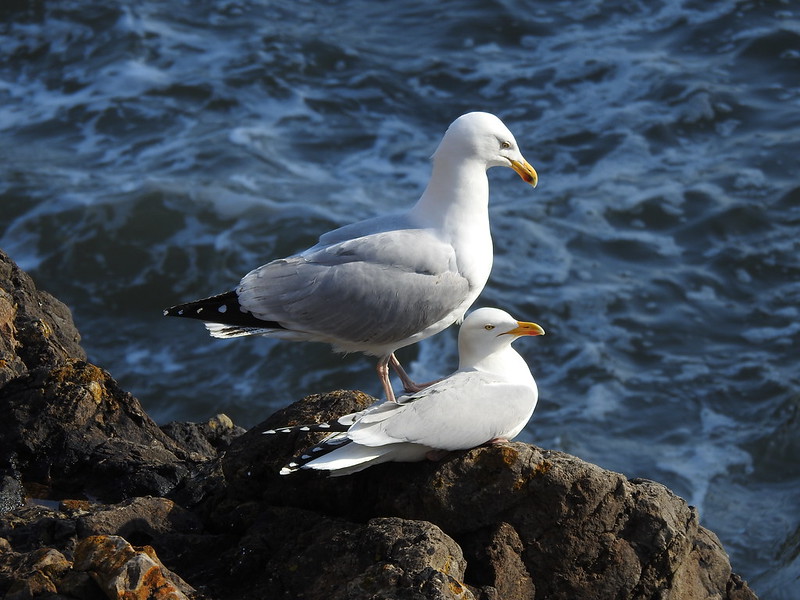 Lesser black-backed gull (Larus fuscus)
Size: L: 48-56cm, WS: 117-134cm
Slightly smaller than the herring gull with darker slate-grey back and wings. Look out for yellow legs which are a key identifier of this species. Favours rocky coasts but is also found inland in mixed flocks with other gulls and around inland lakes.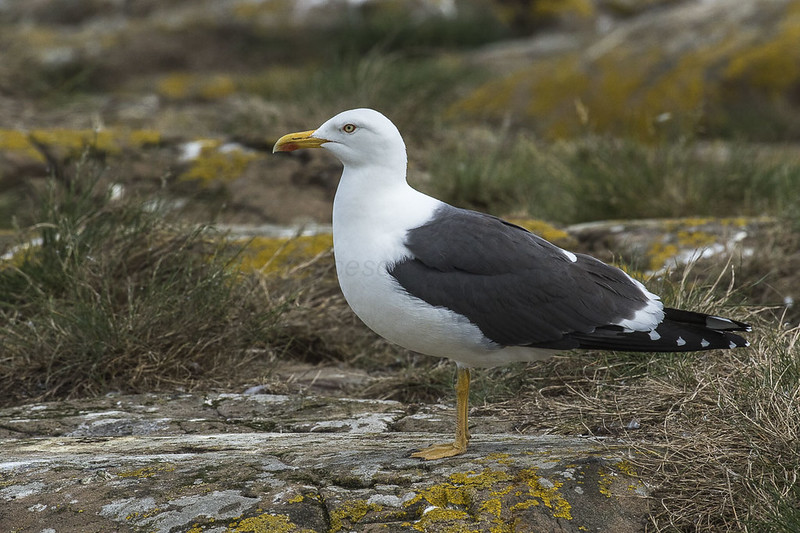 Great black-backed gull (Larus Marinus)
Size: L: 61-74cm, WS: 144-166cm
These are very large and stocky gulls with a dark grey back and wings, a thick-set yellow bill and pink legs. This species are far more prominent along coastal areas and nest largely on rocky islands.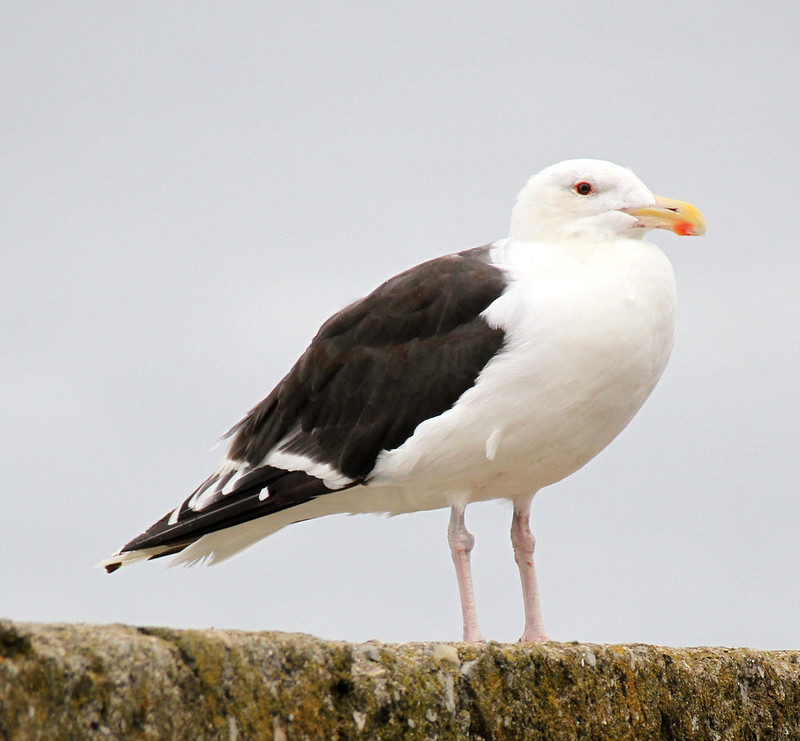 Black-headed gull (Larus fuscus)
Size: L: 35-39cm, WS: 86-99cm
Another widespread and common species often found inland, black-headed gulls have white heads for most of the year, often with a prominent black ear spot. In the summer, adult birds heads turns a dark chocolaty brown. They also have a red bill and red legs.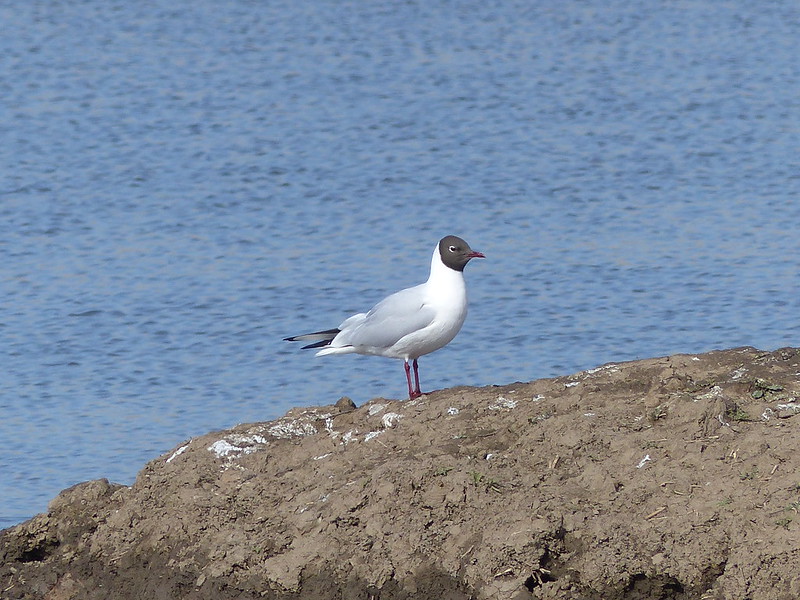 Kittiwake (Rissa tridactyla)
Size: L: 37-42cm, WS: 93-105 cm
A somewhat slight looking gull, white bodied with pale grey back and wings and black wing tips. They have a small yellow bill, dark eyes and black legs. Predominantly a summer breeding species in the UK and very rarely seen away from the coast, though they are known to form colonies within urban areas near ports.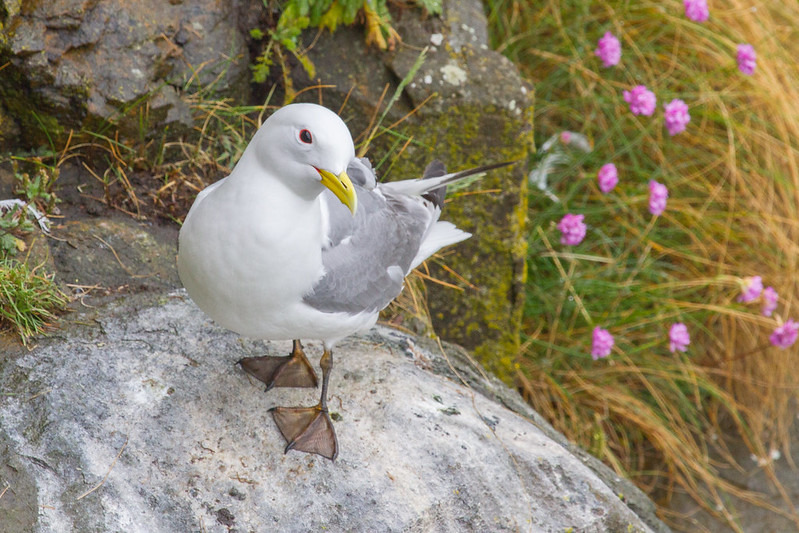 Common tern (Sterna hirundo)
Size: L: 34-37cm, WS: 70-80 cm
Slight, slender and angular birds, often breeding in colonies around coastal lakes and lagoons, common terns are bright white with a light grey back and wings, a deeply forked tail, black cap and red legs and bill. Their bill has a black tip.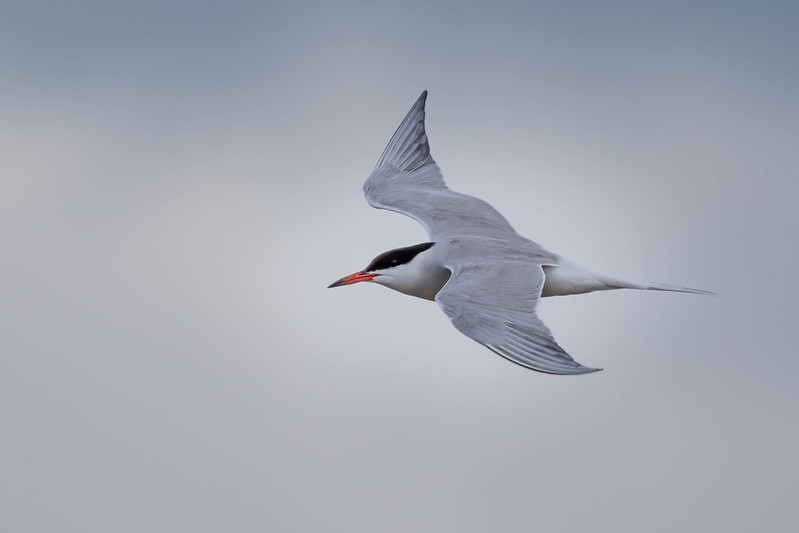 Arctic tern (Sterna paradisaea)
Size: L:33-39cm, WS: 66-77 cm
For much of the UK Arctic terns will be spotted on passage during their incredibly long migration. They are superficially similar to common tern though their bill is usually plain red with no black tip.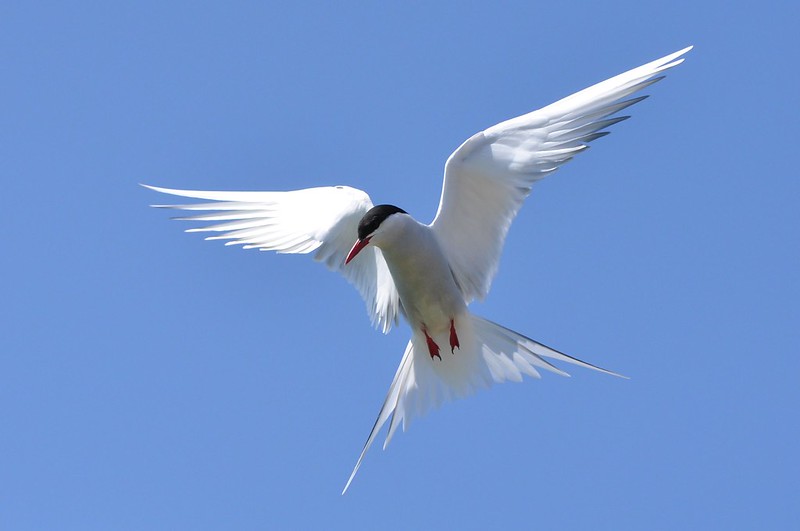 Fulmar (Fulmarus glacialis)
Size: L: 43-52cm, WS: 101-117 cm
Fulmar, though gull like in appearance, are petrels, related to albatrosses and shearwaters. They have a thick-set 'tube-nose' bill which they can spit foul-smelling oil from to deter predators from their nesting sites. They nest on sheer cliff faces and fly on stiff and shallow wing beats.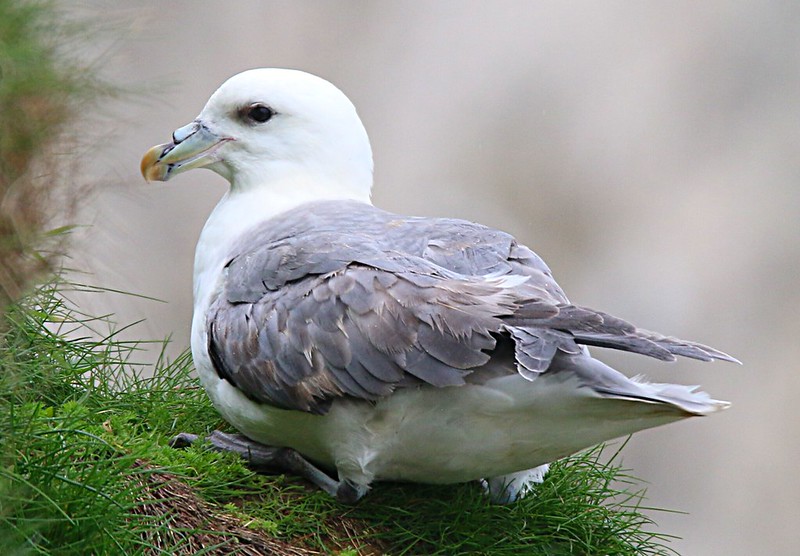 Gannet (Morus bassanus)
Size: L: 85-97cm, WS: 170-192 cm
Gannets are large white seabirds with a distinctive yellow head and long pointed wings with black tips. They also have a long pointed grey bill and white pointed tale. They can be seen flying high over the sea and circling before plunging at great speeds into the water in pursuit of food.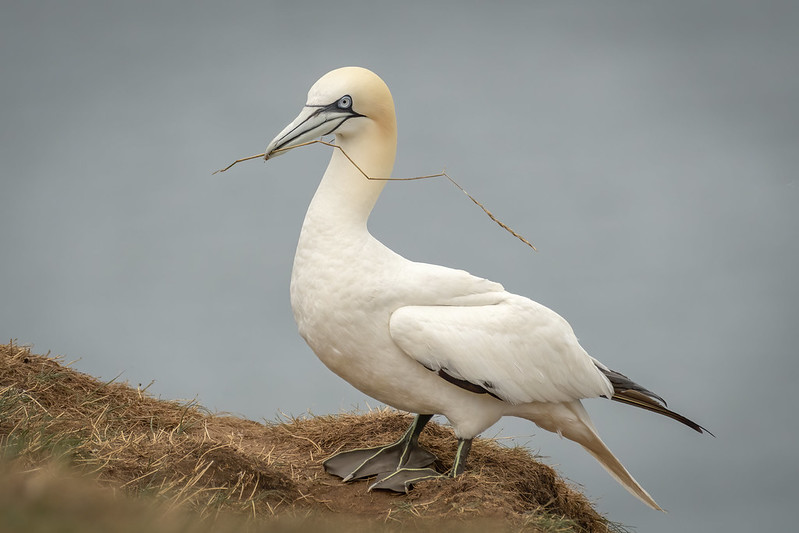 Guillemot (Uria aalge)
Size: L: 38-46cm, WS: 61-73 cm
Guillemots come to land only in the summer to breed and do so in large colonies on sheer cliff faces. Adult birds can often be seen 'rafting' at sea below the colony also. They have a brown/black head, back, wings and tail and white underneath. There is also a 'bridled' form where the birds have a white ring around their eye with a stripe behind it.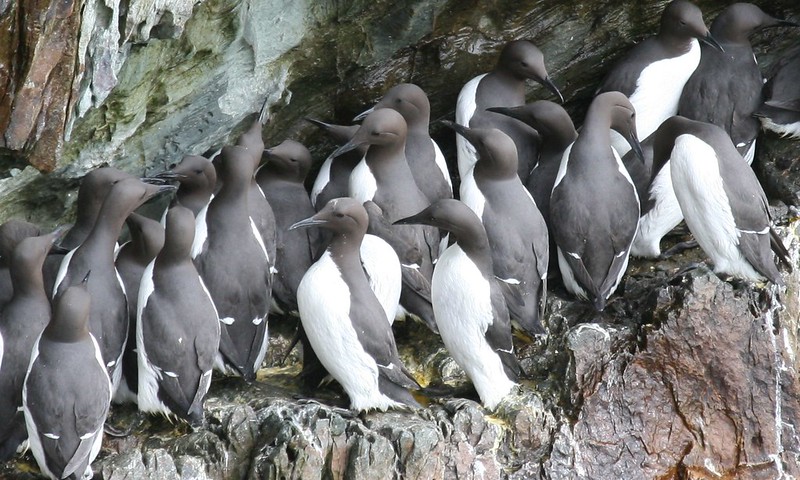 Razorbill (Alca torda)
Size: L: 38-43cm, WS: 60-69 cm
Razorbills are superficially similar to guillemot: black on their wings, back, head and tail and white underneath. An easy distinction between the species can be made however, by the razorbills deep thick-set blunt bill, where the guillemot has a longer slim bill. They are another summer breeder, wintering in the northern Atlantic, and favouring sheer rocky cliffs and islands for nesting.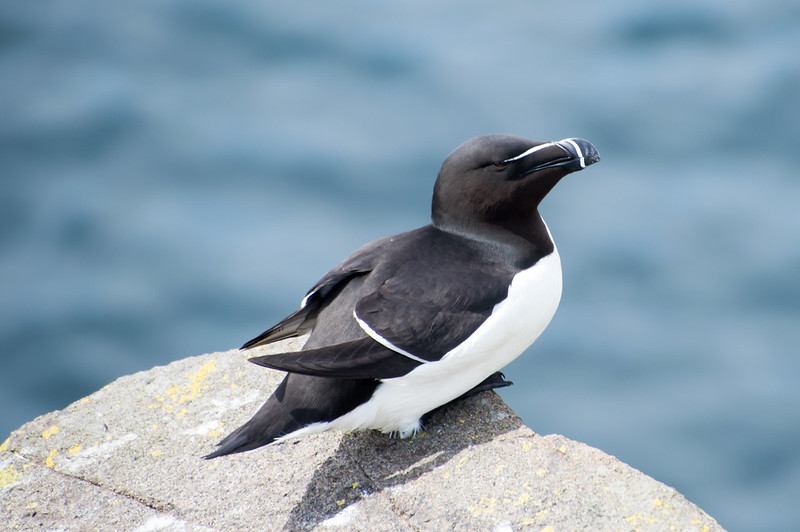 Puffin (Fratercula arctica)
Size: L: 28-34cm, WS: 50-60 cm
Unmistakeable small seabirds with a black back and white underneath. They have a white face with dark eyes set in dark triangular markings and an iconic vibrantly colourful bill. They are a summer visitor predominantly in large nesting colonies on islands, where they nest in burrows along vast grassy banks.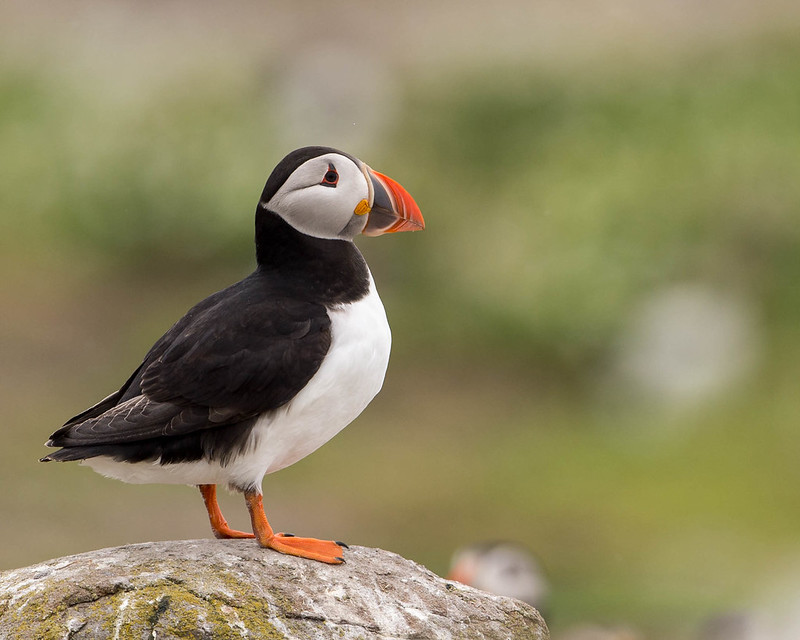 Cormorant (Phalacrocorax carbo)
Size: L: 77-94cm, WS: 121-149 cm
A large long-necked black bird, with a white face and yellow and grey bill. Cormorants are often seen inland on rivers and lakes, and in harbours where they extensively dive for their food and then stand to dry with their wings characteristically spread wide.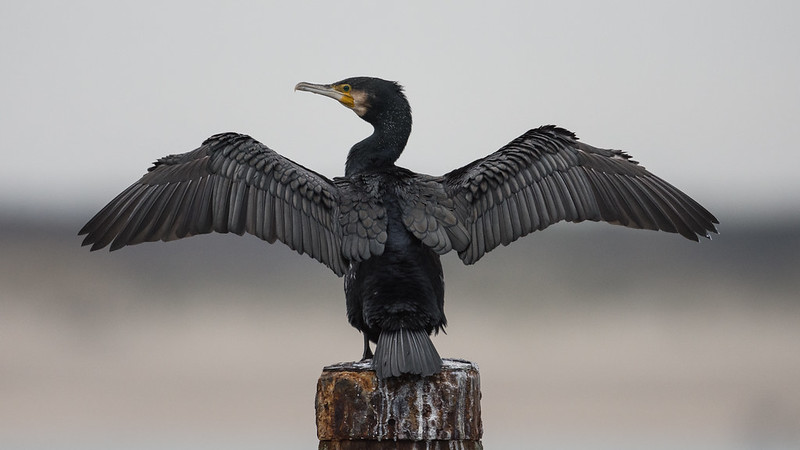 Shag (Phalacrocorax aristotelis)
Size: L: 68-78cm, WS: 95-110 cm
Shags are similar in appearance to cormorants though smaller, with a slimmer bill. Adult birds are entirely black (lacking the white face of cormorants) though still they have a yellow and grey bill. Shags are more strictly coastal and seldom seen inland, they also have a distinctive black crest on the top of their head.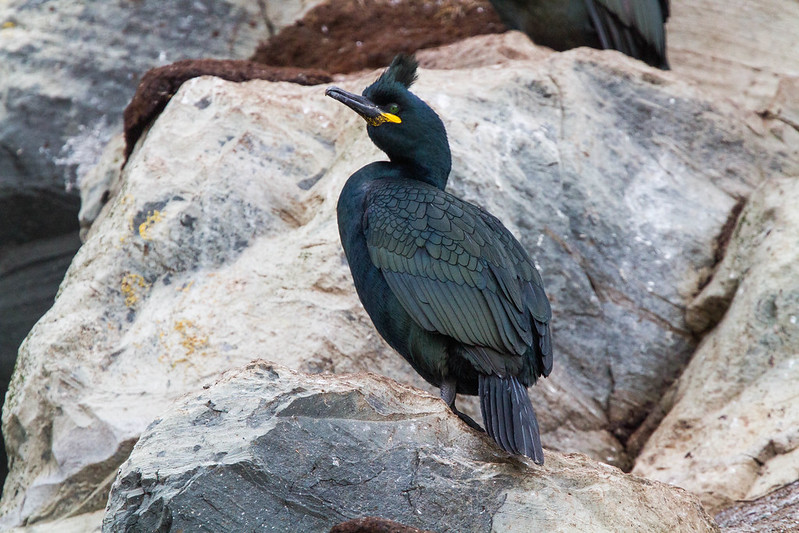 Rock pipit (Anthus petrosus)
Size: L: 15.5-17cm
Synonymous with the coast, these small, streaked brown/grey birds (with pale underside) are commonly seen flitting from rock to rock with a swift undulating flight. They have a light peeping call and can be seen perching around harbour walls -they are often quite plucky and approachable.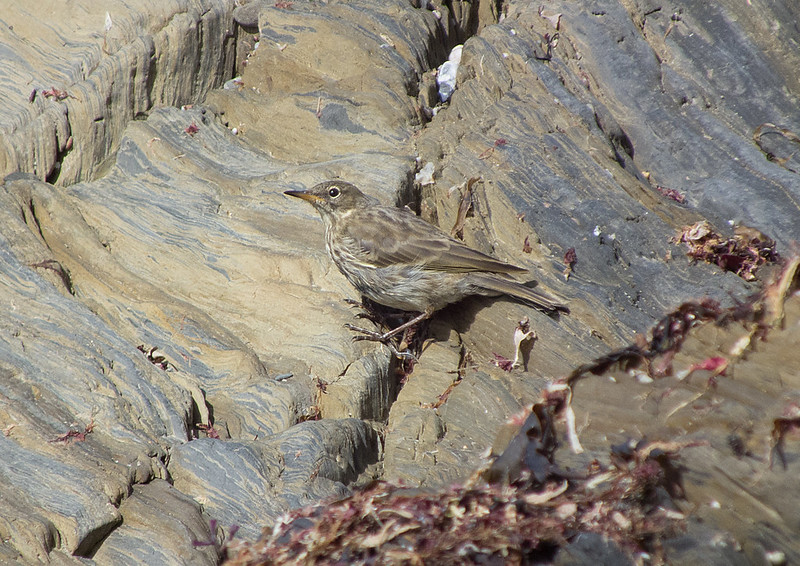 ---