There are eight species of corvid in the UK, five of which belong to the Corvus genus. They are intelligent birds, with many studies finding species demonstrating self-awareness and tool-making abilities. Their brain-to-body mass ratio is only slightly lower than ours and equal to cetaceans and non-human great apes.
Corvids occur worldwide, except for the polar ice caps and the southern tip of South America. Certain species are a common sight in our urban areas, having adapted to the proximity of humans. Some surveys have even found that fitness and reproduction have increased due to human development. Crows and ravens have been shown to have high reproduction rates and a positive association between annual survival and proximity to human development.
The crow family feature heavily in mythology and folklore, often as omens of ill fortune or death, though magpies can also be considered a herald of fortune. This is thought to have derived from their scavenging behaviour, feeding on carrion at battlefields. They were considered by some to be 'soul guides', there to carry to dead into the afterlife. Ravens feature in Scandinavian mythology, as the god Odin had two ravens that would tell him secrets they'd heard. This communication also features in Anglo-Saxon history. This is most likely due to the ability of many corvid species to mimic sounds in their environment, including human speech. They do this by using their two 'syrinxes', vocal organs located at the base of the bird's trachea, which is made of ossified cartilage, muscles and vibrating membranes. As corvids have excellent memories, they can be taught a wide range of words and sentences.
All species are listed as green by the Birds of Conservation Concern 4, with the Eurasian Jay being upgraded from its previous amber status.
Carrion crow (Corvus corone)
Distribution: Common and widespread, although less common in northwest Scotland. They are found across many habitats, including woodland, farmland, heathland and urban areas.
Wingspan:  84–100cm
What to look for: An all-black species, they have a shiny, thick black beak that is of medium length, and black legs. Their black plumage has a glossy sheen. They are fairly solitary and are most likely seen alone or in pairs, but they can occasionally form flocks.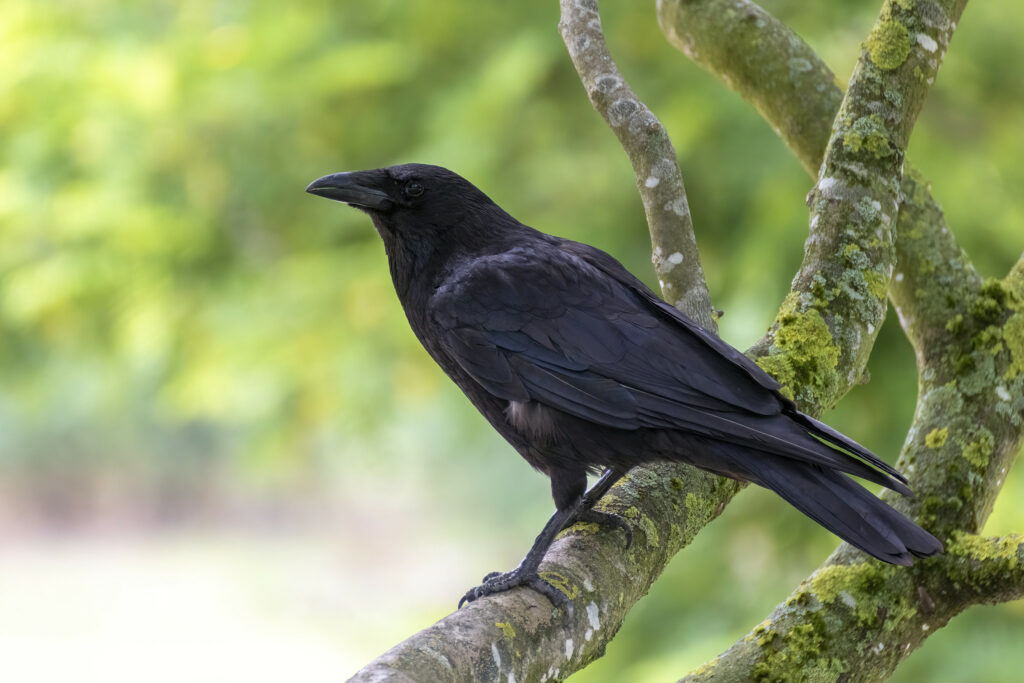 Jackdaw (Corvus monedula)
Distribution: Common and widespread, except for parts of the Scottish Highlands.
Wingspan: 64–73cm
What to look for: The jackdaw is a black species with a distinctive silvery patch on the back of its head. It has pale eyes that are quite easy to see. Their beaks are shorter than carrion crows, though both have an extended patch of feathers on the top of their beak.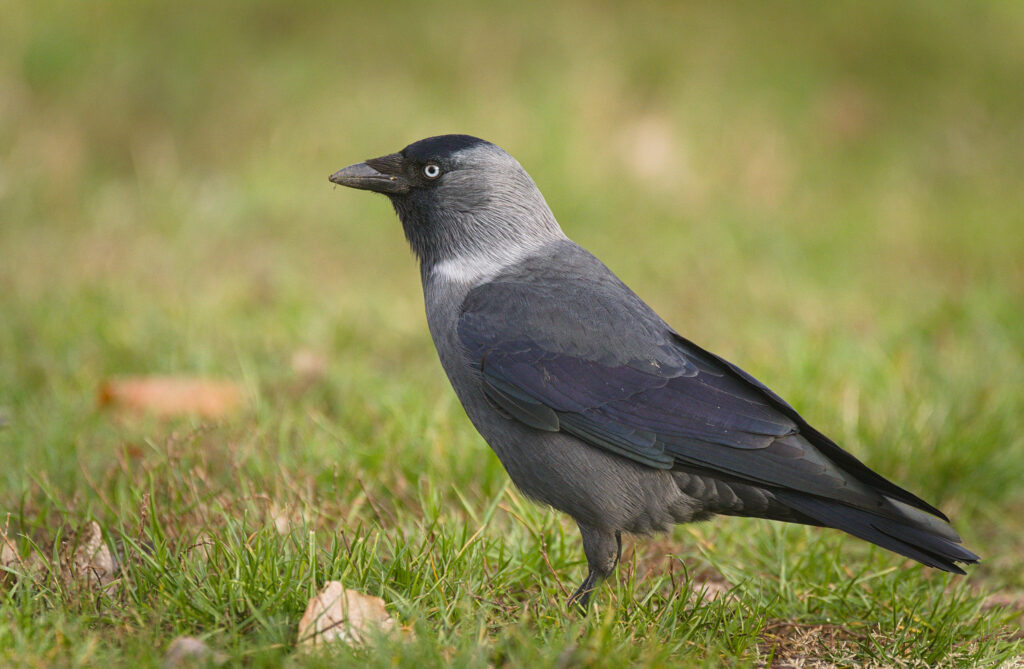 Rook (Corvus frugilegus)
Distribution: Widely distributed across most of the UK, although less widespread in Scotland and mostly absent from far northwest Scotland. They are mostly seen in open fields but can be found along roadsides and occasionally in parks and villages. They mainly avoid the centre of larger towns and cities.
Wingspan: 81–99cm
What to look for: This species is black, with a distinctive bare, greyish-white face and a peaked head. Rooks also have a thinner, paler beak than other corvids, such as carrion crows. This beak darkens towards the tip. Juveniles do not have a bare face, therefore can resemble other all-black corvids such as crows, but they can be distinguished by their peaked head.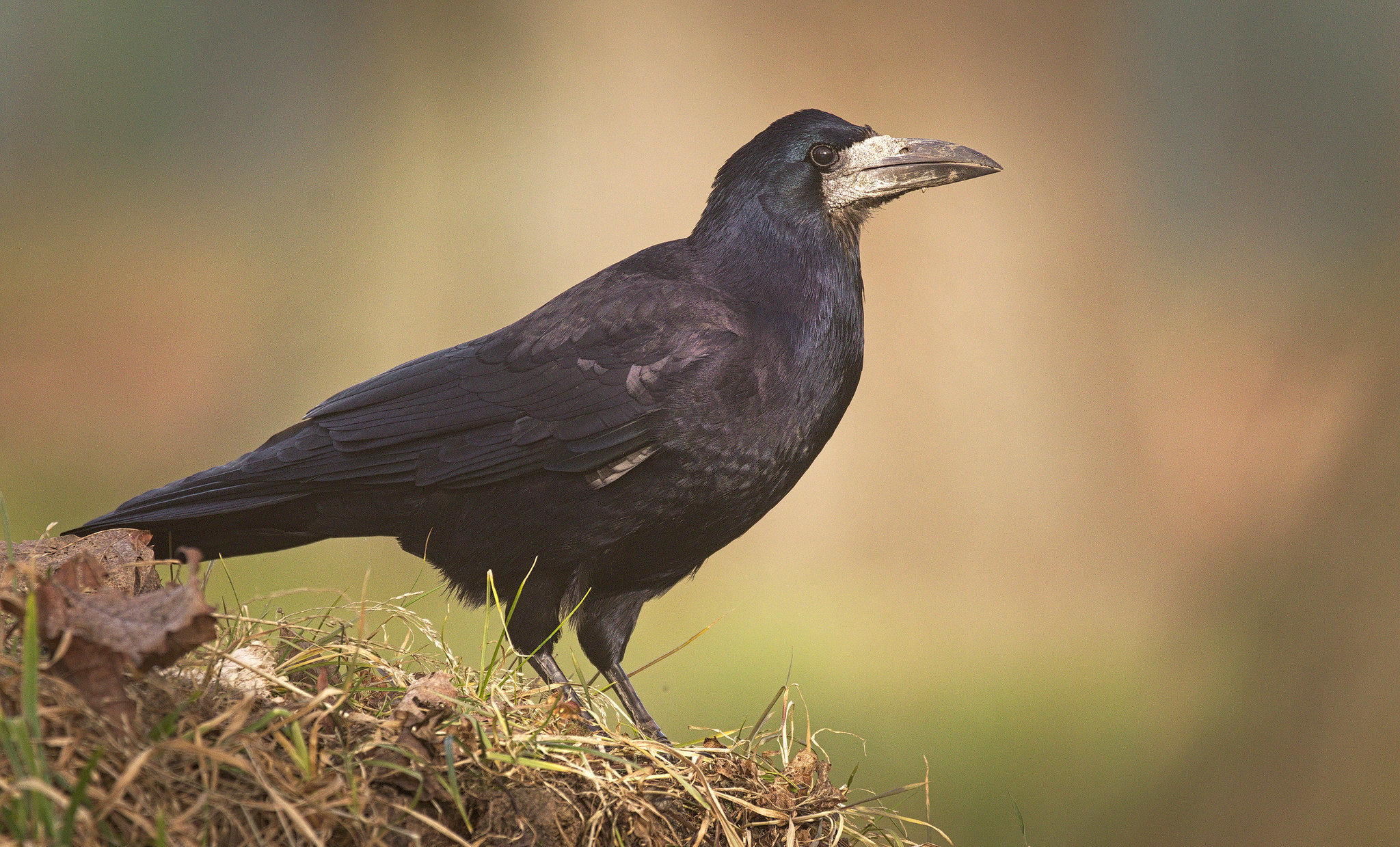 Jay (Garrulus glandarius)
Distribution: Widespread across England, Wales and Northern Ireland, present in parts of Scotland except in the north.
Wingspan: 52–58cm
What to look for: This colourful bird is a light brown to pinkish-grey, with a pale throat and prominent black moustache stripes. Their forehead and crown are pale with dark stripes. The upper surface of their wings is white and black, with a distinctive bright blue patch patterned with black bars. Their tail is white or pinkish underneath but their upper tail feathers are mainly black.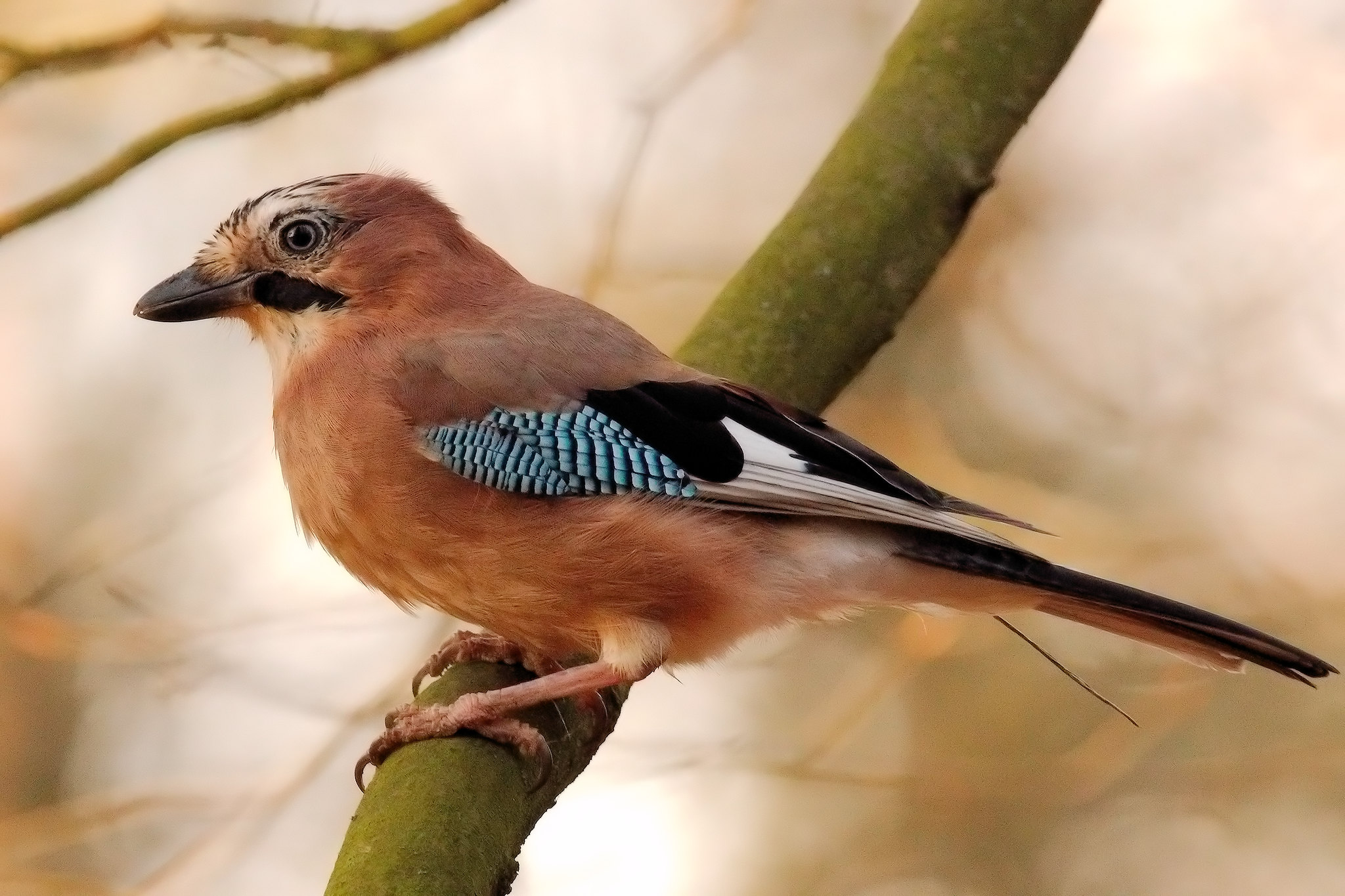 Magpie (Pica pica)
Distribution: Widespread across the UK, except the highlands.
Wingspan: 52–62 cm
What to look for: This species has a distinctive black and white plumage, with a purple-blue shine to the wings and a green shine to the tail. They have a black beak, black legs and black leg feathers.
Did you know? Magpies have long been associated with folklore in many countries, with a wide range of beliefs. Magpies have been thought to signal death, bad luck, good luck, fortune-telling and happiness. They are also the centre of the well-known 'one for sorrow' nursery rhyme where the number of magpies signals different events and occurrences. Depending on the version, gatherings of magpies can signal a birth, funeral, wedding, gold, silver, the gender of a child and even the devil.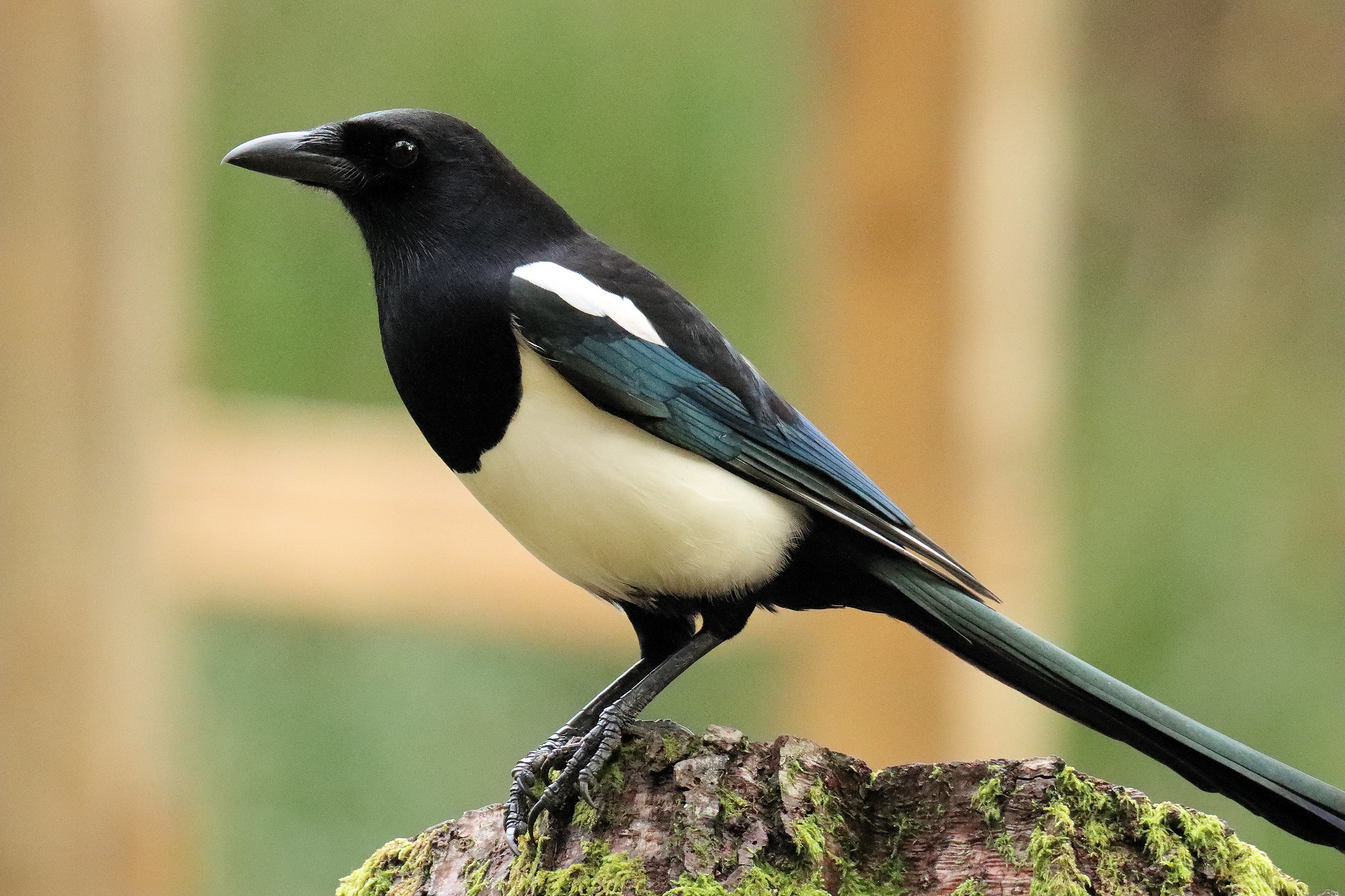 Raven (Corvus corax)
Distribution: Widespread across Wales, Northern Ireland and the West of Scotland and England. They are found across a number of habitats, including woodland, farmland, upland and marine habitats.
Wingspan: 115–150cm
What to look for: This is the largest member of the crow family, with an all-black plumage, a large bill and long wings. Their necks are thick, with a shaggy appearance. They have a diamond-shaped tail, best seen in flight. They closely resemble the carrion crow, except for their much larger size, but they can resemble raptors such as buzzards in flight.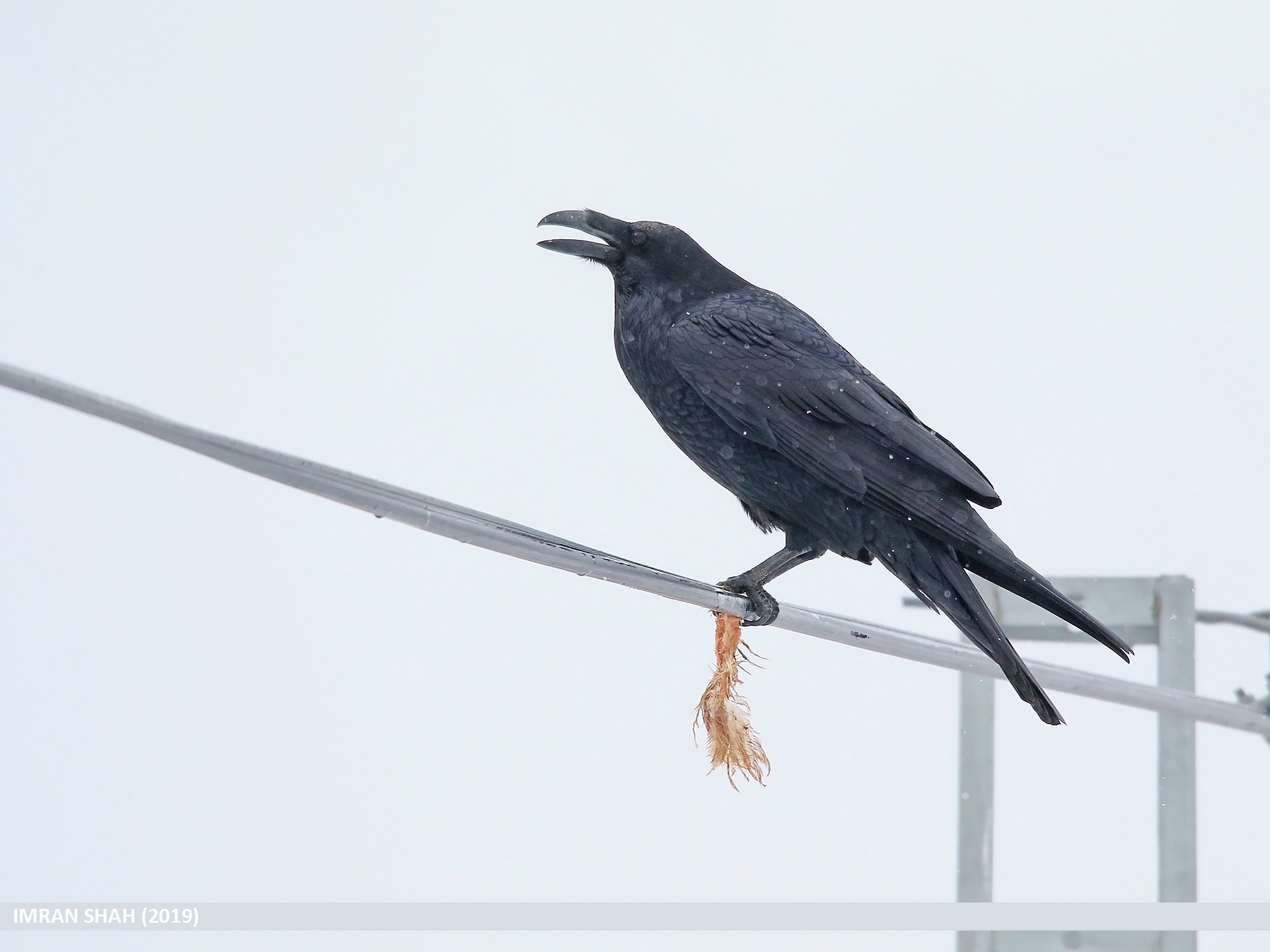 (Red-billed) Chough (Pyrrhocorax pyrrhocorax)
Distribution: Small, isolated populations along the west coasts of Wales, Cornwall and Ireland, as well as the Isle of Man.
Wingspan: 73–90cm
What to look for: Choughs have a blue-black plumage with a green sheen to their wings and tail. They have a slender, red bill that curves downward. Its legs are red with black claws. Juveniles have an orange bill and either pink or grey legs.
Did you know? In 2002, a pair of choughs raised young in Cornwall for the first time in more than 50 years. They continued to nest successfully for over a decade, raising 46 chicks in total. In 2022, the population reached 200 birds, with 25 pairs successfully raising over 70 young.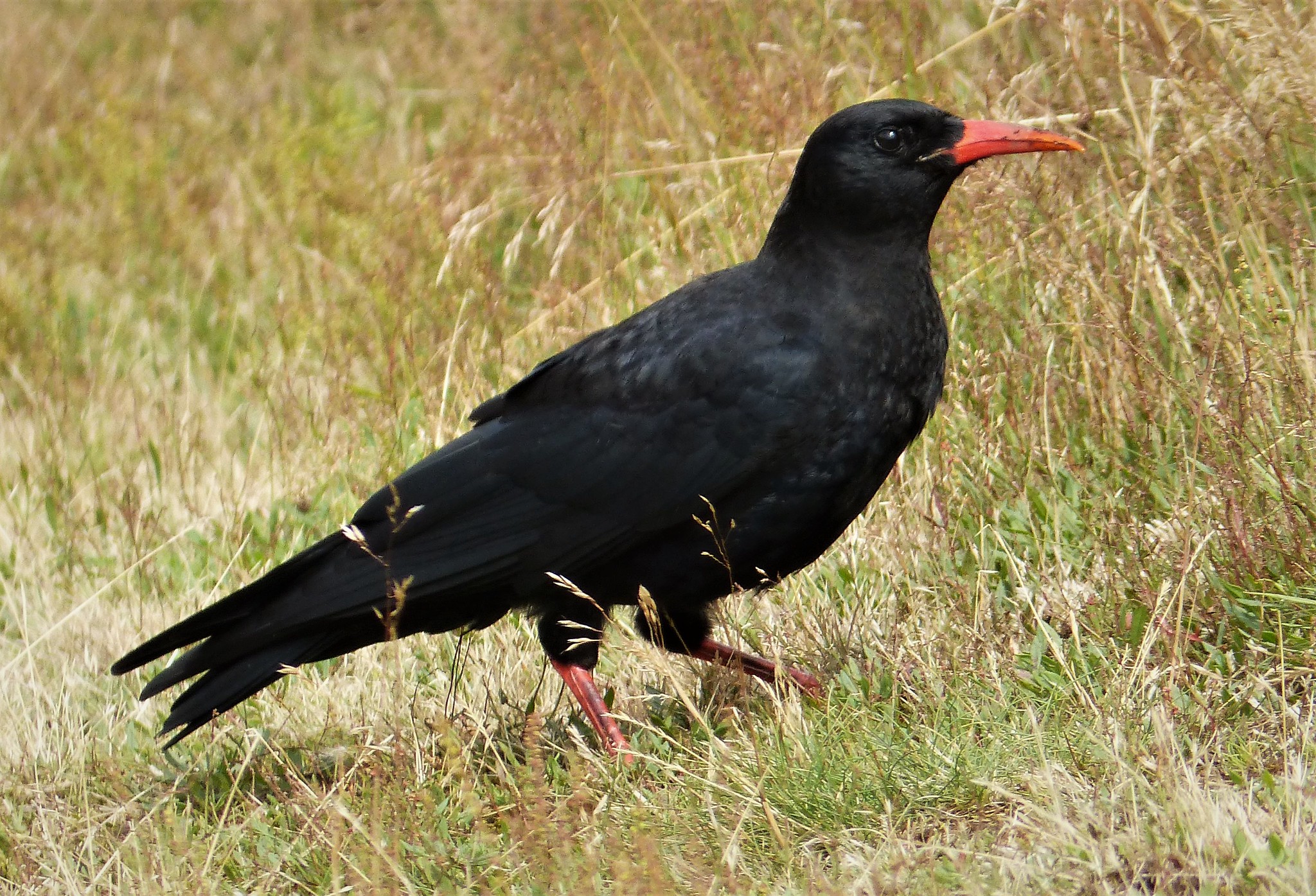 Hooded crow (Corvus cornix)
Distribution: Present in Northern Ireland, north and west Scotland, and the Isle of Man. In winter, it is present on the eastern side of England.
Wingspan: 93–104cm
What to look for: This species has an ashy-grey plumage, with a black head, throat, tail, wings and thigh feathers. It has a black beak and legs, with dark brown eyes.
Did you know? The hooded crow was thought to be the same species as the carrion crow until 2002 when they were given full species status.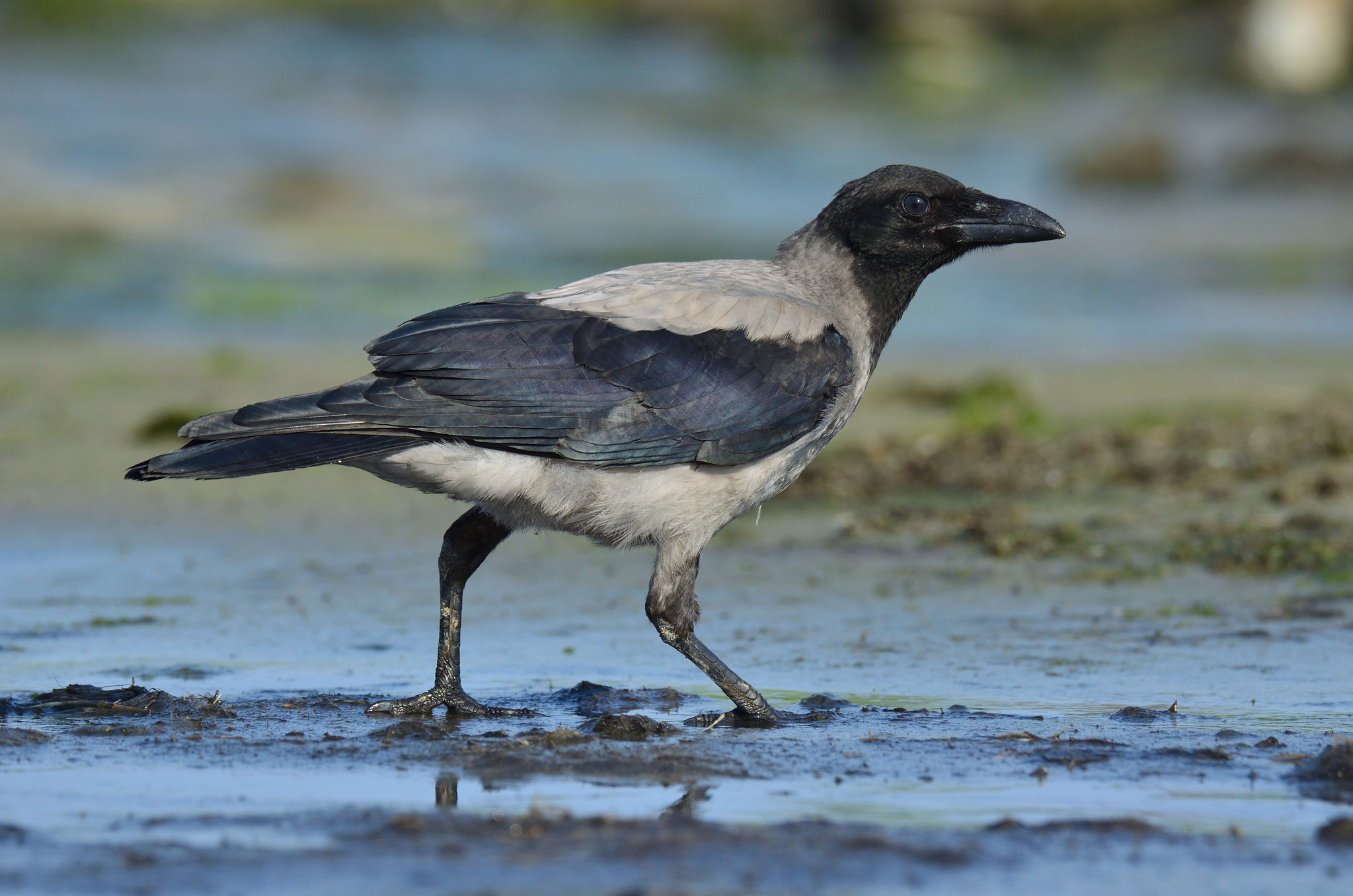 Suggested reading and equipment:
Marzluff, J. M., and Neatherlin, E., 2006. Corvid response to human settlements and campgrounds: Causes, consequences, and challenges for conservation. Biological Conservation, 130(2), pp. 301-314
Møller, A. P., 2010. The fitness benefit of association with humans: elevated success of birds breeding indoors. Behavioral Ecology, 21(5), pp. 913-918
Twenty years of cornish choughs and another bumper year.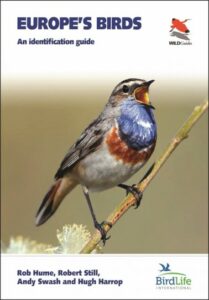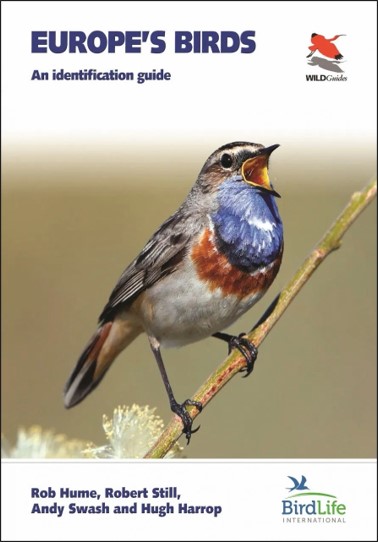 Europe's Birds: An Identification Guide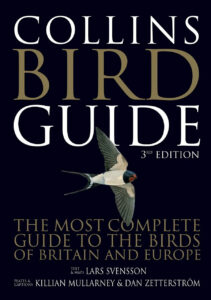 Collins Bird Guide, 3rd Edition