The NHBS Harp Trap 
Earlier this year we were delighted to launch another exciting product manufactured here at our base in Devon. After a concerted period of design and manufacturing effort by our expert Workshop Team, followed by testing and review by ecological professionals, our NHBS Harp Trap was ready for production. The launch of our product into the wildlife equipment market signals the arrival of the only commercially produced harp trap in Europe.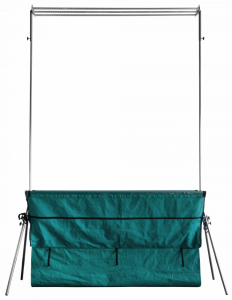 What is a Harp Trap? 
A harp trap provides an alternative bat survey method to mist netting or the use of bat detectors. They are particularly useful in situations where bats in flight can be channeled through a natural funnel such as above a water course, a cave or mine entrance or a clear area within a forest. 
Harp traps consist of a frame which is either freestanding or suspended, and supports two to four rows of nylon strings. The bats will fly into the nylon strands and then fall unharmed down into a collecting bag below. The catch bag is made from green cotton canvas that is water resistant and breathable and includes heavy duty clear plastic baffles to prevent the bats from escaping. Unlike mist nets, harp traps do not entangle the bats an it has been reported that they can be more effective for surveying bats, potentially capturing higher numbers of individuals. 
The NHBS Harp Trap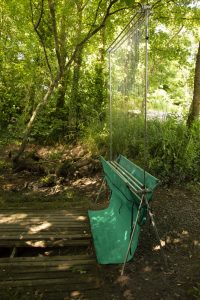 The new NHBS Harp Trap is a three-bank trap, meaning it has three rows of nylon line. Our trap has a catch area of approximately 4m2  and catch bag which is around 60cm deep.  It folds down neatly into a bespoke carry bag and weighs approximately 15kg-full specifications and dimensions are below. The trap takes two people around 10 minutes to assemble and stands on four sturdy, extendable legs and which can be arranged at the height that you need the trap to be. There is also the option to anchor the harp trap with guy ropes in windy conditions. The trap can also be adapted to be suspended if this is required.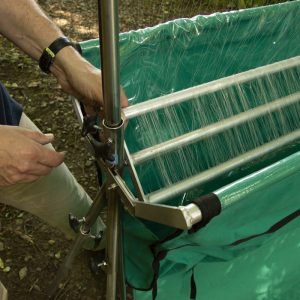 Our trap has a few innovative features designed to make assembly and disassembly easier. Firstly the strings are wrapped  around a winding mechanism which greatly reduces the stress and time-consuming act of sorting through tangled lines in the dark.
There is also an extension under the catch bag, which prevents the bats from flying underneath the trap and this doubles as protection for the component parts as it wraps around the disassembled trap when it is stored in its bag. 
Dimensions:
Catch area: 4m2 approximately

Catch area L x W: 180 x 225cm
Length: 180cm
Catch bag depth: 60cm
Catch bag width: 44cm
Weight: 15kg
Folded dimensions (in carry bag)
Height: 46cm
Length: 200cm
Width: 22cm
Operational dimensions
With legs fully retracted:
Height 314cm
Width (at base): 62cm
Length (at base): 230cm
With legs fully extended:
Height: 372cm
Width (at base): 100cm
Length (at base): 252cm
Testing 
As our harp trap evolved, prototypes were trialed and reviewed by ecology professionals; Professor Fiona Mathews of Sussex University and Neil Middleton of Batability. Their expertise and excellent feedback helped us develop our the harp trap to the point that it was now ready to go live. 
The team at NHBS have done an excellent job in coming up with a new and refreshing approach to harp trapping, which shows many innovative and useful design features.  When testing the equipment we were able to demonstrate that it was quicker/easier to assemble than competitor's products.  We are happy to recommend this harp trap, and will be ordering one ourselves, to be used during our training courses and for bat-related research.   
Neil Middleton, BatAbility Courses & Tuition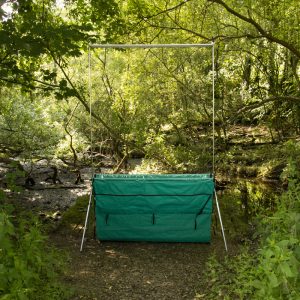 The Law 
Harp traps can only be sold to those who are licensed to use them. If you hold such a licence, we will ask to see a copy of your NE, NRW or SNH licence when you contact us about your purchase. If you are purchasing from overseas, we will request details about your institution and research. 
NHBS Manufacturing
NHBS manufactures marine, freshwater and terrestrial survey tools, all carefully designed to meet the demands of researchers, consultants, public authorities and educators in the environment sector. Made by our team of expert engineers, fabricators and seamstresses, our products have become renowned for their quality, durability and affordability.
Find out more about our manufacturing.
Key accessories for using alongside your harp trap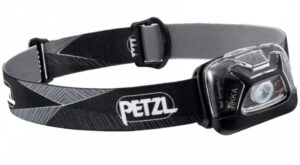 The Petzl Tikka Headtorch is a high-power and easy to use headtorch that can produce a light beam with a brightness of up to 300 lumens. It is available in four colours and can be powered with either three AAA batteries (included) or using the Petzl CORE rechargeable lithium-ion battery. 
The Kite LED Loupe Triplet Hand Lens 10 x 21 provides crystal clear images which are enhanced with its ring of LED lights. This product may prove invaluable when trying to identify some of the tiny distinguishing features of certain bat species. 
The A4 Portrait Waterproof Clipboard allows you to write in the field without having to worry about the rain. A waterproof plastic covering system helps to keep your paper dry and can be closed over the clipboard with the strong velcro fastener. 
Books 
The Bats of Britain and Europe 
Paperback | Sept 2018 
The Bat Workers' Manual 
Paperback | July 2012 
Field Guide to Bats of the Amazon 
Paperback | Feb 2018