In our new NHBS Introduction to Habitats series, we will be exploring the various habitats found in the UK. In this article, we will take a look at the first habitat of the series, heathland and moorland. Featuring prominently in famous novels such as Wuthering Heights by Emily Brontë and The Return of the Native by Thomas Hardy, heathland is a unique habitat. Originally manmade, it is a product of agricultural grazing and tree clearing practices originating thousands of years ago. Unlike the heathland in countries such as Australia and South Africa, European heathland is relatively low in flora species variety. It is characterised by heather species (Family Ericaceae), but also other plant species such as gorse (Ulex spp.) and bracken (Pteridium spp.).
As this habitat is manmade, it requires management to be maintained. This usually involves a variety of methods such as using grazing animals, removing older species and trees, and controlling the encroachment of scrub. They can even be managed by controlled burning. If neglected, the heathland would be overtaken by successive species and become woodland.
There are several different types of heathland, depending on physical factors such as soil drainage, terrain, and altitude. These types include lowland, chalk, and wooded heath. Lowland heath can be further divided into wet, dry, and humid heath, and upland heath is more commonly known as moorland. The types of species found can vary between these habitats.
What species can you find here?
Flora:
While there may not be a large variety of flora, the species present all play important roles within the habitat. There are also some iconic species within the heathland.
Bell Heather (Erica cinerea)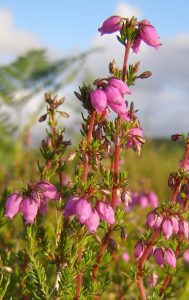 Between June and September, bell heather blooms across the heathland, creating a blanket of purple. This species is an important nectar source for many invertebrate species, such as the buff-tailed bumblebee (Bombus terrestris) and the silver-studded blue butterfly (Plebejus argus).
It is similar to another heather species, cross-leaved heath, but the flowers of the bell heather are smaller and occur around the stem, rather than clustered on one side.
Common Gorse (Ulex europaeus)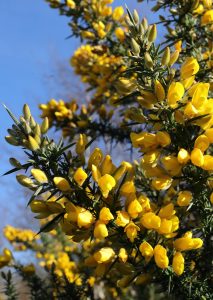 Flowering from January to June, this bright yellow plant provides an early source of food for many invertebrates. As a large evergreen shrub, it also provides shelter for many species, including Dartford warblers (Curruca undata) and linnets (Linaria cannabina).
Common gorse is also very similar to two other gorse species, western (Ulex gallii) and dwarf (Ulex minor). The easiest way to identify the species is by the time of year that they flower and their height, as common gorse grows much taller and can reach up to 2.5 metres.
Common Bracken (Pteridium aquilinum)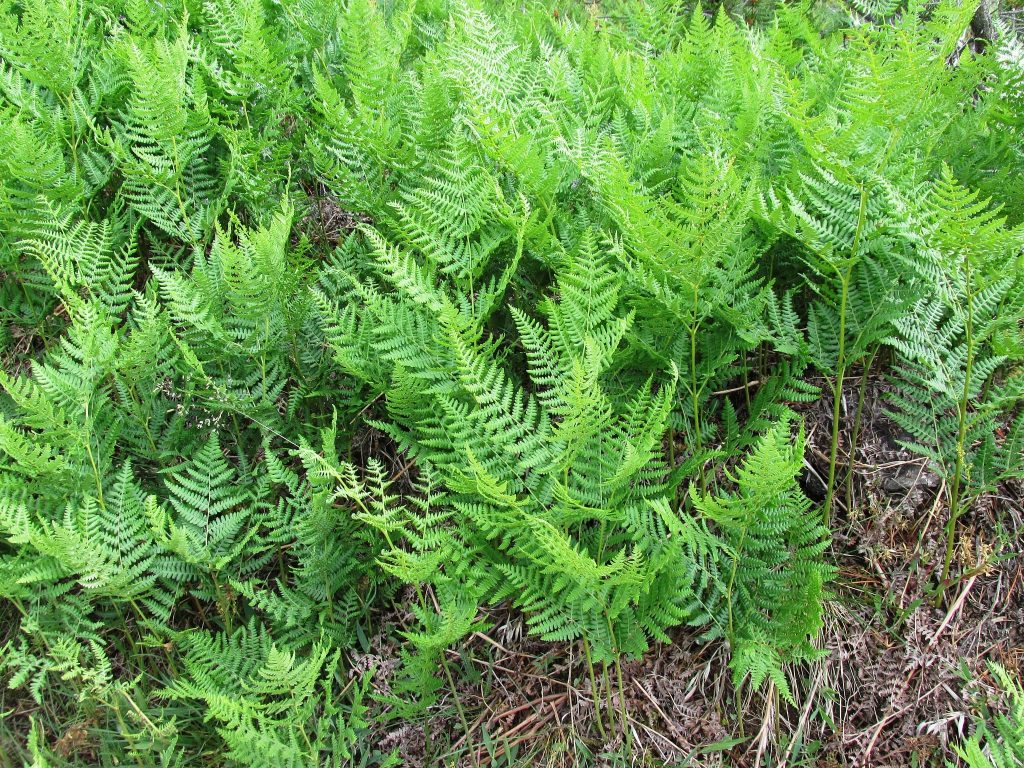 The UK's most common fern species, it grows in dense groups on heathland and moorland. A bright green during spring and summer months, this species dies back in winter, creating a sea of brown fronds. Bracken is poisonous to grazing livestock, therefore it needs to be cut back to maintain heathland habitats. If left to grow, it can dominate the habitat and out-compete other plant species, such as bell heather, for nutrients, light, and water.
Heath Bedstraw (Galium saxatile)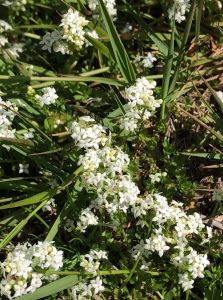 Heath bedstraw is a mat-forming herb found in heathland habitats. It is a fairly common species, found widespread across most of the UK. The white petalled flowers bloom between June and August. This species is a key food source for Britain's only true alpine butterfly species: the small mountain ringlet (Erebia epiphron).
Key identifying features of heath bedstraw are its square, hairless stem and its white, four-petal flowers that give off a sickly, unpleasant smell.
Fauna:
Heathland supports a large variety of species, particularly invertebrates, but also birds, mammals and reptiles. Several rare species present here are hardly found in any other habitat.
Silver-Studded Blue Butterfly (Plebejus argus)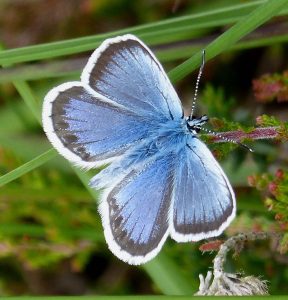 This species is found mainly in heathland, chalk grassland, and sand dune habitats, and is almost entirely restricted to southern England. It is a rare species, with the adults appearing between July to September.
This species is sexually dimorphic, meaning the males and females look different. The males (pictured) are blue with a darker border, while the females are brown with red spots along their border. Both have the pale fringe to their wings.
Golden-Ringed Dragonfly (Cordulegaster boltonii)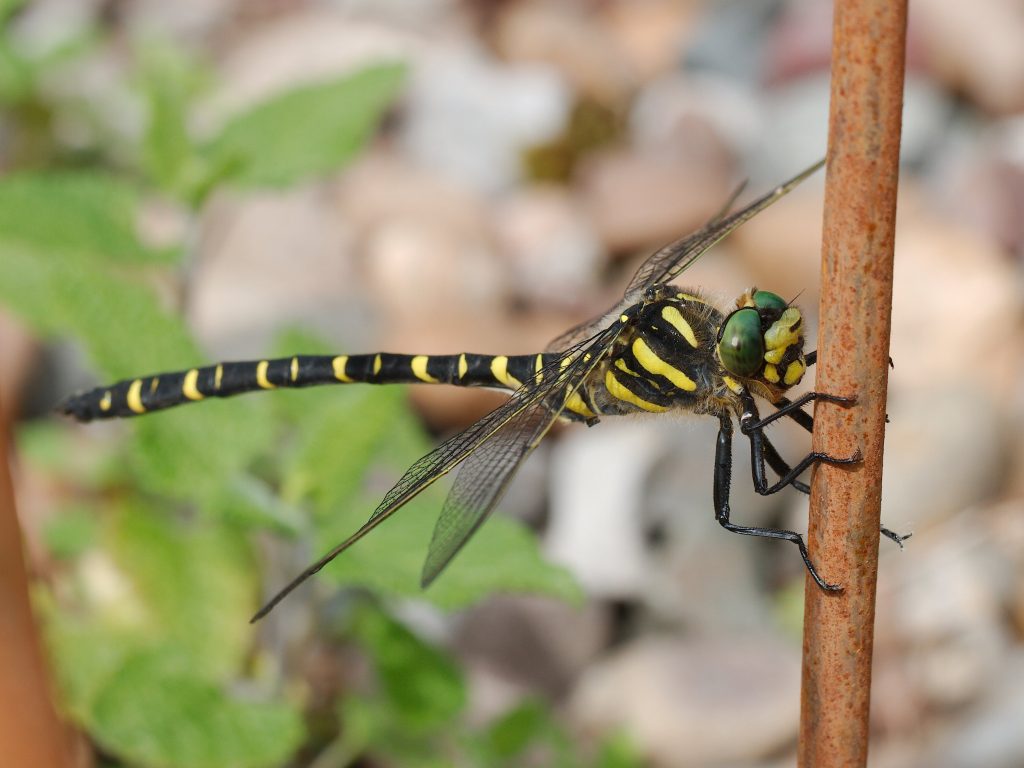 This species, found in heathland, freshwater, and wetland habitats, is easy to identify, due to its distinctive yellow and black markings. Their larvae are aquatic, and so rely on streams or standing water within the heathland to breed. While voracious predators in their own right, they are also an important food source, along with other dragonfly species, for many nesting birds such as the hobby (Falco subbuteo).
Dartford Warbler (Silvia undata)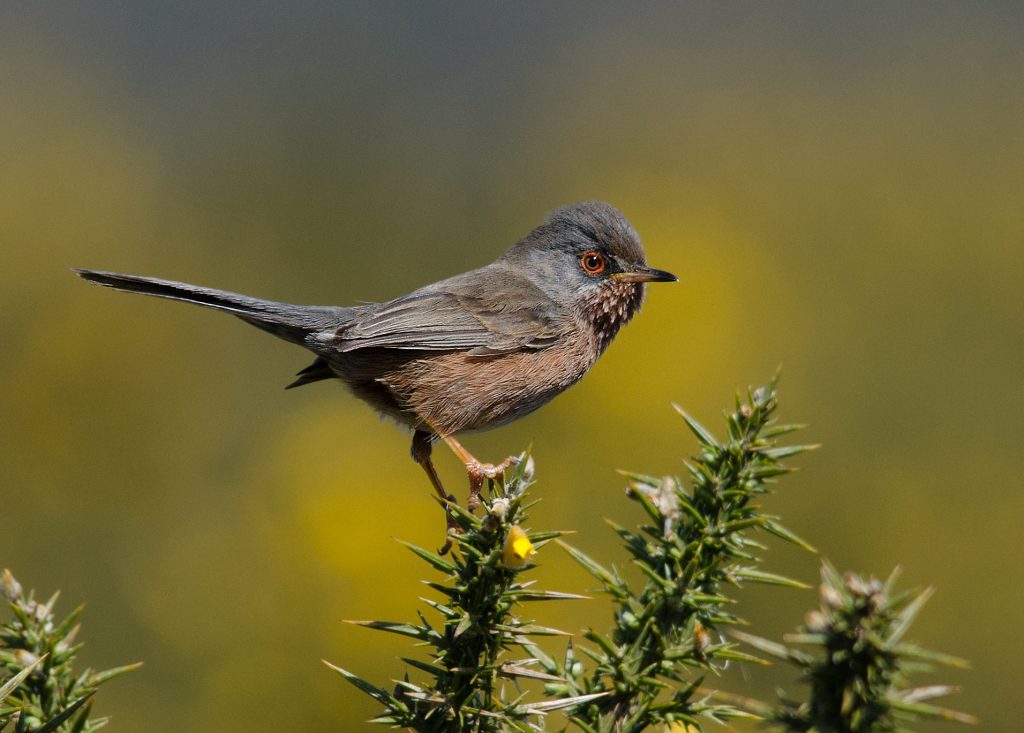 The Dartford warbler suffered a population crash in the 1960s but has since begun recovering. It is a ground-nesting bird, living on lowland heath and relies on gorse for a protective covering. Within the UK, this species is also mostly restricted to southern England. However, there are populations of this species within western Europe, particularly within the Iberian peninsula.
Stoat (Mustela erminea)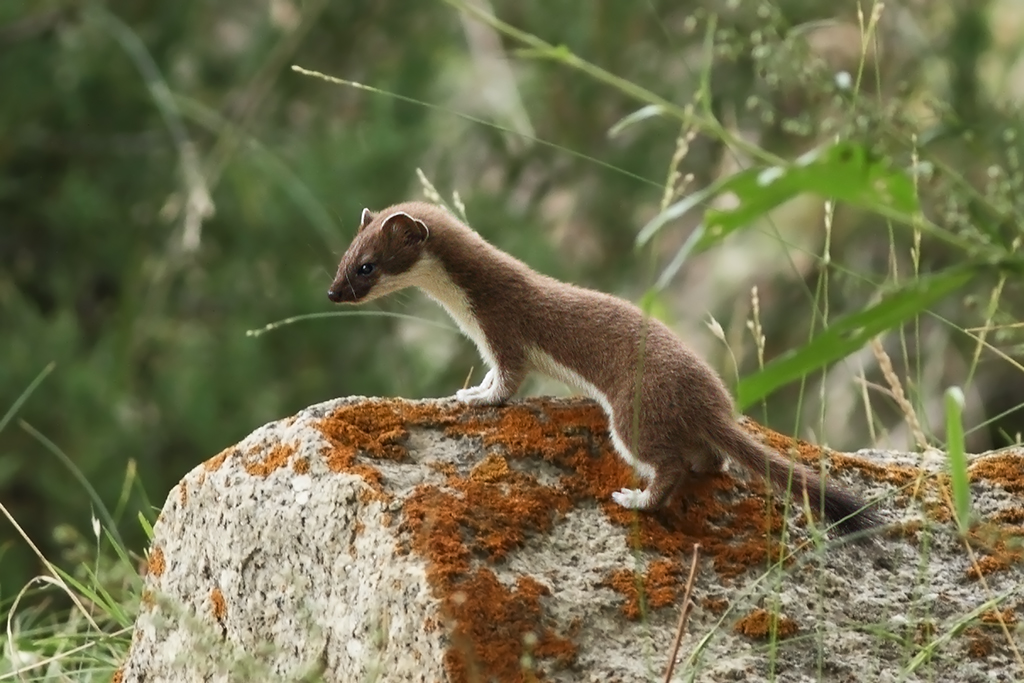 The stoat, also known as the short-tailed weasel or Eurasian ermine, is a small member of the mustelid family, related to otters (Lutra lutra) and the very visually similar weasel (Mustela nivalis). While stoats are slightly larger, the key to discerning this species from the weasel is the tail – stoats have a longer tail with a black tip.
Heathland can also support all six UK reptile species and several of our amphibian species. For more information on those, be sure to check out our NHBS Guide to UK Amphibian Identification and to UK Reptile Identification.
Heathland threats:
Lack of management is one of the main threats that heathland faces. This habitat needs variety, for example, dry heath, wetter areas such as bogs and ponds, patches of older vegetation, and areas of bare, sandy ground. This all improves the biodiversity of the area and helps to strengthen the ecosystem. Without management, these areas could all be taken over by scrub and tree cover.
Clearing for urban development, ploughing, and quarrying also threaten this habitat, and are some of the main causes of heathland loss over the last few decades. Further threats include the expansion and planting of forests, overgrazing, and uncontrolled fire.
More than 80% of heathland in the UK has been lost during the past 150 years, but widespread conservation efforts hope to reverse this. The UK Biodiversity Action Plan, for example, aims to restore 58,000 hectares of heathland, with further plans to recreate 6,000 hectares.
Areas of significance:
Upland heathland or moorland:
– Exmoor, Dartmoor, and Bodmin Moor
– Pennines
– Brecon Beacons
– Other areas such as Yorkshire, Northumberland, Greater Manchester, and the Peak District.
Lowland heathland
– The New Forest
– Ashdown Forest
– South Purbeck Heaths
– Other areas such as Cornwall, Devon, Surrey, and Pembrokeshire
Please note this is not an exhaustive list.