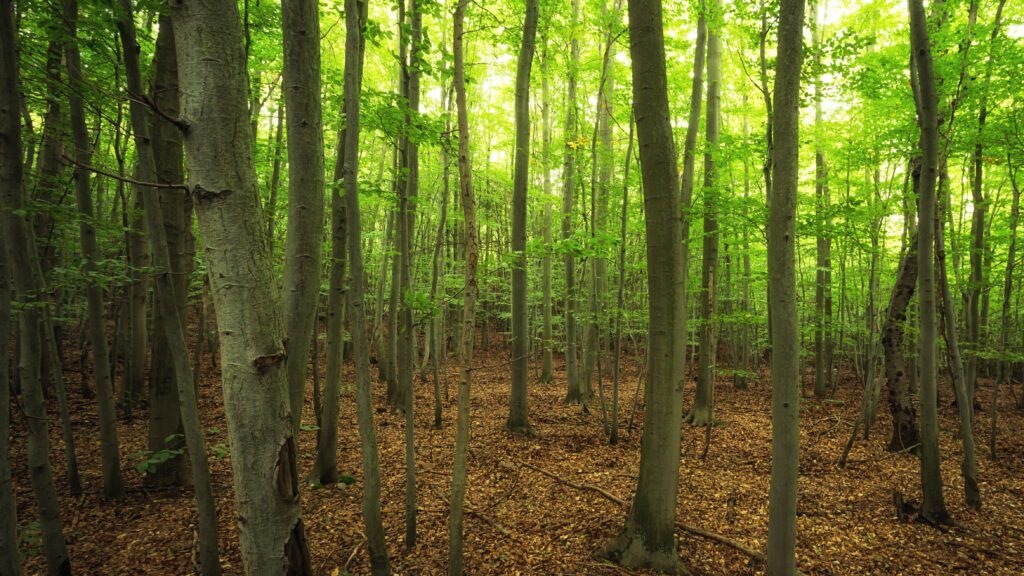 Woodland is the next habitat in our NHBS Introduction to Habitats series. Broadly, these habitats are land that is covered with trees, but the term woodland encompasses a diverse group of habitats that can be rich in wildlife. They are a key habitat for many invertebrates, plants, birds, mammals and other species groups. Woodlands are also incredibly useful habitats, for instance by providing flood protection by holding back water in the soil, sequestering carbon dioxide and reducing local temperatures. They also help reduce soil erosion and regulate weather patterns, such as local rainfall and temperature. Woodland may also be beneficial to our health, as it's thought that spending time in forests decreases blood pressure, reduces stress levels and boosts your immune system. However, studies are still ongoing into the validity of these effects.
The types of woodland habitat include, but are not limited to, ancient, broadleaved, coniferous, mixed and wet woodland, as well as temperate rainforest, Caledonian forest, wood pastures and urban woodland. Each can have defining criteria such as plant types, soil moisture levels, humidity levels and age. There are also semi-natural and plantation woodlands, which are classified based on the percentage of planted trees. There are several indicator species used to determine the type of woodland habitats, such as the violet click beetle (Limoniscus violaceus), which rely exclusively on ancient decaying beech and ash trees. Several of these habitats are UK Biodiversity Action Plan (BAP) Priority Habitats, which are a range of threatened semi-natural habitats that require conservation action.
What species can you find here?
Flora
While trees often define woodland, this is not the only type of flora in these habitats. Woodland habitats host 60% of all known vascular plant species. Wildflowers, grasses, sedges, ferns, mosses, fungi and lichen all occur in woodland habitats, although the species found varies depending on the abiotic and biotic conditions within the habitat.
Oak Tree (Quercus spp.)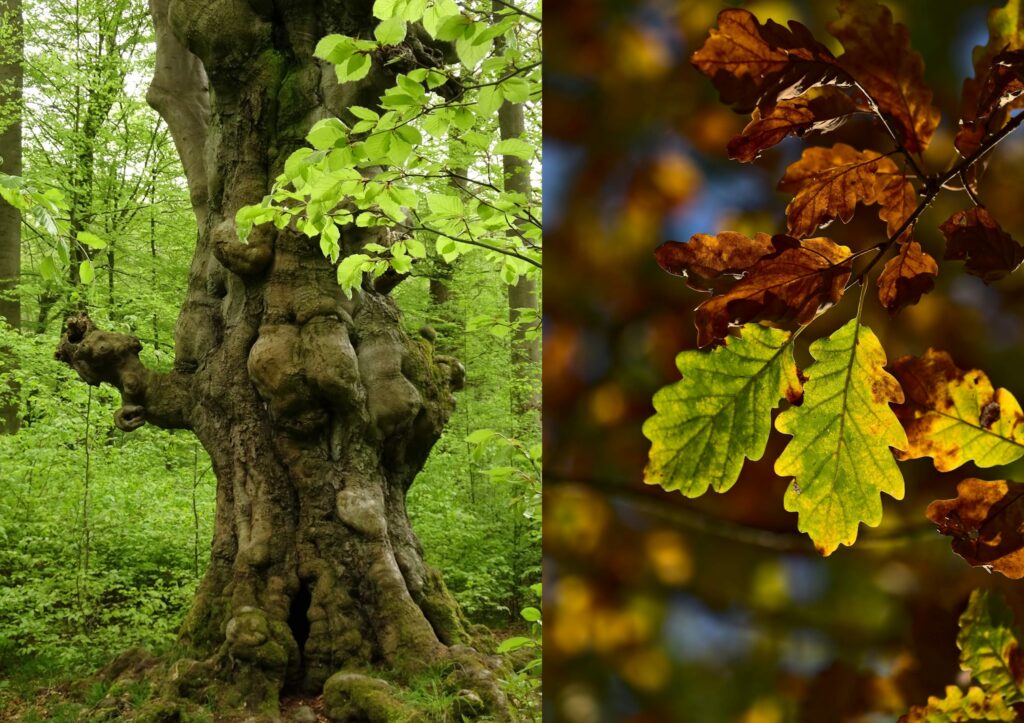 Did you know that there are actually over 500 species of oak tree in the world? The dominant oak tree in the UK is the English oak (Quercus robur). The sessile oak (Quercus petraea) is the UK's other native oak species, but there are many more non-native species here, such as the Turkey oak (Quercus cerris) and holm oak (Quercus ilex). Oak trees can be keystone species in many ecosystems, with one study finding that a single oak tree can host more than 2,300 organisms (data supplied by Natural Environment Research Council). Some of those don't occur on any other tree species. Oak trees can also live to around 1,000 years old!
Wood Anemone (Anemone nemorosa)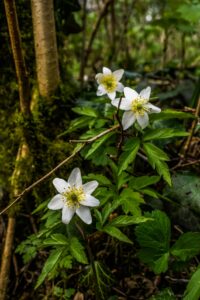 The wood anemone is an ancient woodland indicator species as they are slow-growing and take a long time to fully establish. Therefore, large patches show that the habitat has been relatively undisturbed for a long time.
They are a spring species, often appearing with bluebells, another ancient woodland indicator. This species has a star-shaped white flower, that can have a pink tinge. It has distinctive yellow anthers in the middle.
Herb-Robert (Geranium robertianum)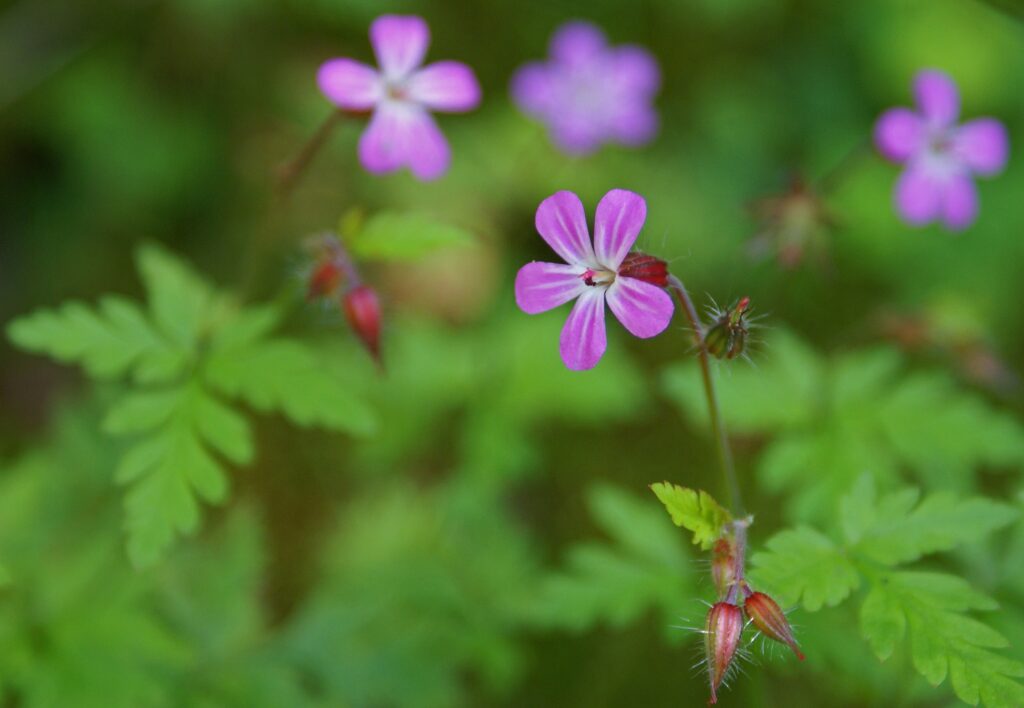 A type of crane's-bill, herb-robert is a low-growing plant with pink flowers and a reddish stem. It is widespread across the UK and prefers shaded habitats, such as woodland. This plant has many traditional uses, such as treating headaches, stomach aches and nosebleeds. It is an important nectar source and food plant for many invertebrates, such as bees and the barred carpet moth (Martania taeniata).
Fungi
Woodland, particularly habitats with a high amount of deadwood and leaf litter, can be key habitats for a wide variety of fungi species. These species break down dead organic matter and facilitate the recycling of carbon and nutrients back into the soil. They are also food for many species, including a number of invertebrate species, and are used as nesting material, for both birds and invertebrates.
Candlesnuff Fungus (Xylaria hypoxylon)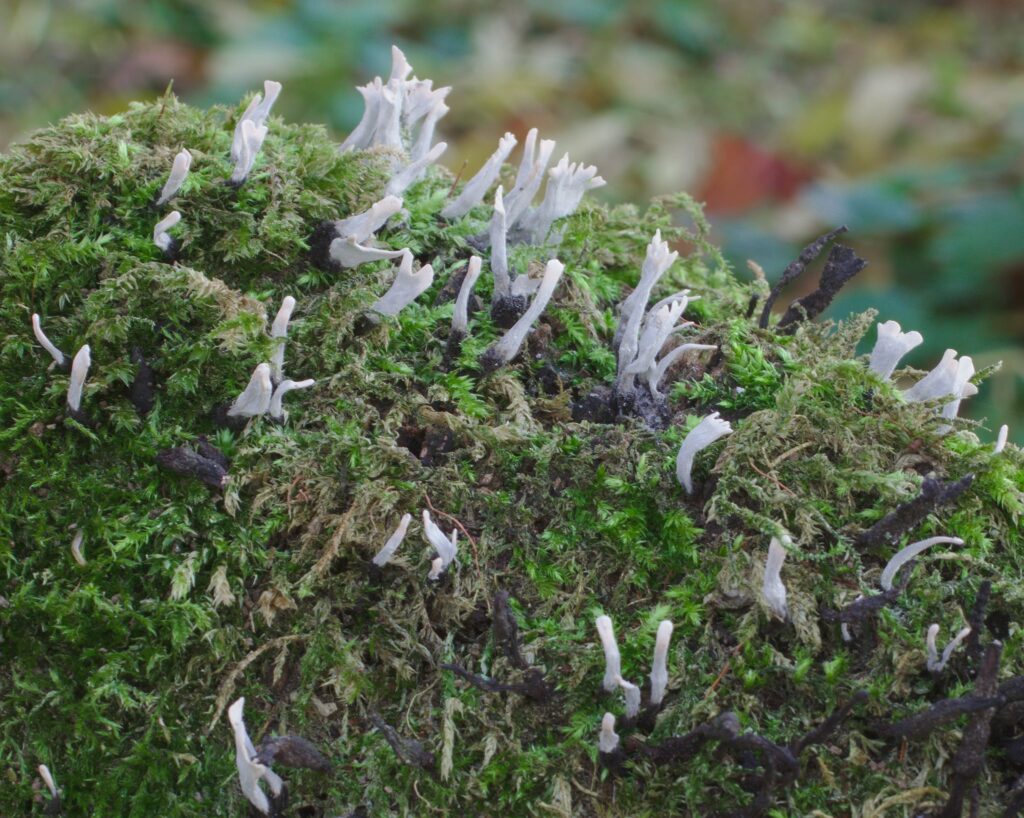 Also known as stag's horn fungus and candlestick fungus, this species grows up to 6cm tall, with a black base, grey body and white tip that is often branched, resembling deer antlers. It is a common species within the UK and grows in groups on dead wood. It prefers broadleaf trees, often growing through moss.
Bird's Nest Fungus (Crucibulum leave)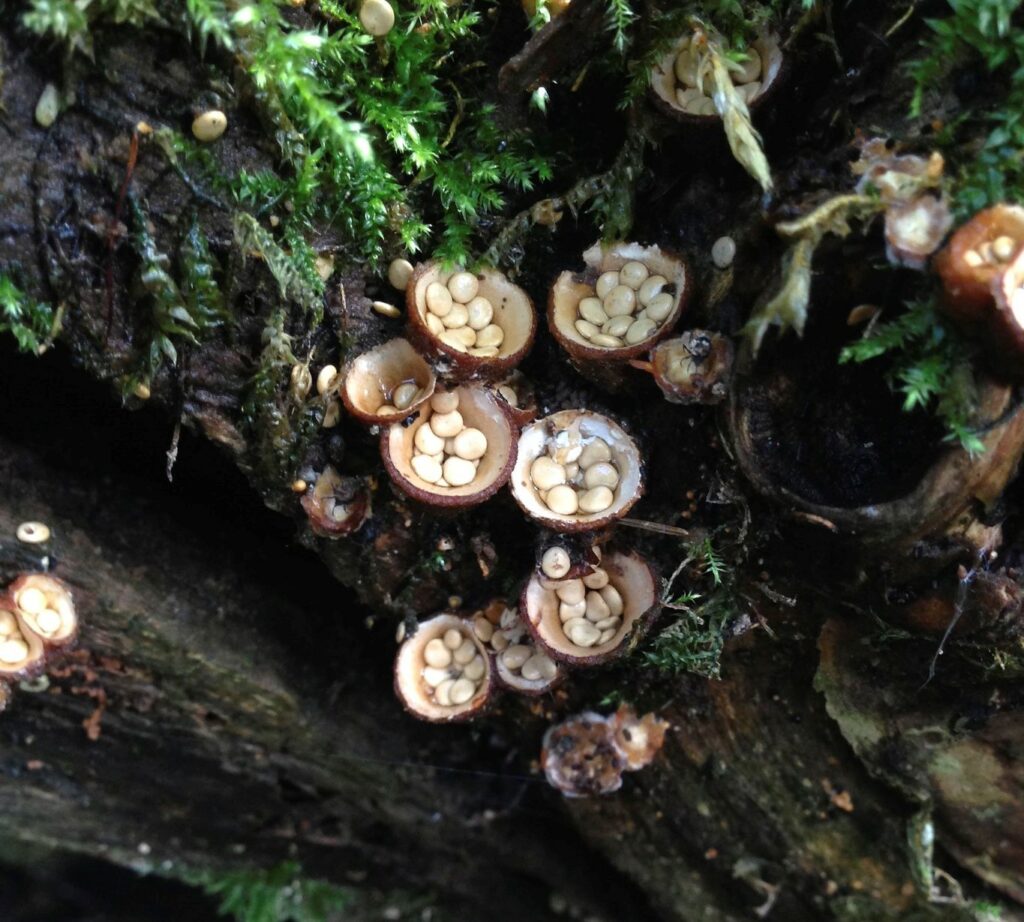 This woodland fungus is so named as it resembles a bird's nest filled with a number of 'eggs'. These eggs are actually periodoles, structures that contain the spores. A yellowish membrane initially covers the cup, before eventually rupturing to reveal the periodoles once they've developed. The energy of raindrops disperses them, allowing the fungus to spread.
For other fungi species you might find, check out our NHBS Guides to UK Fungi and Puffball Identification.
Fauna
Woodland ecosystems are often rich in fauna and can host 80% of all known amphibians, 75% of all birds and 68% of all mammal species. 
Willow Tit (Poecile montanus)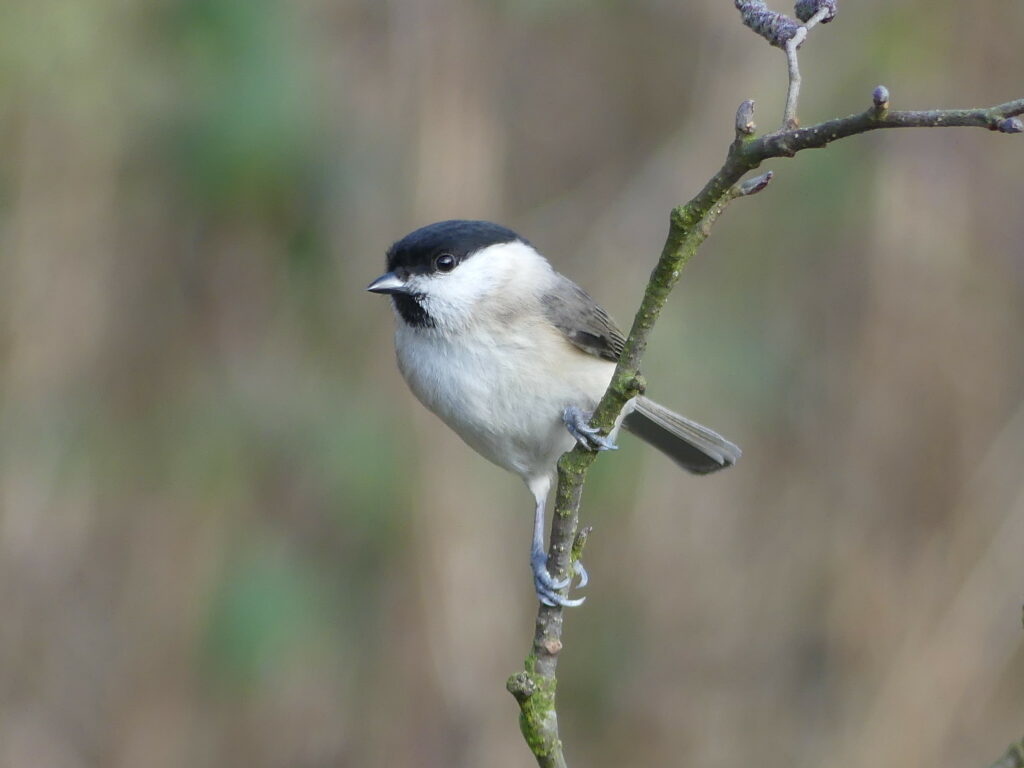 This species lives mostly in wet woodlands, feeding mainly on insects but also berries and seeds. Unusually for tit species, the willow tit digs into decaying wood to make nest holes. This is why older woodlands are so important for this species, as there is a higher abundance of decaying wood and trees. The willow tit is so similar to the marsh tit (Poecile palustris) that it wasn't recognised as a separate species until 1897.
Small Pearl-Bordered Fritillary (Boloria selene)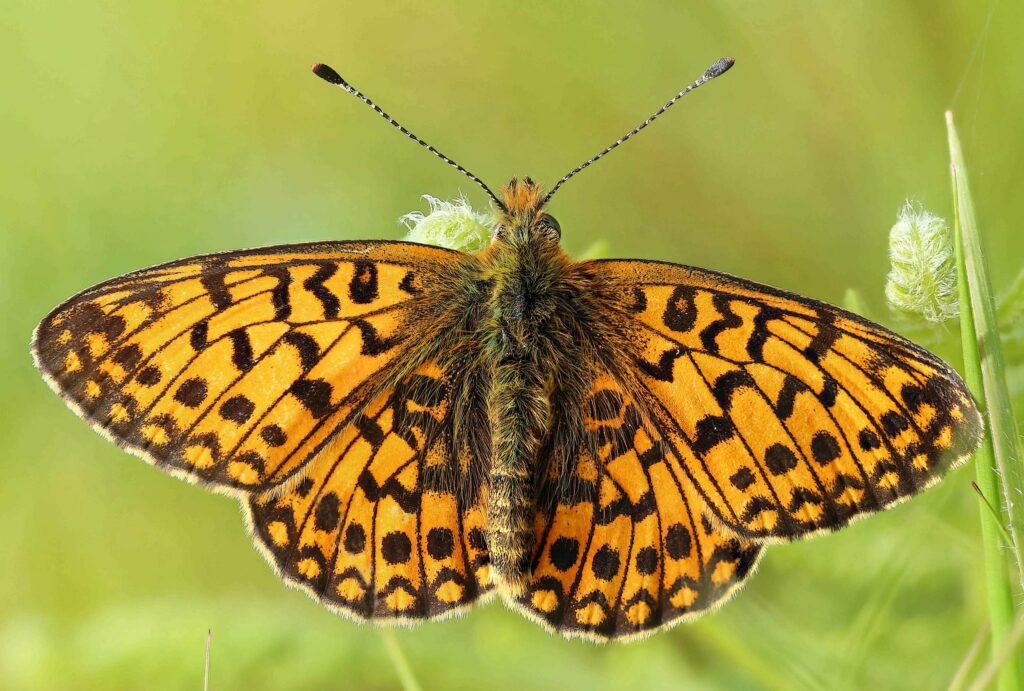 Woodlands are home to thousands of invertebrate species in the UK. The small pearl-bordered fritillary is widespread across Scotland and Wales but is more limited in England. Like many other invertebrate species, they have suffered severe declines in numbers. Its bright orange and black markings make it a striking butterfly, quite easily seen against the green and brown woodland background.
European Badger (Meles meles)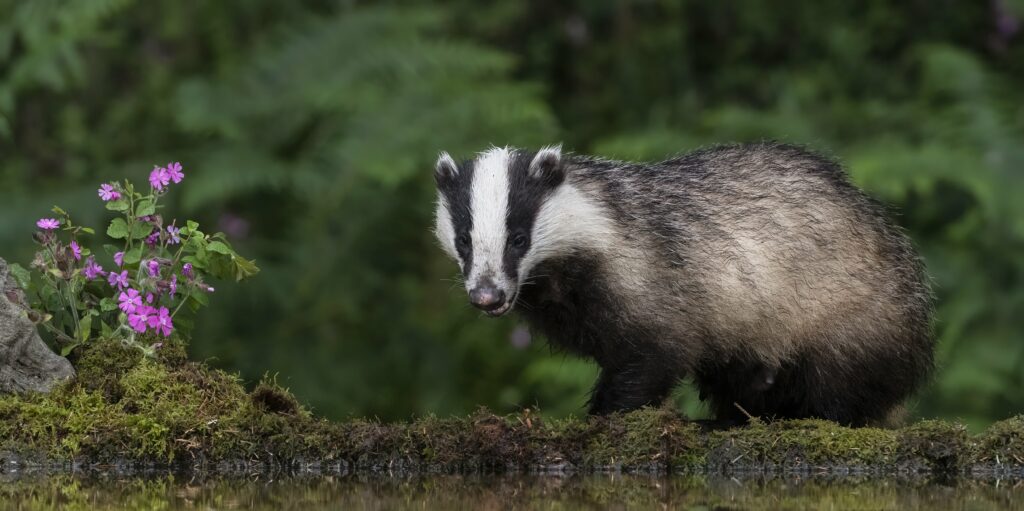 This unmistakable creature is one of the most well known of Britain's wildlife, with its iconic black-and-white striped face, grey body and black stomach. Did you know that a large amount of their diet is earthworms? They also prey upon hedgehogs, small mammals, other invertebrates, toads and frogs, and also eat fruit, such as plums and elderberries. This species is fully protected by the law but is still threatened by culls in certain areas, due to its association with bovine tuberculosis.
Eurasian Red Squirrel (Sciurus vulgaris)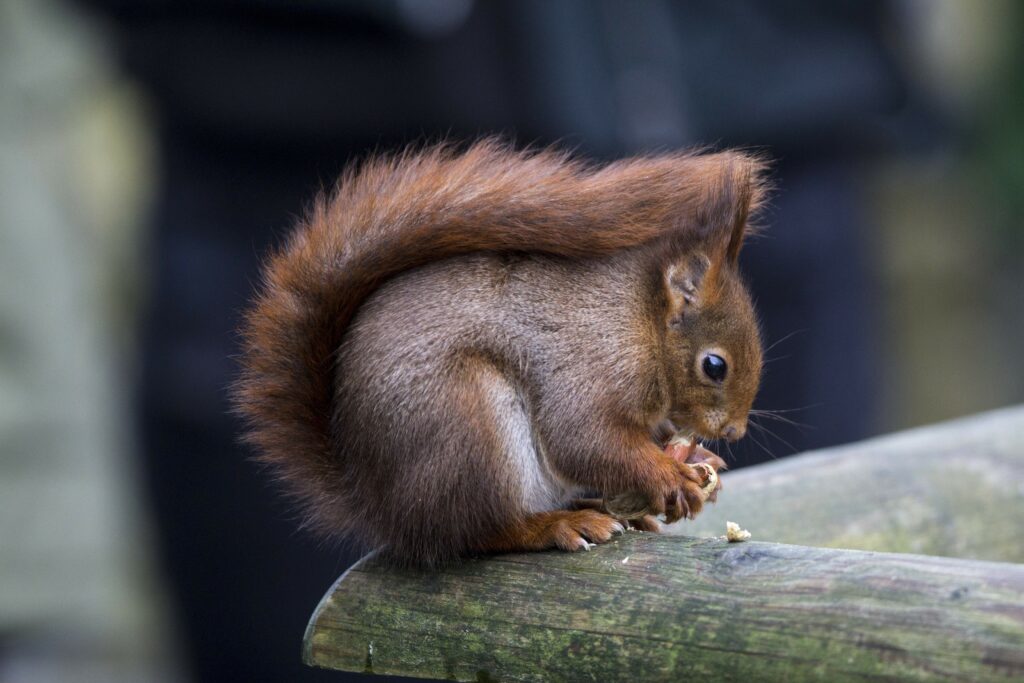 Another iconic British species that use woodland habitats is the red squirrel! This native species is far rarer than its non-native cousin, the grey squirrel (Sciurus carolinensis), due to being out-competed for food and habitat. Also, grey squirrels transmit a virus called squirrelpox, which has little effect on them but frequently kills red squirrels. Because of this, red squirrels are being pushed out of their normal habitat range. They now only occur in parts of Scotland, northern England and isolated areas such as Anglesey.
Scottish Wildcat (Felis silvestris silvestris)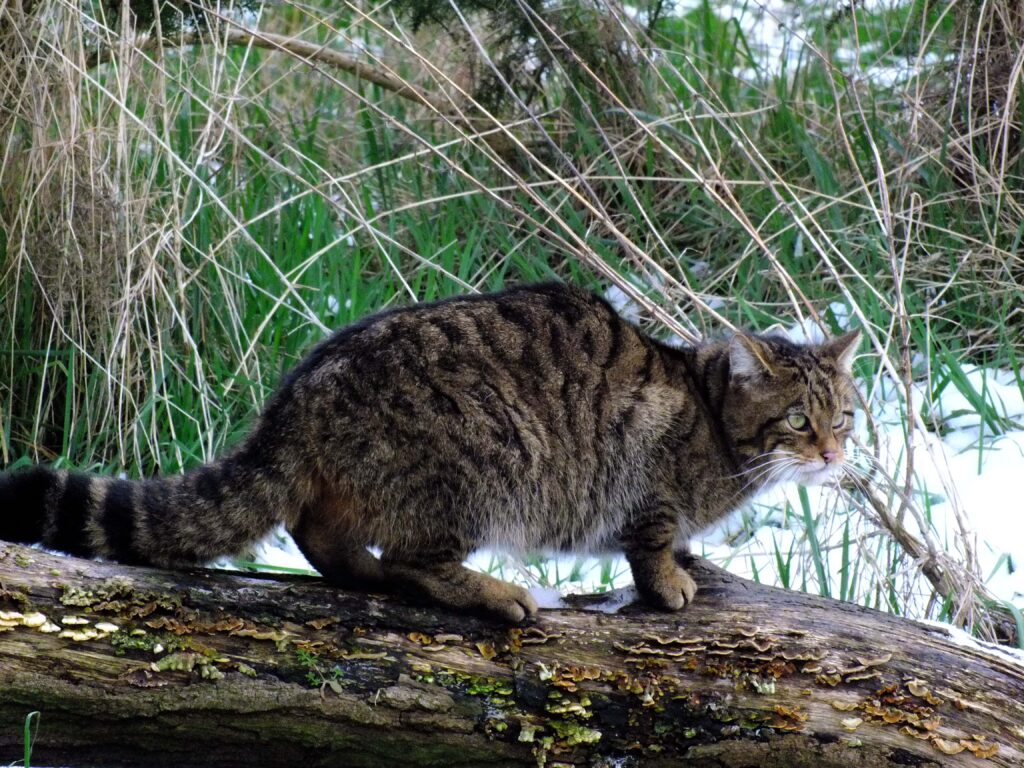 This elusive species, also known as the 'tiger of the Highlands', may be functionally extinct in the wild, as the population is too small to be viable. Threats from persecution, habitat loss, interbreeding with feral and domestic cats, road collisions and disease mean that this species will not recover without serious conservation action. There are now captive breeding programmes in place and a record number of kittens were born in captivity in 2020, with plans for the first cats to be released back to the wild from 2022 onwards.
Threats
Britain is one of the least-wooded countries in Europe, with only 13% of our land covered in woods compared to Europe's average of 44%. The main threat to woodland habitat is deforestation, often for development or agriculture. Population growth leads to an increased need for housing and infrastructure, particularly in urban areas, often at the expense of woodland. Natural woodland regeneration is not always possible, especially for ancient woodland, which takes hundreds of years to develop. Additionally, high deer populations, particularly in Scotland, are curbing much of the growth of young plants. This is a serious threat to woodland such as Caledonian forests and it is sometimes necessary to fence off areas to allow for new growth. For more information on deforestation, as well as the potential impacts of the COP26 summit, check out our blog: Climate Challenges: 4. Deforestation.
Reduced management also threatens woodland habitats. Traditional practices, such as coppicing, which involves cutting a tree to ground level to stimulate more growth, are now less common. This led to changes in woodland structures, reducing the diversity of growth, the amount of light that can enter the canopy and reducing habitat opportunities for animals. The lack of regularly felled trees or unwanted branches that used to rot down within the woodland reduces the availability of key habitats for invertebrates and small mammals.
Invasive and non-native species can also impact woodland habitats. For instance, new plantations of tree crops, which have replaced areas of native trees, are usually less suitable for native woodland species. Diseases and pests are also causing issues for UK woodland. For example, ash dieback is predicted to kill around 90% of ash trees in the UK, and Dutch elm disease has killed millions of elm trees over the last 40 years.
Further threats also include pollution, climate change and forest fires. For more information about this threat, check out our blog: Climate Challenges: 2. Forest Fires. With the combined pressures from many of these threats and without current and future conservation efforts and protection, the future could see the loss of these habitats as we know them.
Areas of significance in the UK
Galloway Forest, Scotland – UK's largest forest
Kielder Forest, Northumberland – England's largest forest
Grizedale, Cumbria
Forest of Dean, Gloucestershire
Savernake Forest, Wiltshire
Abbots Wood, Sussex
Banagher Glen, County Derry, Northern Ireland
Coed y Brenin, Snowdonia, Wales
Temperate rainforests examples: Taynish National Nature Reserve and the Caledonian Forest, Scotland.
Ancient woodland example: Wistman's Wood, Devon.
Wet woodland example: Amberley Wild Brooks, West Sussex
Useful resources and further reading
Miyazaki, Y., et al. 2017. Shinrin-Yoku (Forest Bathing) and Nature Therapy: A State-of-the-Art Review. International Journal of Environmental Research and Public Health, 14(8): 1-48
Mitchell, R. J., et al. 2019. Oak-associated biodiversity in the UK (OakEcol). NERC Environmental Information Data Centre. https://doi.org/10.5285/22b3d41e-7c35-4c51-9e55-0f47bb845202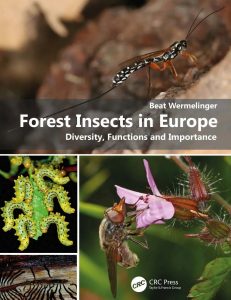 Forest Insects in Europe: Diversity, Functions and Importance
Beat Wermelinger
Paperback | £49.99
Read our interview with the author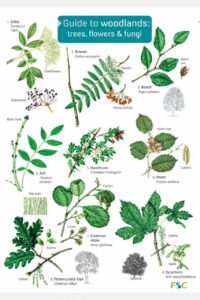 Guide to Woodlands: Trees, Flowers & Fungi
Rebekah Trehern et al.
Unbound | £3.75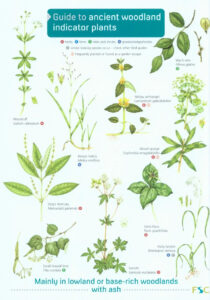 Guide to Ancient Woodland Indicator Plants
Alastair Hotchkiss et al. 
Unbound | £3.75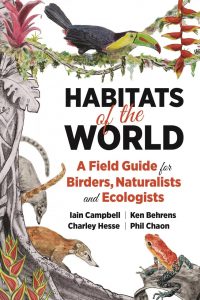 Habitats of the World: A Field Guide for Birders, Naturalists and Ecologists
Iain D Campbell et al. 
Flexibound | £27.99 
All prices correct at the time of this article's publication.