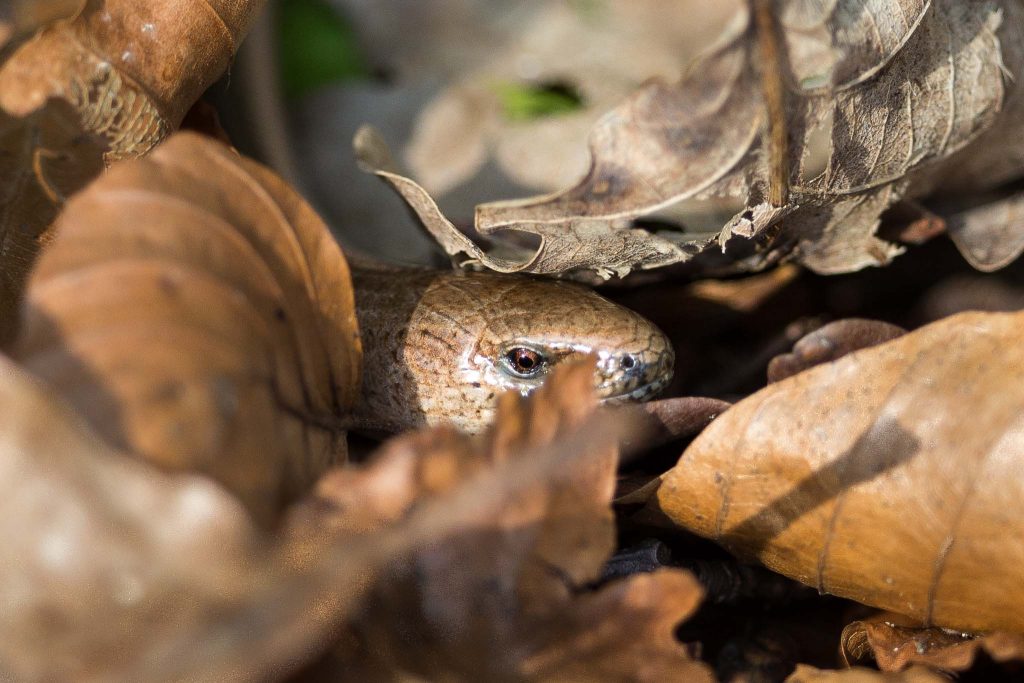 The UK is home to six native species of reptile – three snakes (adder, grass snake and smooth snake) and three lizards (common lizard, sand lizard and slow worm). In early spring, snakes and lizards begin to emerge from hibernation – if you are lucky you may catch a glimpse of one in your garden or when out walking in the countryside. (Interesting note: adders have now been recorded as being active during every month of the year in the UK, a behavioural change which is thought to be linked to overall warmer weather).  
This article aims to provide you with some of the key characteristics of each species which will help you to identify what you're looking at. You will also find a list of field and identification guides at the bottom of the page which will give you lots more information about each species and help you with your ID.
Snakes
Snakes are part of the suborder Serpentes and, though they vary greatly in size and colour, their limbless, elongated bodies make their overall form very distinct (although some legless lizards, such as the slow worm, may often be mistaken for a snake). The skin of a snake is covered in scales and is a smooth, dry texture – this skin is shed periodically throughout the snake's life. All snakes are carnivorous and many species have specialised skulls with extra joints enabling them to swallow prey much larger than their heads. Most species are non-venomous and either swallow their prey alive or kill it by constriction. 
All three snake species in the UK reproduce by producing eggs. However, both the adder and smooth snake incubate eggs internally whereas the grass snake lays them in rotting vegetation such as compost heaps. 
Adder (Vipera berus)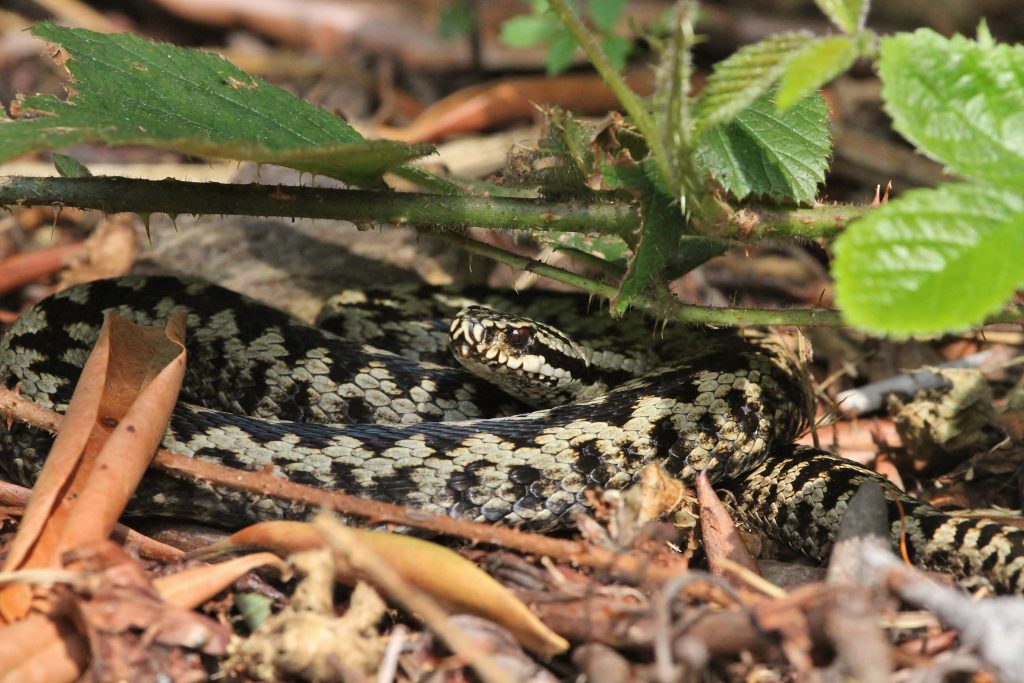 • Size: 60-80cm in length.
• Colour: Greyish with a dark and very distinctive zig-zag pattern down its back. Red eye.
• Habitat: Prefers woodland, heathland and moorland but may also be found in grassland or on the coast.
• Interesting fact: The adder is the only venomous snake in the UK. However, bites are very rare as adders are reclusive and would prefer to retreat than confront a human. 
Grass snake (Natrix helvetica)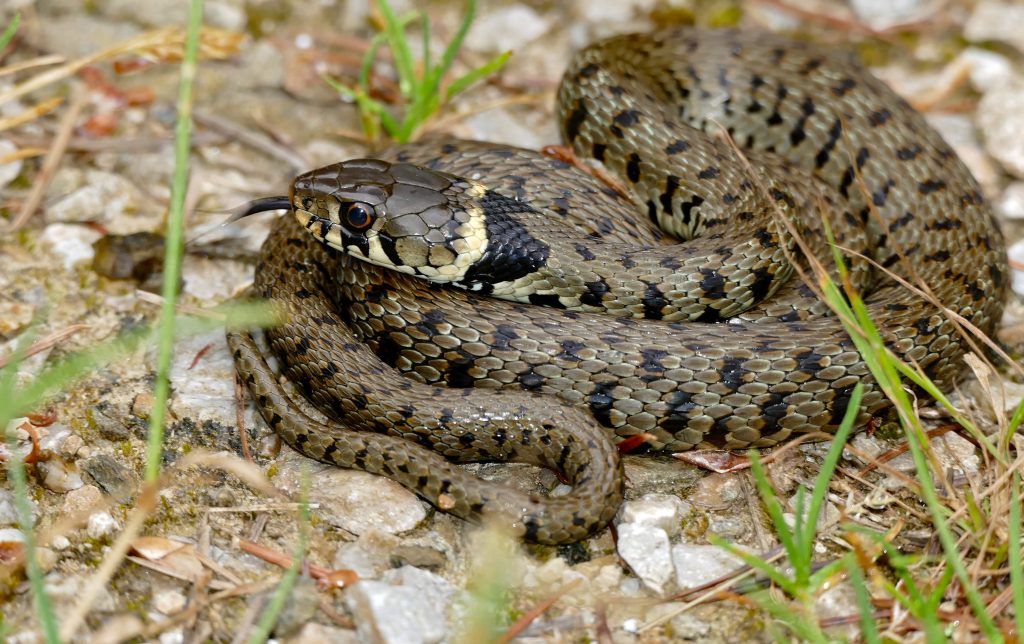 • Size: 90-150cm in length.
• Colour: Usually greenish in colour, with a yellow and black collar, pale belly and dark markings down the sides.
• Habitat: Favours wetland habitats but can also be found in grassland and gardens, especially those with a pond.
• Interesting fact: The grass snake is the longest snake found in the UK.
Smooth snake (Coronella austriaca)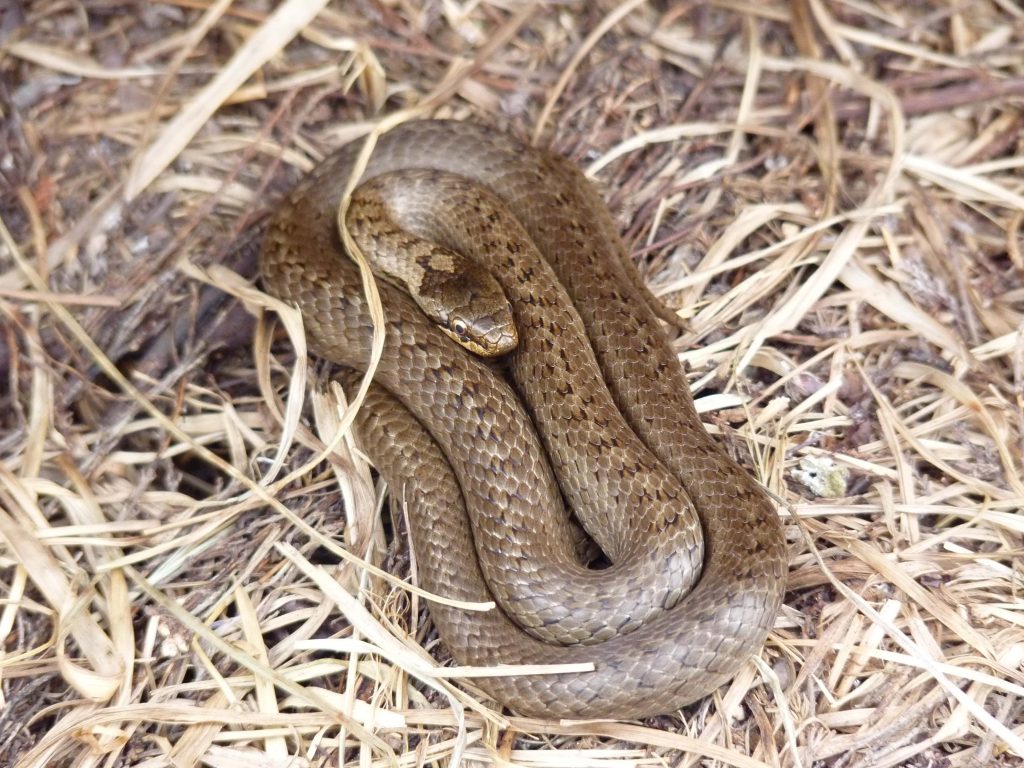 • Size: 50-70cm in length.
• Colour: Usually dark grey or brown in colour. Similar to an adder but with a more slender body and without the zig-zag pattern along its back.
• Habitat: Very rare. Mainly found on a few sandy heaths in Dorset, Hampshire and Surrey, although a couple of reintroduced populations exist in West Sussex and Devon.
• Interesting fact: The smooth snake is a constrictor, coiling around its prey to subdue it and crush it to death.
Lizards
Most lizards have four legs and run with a side-to-side motion. However, some, such as the slow worm, are legless. Lizards are mainly carnivorous and often employ a 'sit-and-wait' approach to catching prey. In the UK, lizards feed primarily on insects, molluscs and spiders.
Although all three species of UK lizard lay eggs, both the common lizard and slow worm incubate these internally, 'giving birth' in the late summer. Sand lizards lay shelled eggs that are buried in the sand where they are kept warm by the sun. 
Common lizard (Zootoca vivipara)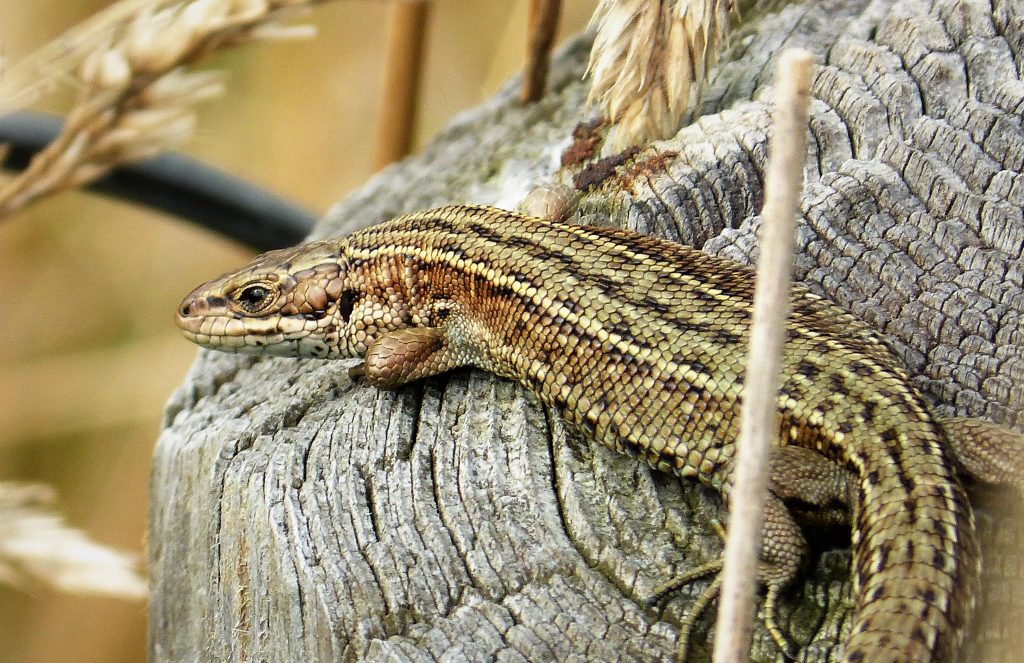 • Size: 10-15cm in length.
• Colour: Variable, but most commonly a brownish-grey, with rows of darker spots or stripes down the back and sides. Males have bright yellow or orange undersides with spots, while females have paler, plain bellies.
• Habitat: Heathland, moorland and grassland.
• Interesting fact: If threatened by a predator, the common lizard will shed its tail which continues to move – the lizard uses this distraction to make its escape. Although able to regrow its tail, the new one is usually shorter than the original.
Sand lizard (Lacerta agilis)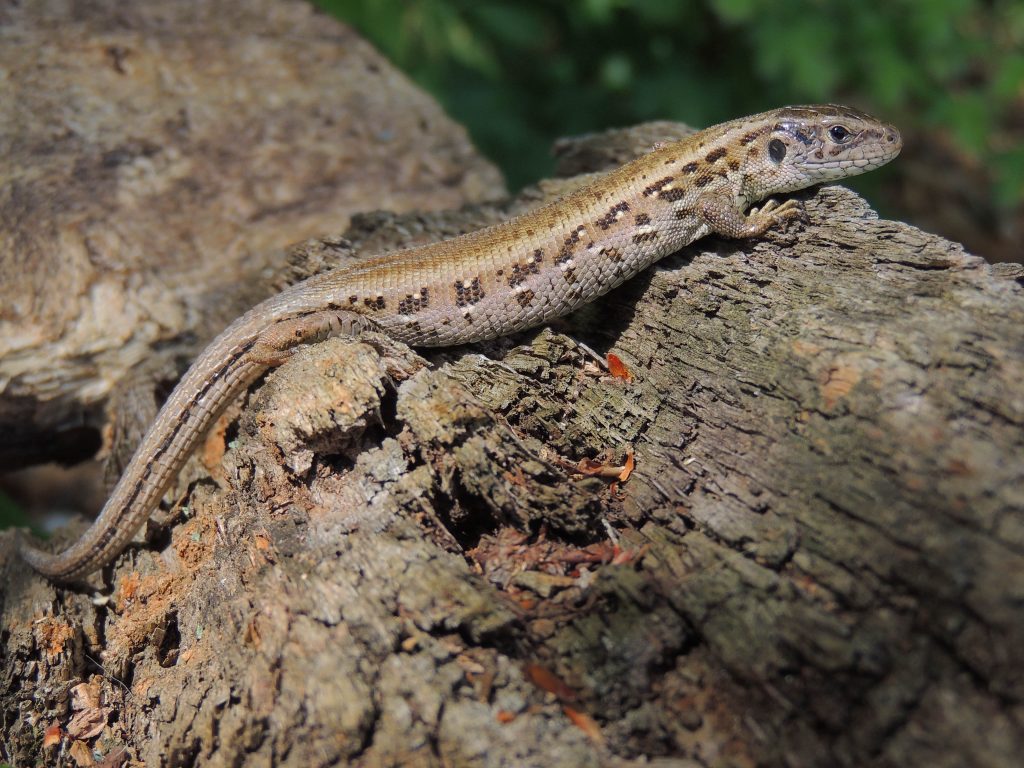 • Size: Up to 20cm.
• Colour: Female sand lizards are a sandy-brown colour, with rows of dark blotches along the back. Males have green flanks that are at their brightest during the breeding season, making them easy to spot.
• Habitat: The sand lizard is very rare and can only be found on a few sandy heaths in Dorset, Hampshire and Surrey with a few reintroduced populations in the south east, south west and Wales.
• Interesting fact: Sand lizards dig burrows for overnight refuge and hibernation. 
Slow worm (Anguis fragilis)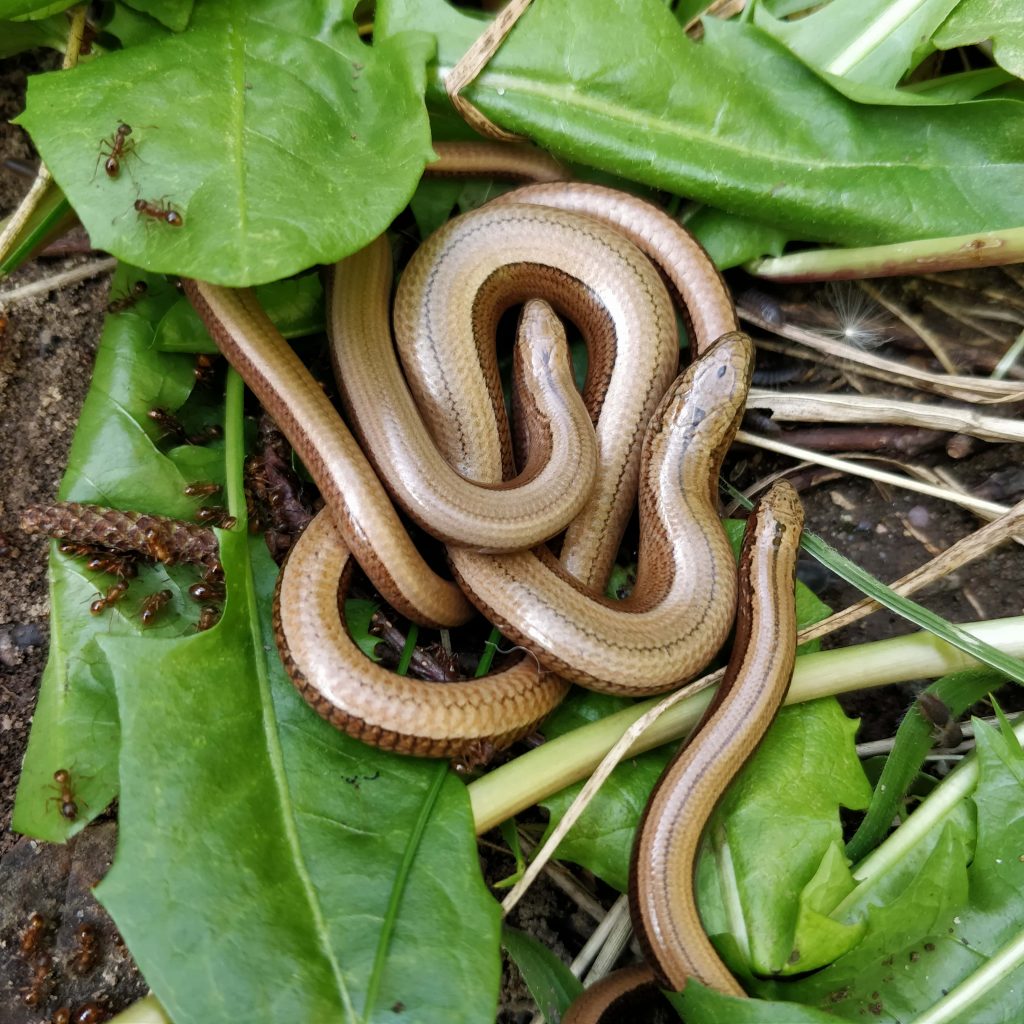 • Size: 40-50cm.
• Colour: Smooth, golden-grey skin. The males are paler in colour and occasionally have blue spots. The females tend to be larger with dark sides and some have a dark line down their back.
• Habitat: Slow worms live in most of Great Britain apart from Northern Ireland and are also present on most of the islands in Scotland and the Channel Isles.
• Interesting fact: Although similar in appearance to a snake, the slow worm has eyelids (which snakes do not) and can drop its tail when threatened by a predator.
In addition to the six native reptiles, several species of non-native reptile can be found in the UK – these include the wall lizard, green lizard, aesculapian snake, European pond terrapin and the red-eared slider.
Recommended reading:
Amphibians and Reptiles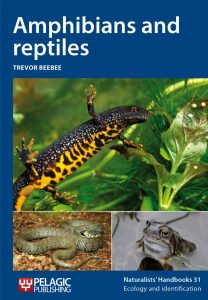 #206083
A comprehensive guide to the native and non-native species of amphibian and reptile found in the British Isles. Professor Trevor Beebee covers the biology, ecology, conservation and identification of the British herpetofauna, and provides keys for the identification of adult and immature specimens as well as eggs, larvae and metamorphs.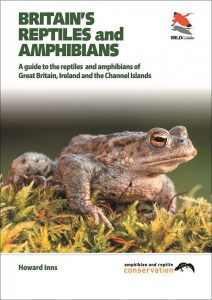 Britain's Reptiles and Amphibians
#174837
This detailed guide to the reptiles and amphibians of Britain, Ireland and the Channel Islands has been produced with the aim of inspiring an increased level of interest in these exciting and fascinating animals. It is designed to help anyone who finds a lizard, snake, turtle, tortoise, terrapin, frog, toad or newt to identify it with confidence.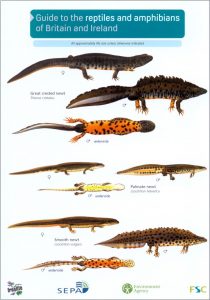 Guide to the Reptiles and Amphibians of Britain and Ireland
#113260
This laminated pamphlet is produced by the Field Studies Council and covers the 13 species of non-marine reptile and amphibian which breed in Britain, as well as the five species which breed in Ireland. These include snakes, lizards, frogs, toads and newts.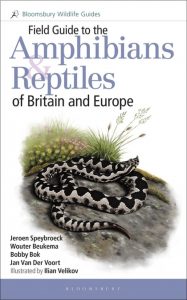 Field Guide to the Amphibians and Reptiles of Britain and Europe
#246563
This excellent field guide covers a total of 219 species, with a focus on identification and geographical variation. The species text also covers distribution, habitat and behaviour. Superb colour illustrations by talented artist Ilian Velikov depict every species.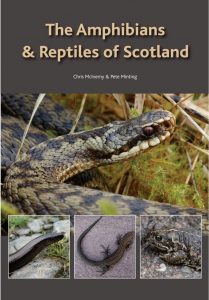 The Amphibians and Reptiles of Scotland
#235838
This book is designed to be an interesting and informative guide to the amphibians and reptiles that are found in the wild in Scotland. The authors have focused on those species native to Scotland, plus those which are non-native but are breeding in the wild.