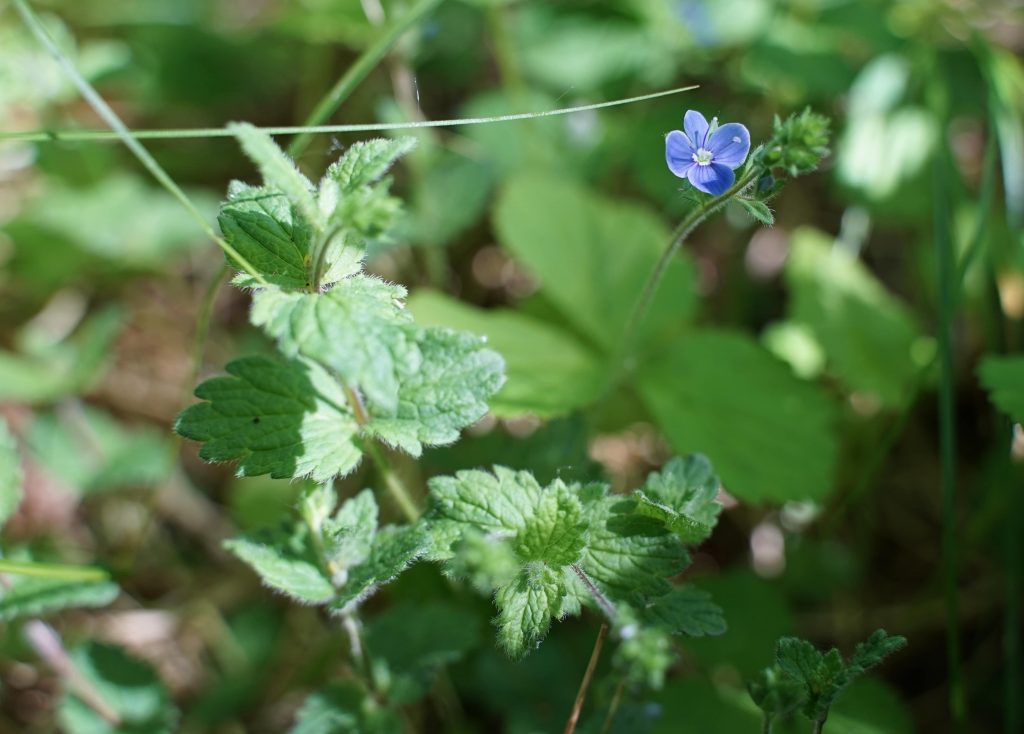 Germander speedwell (Veronica chamaedrys). Image by L WilkesPlants and fungi are not only beautiful and interesting to study, but they also provide the building blocks on which all of our other wildlife (and ourselves) depend. Monitoring their abundance and diversity is key to understanding the health of our habitats. Plus, there are numerous studies that suggest that being around plants has benefits for our mental wellbeing, including improved concentration and memory as well as a better overall mood.
Spring and early summer are the perfect time to study your local plants as many will be in flower at this time, making them much easier to identify. (For other times of the year, a guide such as the Vegetative Key to the British Flora is invaluable – but it may take a bit of practice. For beginners, we suggest starting during the flowering season).
In this article we've featured a number of wild flowers that you're likely to find, either in your garden or when out walking. These are separated into Town and Country/Woodland, but bear in mind that there will be some overlap, so it's worth looking at both lists. Chances are that you'll also find a few species that aren't included here – you can find lots more information on the Plantlife website, including ways to submit your findings to their records. Or why not check out one of our wild flower ID guides listed at the bottom of the post?
Town
Here you will find nine of the most common species that you're likely to encounter in urban areas. Pay particular attention to parks, waste ground and walls, and don't forget to check the pavement cracks too.
LOOK OUT FOR: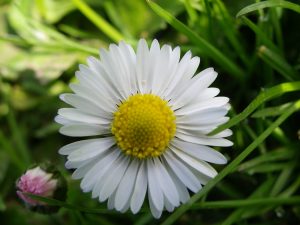 1. Daisy – Bellis Perennis
Flowers March-October.
Easily recognisable flower with a yellow centre and numerous white petals. Abundant in short grass such as parks and garden lawns.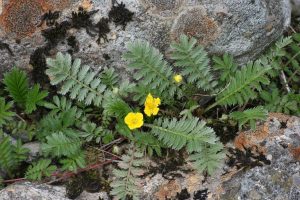 2. Silverweed – Potentilla anserina
Flowers May-August.
Common on bare or well-walked ground such as the sides of tracks. Easy to recognise due to the silver-white underside of leaves.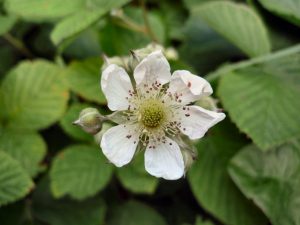 3. Bramble – Rubus fructicosus
Flowers May-October.
Very abundant on waste ground as well as on heaths and in hedgerows and woodland. Thorny shrub with white or pale pink flowers.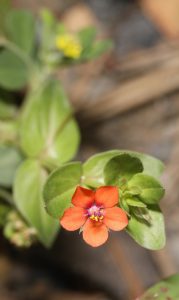 4. Scarlet Pimpernel – Anagallis arvensis
Flowers April-October.
Commonly found in gardens as well as arable fields, dunes, cliffs and heathland. Low growing and sprawling. Flowers are red with a purplish base.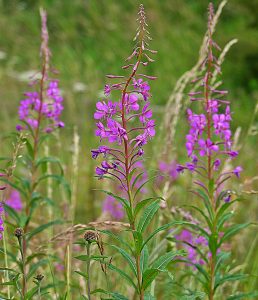 5. Rosebay Willowherb – Chamerion angustifolium
Flowers June-September.
Abundant on disturbed ground, verges and railways. Produces tall spires of purplish flowers. Often found in dense stands.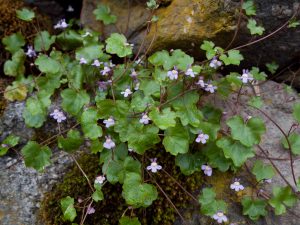 6. Ivy-Leaved Toadflax – Cymbalaria mularis
Flowers May-September.
Often found on old walls and in pavement cracks. A straggly plant with ivy-like leaves and small lilac flowers with a yellow spot.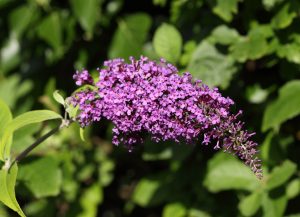 7. Buddleia (Butterfly Bush) – Buddleja davidii
Flowers June-October.
Likes dry, disturbed places such as waste ground, railways, walls and roofs. Long sprays of purple, white or lilac flowers; a favourite of butterflies.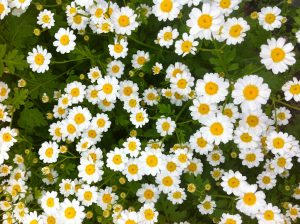 8. Feverfew – Tanacetum parthenium
Flowers July-September.
Found in walls, pavement cracks and on waste ground. Flowers similar to a daisy but with shorter, broader petals. Aromatic leaves.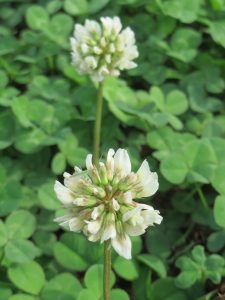 9. White Clover – Trifolium repens
Flowers May-September.
Found in most types of grassland as well as on waste/disturbed ground. Globular clusters of flowers on long stalks; usually off-white or pale pink. The leaflets usually have a pale chevron shape near the base.
Country/Woodland
This list features nine species commonly found in the countryside and wooded areas. Hunt along the hedgerows and meadows as well as on river banks and in woodland clearings.
look out for: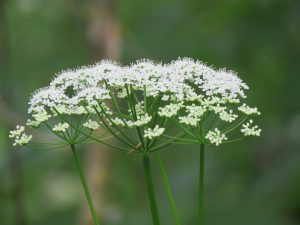 1. Cow Parsley – Anthriscus Sylvestris
Flowers late April-June.
Extremely common during May on roadside verges and in woodland rides and clearings. White flowers radiate out from the stem on spokes. Fern-like leaves.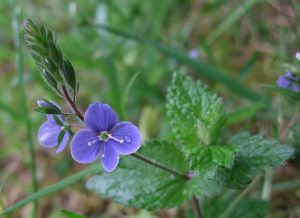 2. Germander speedwell – Veronica chamaedrys
Flowers March-July.
Common in grass and roadside verges. Bright blue flower with a white eye on a sprawling stem. Leaves oval and toothed.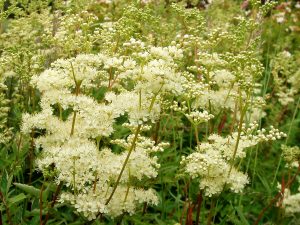 3. Meadowsweet –Filipendula ulmaria
Flowers June-Sept.
Likes damp ground such as roadside ditches and wet woodland. Long stems with clusters of cream, fuzzy flowers which smell of honey or almonds.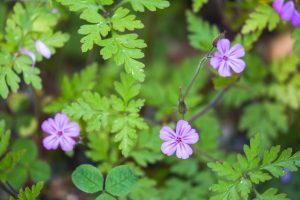 4. Herb Robert – Geranium robertianum
Flowers April-October.
Likes banks, woods, gardens and walls. Purple flowers with lighter stripes on petals. Whole plant may sometimes turn red.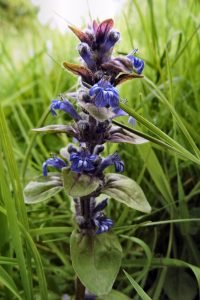 5. Bugle – Ajuga reptans
Flowers April-June.
Common in damp deciduous woodland and other shady places as well as unmanaged grassland. Forms long stems with rosettes of green-purplish leaves and blue flowers marked with white.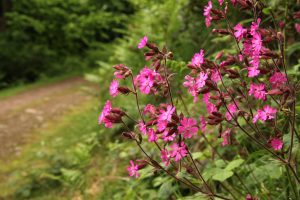 6. Red Campion – Silene dioica
Flowers April-October.
Likes hedgerows and woodland clearings. Five-petalled pink/red flowers on long stems with opposite leaves.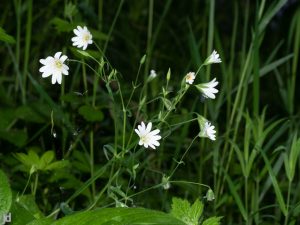 7. Greater Stitchwort – Stellaria holostea
Flowers late March-June.
Common in hedges and verges as well as in woodland. White flowers with five petals, split halfway to the base. Sprawling with narrow leaves.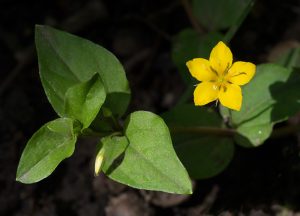 8. Yellow pimpernel – Lysimachia nemorum
Flowers May-September.
Fairly common in moist, shady woodland (deciduous). Low growing/sprawling with yellow star-shaped flowers.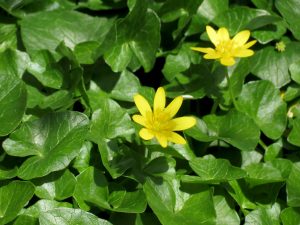 9. Lesser Celandine – Ficaria verna
Flowers February-May.
Likes slightly damp soil in woods, fields and churchyards. Yellow flowers on long stalks and glossy heart-shaped leaves.
Further reading: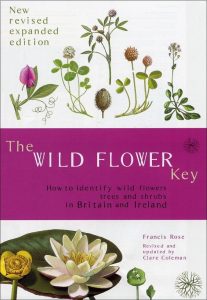 The Wild Flower Key: How to Identify Wild Flowers, Trees and Shrubs in Britain and Ireland
#143162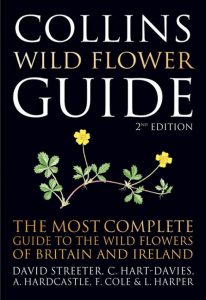 Collins Wild Flower Guide: The Most Complete Guide to the Wild Flowers of Britain and Ireland
#225655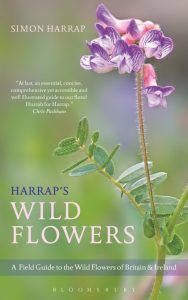 Harrap's Wild Flowers: A Field Guide to the Wild Flowers of Britain & Ireland
#245027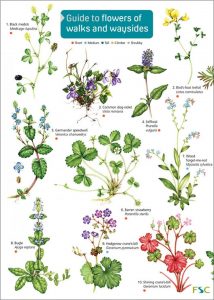 Guide to Flowers of Walks and Waysides
#236523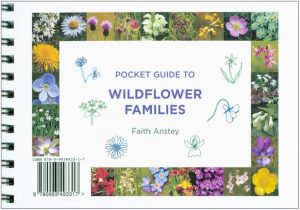 Pocket Guide to Wildflower Families
#229143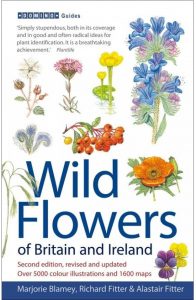 Wild Flowers of Britain and Ireland
#198409
Please note that this book is currently out of print – however, second-hand books may be available online.