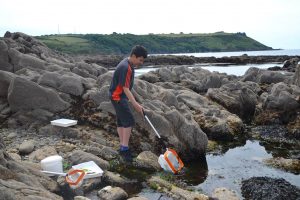 A BioBlitz is an intense period of biological survey of all the living creatures in a specific area, bringing together volunteers, scientists and naturalists to discover as many species as possible in a precise time frame. This year is the 10th anniversary of the UKs first marine and coastal BioBlitz and it returns to the first location- Wembury Bay. This year's event is being organised in partnership with the Devon Wildlife Trust, the Marine Biological Association of the UK and the South Devon AONB.
One of the organisers, Nicholas Helm has taken time to speak with us about this year's event.
The BioBlitz has taken place in different locations across Devon and Cornwall, UK for the last 10 years, what makes this BioBlitz different to other years?
The first BioBlitz we ran in 2009 was at Wembury and was the first public, marine BioBlitz in the UK. Since then we have run one or more events each year for 10 years, several of which have partnered with Devon Wildlife Trust. Returning to Wembury 10 years on allows us to observe what has changed in that time as well as providing a great opportunity to celebrate the milestone. It also coincides with the 25thanniversary of Wembury Marine Centre, which provides a fantastic backdrop to the event.
Can you tell us about Wembury Bay and what makes it a great location to explore?
Wembury Bay is a unique and special place. Due to its aspect and location, the shore is home to many southern species, not found anywhere else in the UK outside of Cornwall. The Bay incudes a whole host of habitats, from sand and seagrass in the mouth of the Yealm Estuary to the diverse rocky reefs stretching from Wembury Point – where they are exposed at low water – down to deeper, subtidal ledges beyond the Mewstone. These ledges are home to corals and a huge diversity of fish. The area provides nursery areas for sharks and feeding grounds for basking sharks, sea birds and marine mammals. As well as a diverse marine environment, the bay is fringed by fascinating and biologically diverse woodlands and coastal heathlands, home to rare birds, insects, reptiles and mammals, making it perfect for an event of this kind!
What's your favourite animal you've ever found at Wembury Bay?
Personally, my favourite animals in the bay are the giant gobies (Gobius cobitus) which is a large goby, protected under the Wildlife and Countryside Act and not found anywhere in the UK outside of Cornwall. It is common in the upper shore pools of Wembury and is always an exciting find.  The other star is the 'St Pirran's crab' – a colourful hermit crab thought to have disappeared from the area in the 1960s but making a return in the last few years and now fairly common. Again, Wembury is the only site in the UK outside of Cornwall where this species has been recorded. I also love finding the stalked jellyfish and colourful nudibranchs that can be found in abundance in pools and under rocks if you know where to look!
This year, the BioBlitz is returning to Wembury after 10 years. How do you think the types of creatures found this year will compare to the first Wembury BioBlitz?
I expect we will observe a lot of changes, in particular there are likely to be a number of new introduced species and several species which have extended their range into the area as a result of climate change. We will also hopefully record the St Pirran's crab (Clibanarius erythropus) which, in 2009 was not found in the area.
What happens to the data that volunteers, scientists and naturalists will collect at Wembury BioBlitz 2019?
All the data collected will be archived in DASSH (the national data archive for marine and coastal species and habitats) and made publicly available through the National Biodiversity Network Atlas. It will also be taken and held by Devon Local Records Centre and summarised in a final event report, which will be freely available online.
How can readers get involved with the activities available at Wembury BioBlitz 2019?
There are lots of ways to get involved, as a volunteer, species recorder or as a participant in the many activities we have scheduled throughout the event. Visit www.mba.ac.uk/bioblitz for more information.