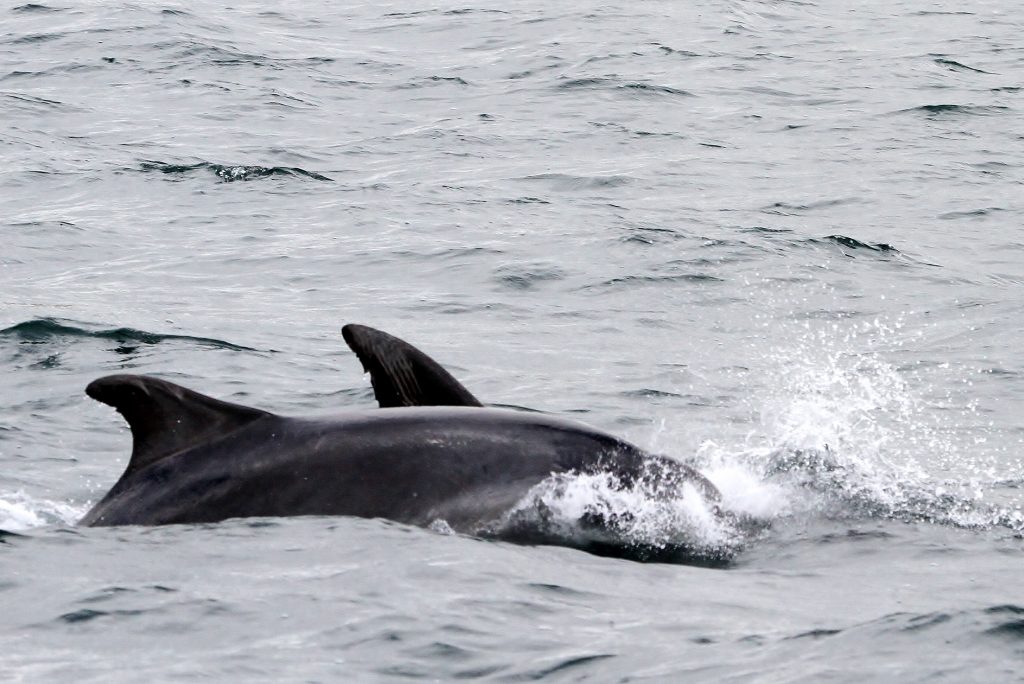 Catching a glimpse of a whale or dolphin whilst visiting the coast is a uniquely memorable experience and a few hours spent whale and dolphin watching is fun for all age groups. Plus, your sightings can really make a difference and will add to the growing body of survey data collected for the UK coastline.
Keep reading for some tips on when and where to watch whales and dolphins, how to get started and where to report your sightings.
When and where should I watch cetaceans and what am I likely to see?
The best time for spotting cetaceans is between April and October when visitors to our coastal waters are at their highest. Some areas are undoubtedly better than others for catching a glimpse of these elusive animals: Devon, Cornwall and Cardigan Bay in Wales are good places to go, as well as the coasts of northern Scotland.
Twenty-nine species of cetacean have been recorded in UK waters, and some areas of our coastline are home to permanent populations of dolphins. The most commonly reported species are bottlenose dolphins, harbour porpoises and minke whales, although rarer visitors have included killer whales, humpback whales and striped dolphins.
Of course, cetaceans aren't the only things you will see. Keep your eyes peeled for seals too and enjoy the seabirds and beautiful views at the same time!
How do I get started watching whales and dolphins?
For most people, watching cetaceans from the land (rather than from a boat) will be the most convenient and economical option. Any place where you can sit comfortably with a good view of the sea will suffice, but if you can make your way to a cliff top then this will provide a better vantage point. Calm, overcast days tend to be the best for spotting cetaceans as the combination of swell, choppy waves and surface reflections can make fins all but impossible to see. For the same reason, the hours following dusk and prior to dawn are the best times of day to go.
A watch is conducted by scanning the surface of the water with the naked eye, switching to binoculars periodically or whenever you notice a disturbance at the surface. As soon as you see something that may be a whale or dolphin, concentrate your binoculars in that area, making sure to scan a little way around in case it surfaces again nearby. Another good technique is to look out for seabirds circling or diving as this may indicate cetaceans feeding just below the surface.
Any binoculars (or a scope and tripod) can be used for sea watches. If you are looking for binoculars specifically for this activity, however, make sure to go with a model that has a large objective lens diameter as this will improve the light transmission and will help with viewing in lower light conditions.
For researchers studying marine mammals, items such as thermal imaging scopes and hydrophones are useful additions to the surveying toolbox and will allow them to find and identify cetaceans in a greater range of conditions as well as enabling more detailed investigation of behaviour.
Where do I submit my sightings?
Several organisations in the UK offer online sighting forms where you can submit information about whales, dolphins and porpoises that you have confidently identified during your watch. Take a look at the Sea Watch Foundation, the Whale and Dolphin Conservation, or the Cetacean Research & Rescue Unit websites for sighting forms. Other regional groups such as the Hebridean Whale and Dolphin Trust and Norfolk Cetaceans also collect local sightings so it might be worth finding out if there is an active recording group near to where you live.
Check out the NHBS website for a great range of binoculars and scopes, as well as other handy field kit such as waterproof clipboards and notebooks. Also have a look at these two field guides to help with identifying whales and dolphins.