Wiley Blackwell is the international scientific publishing business of John Wiley & Sons. They aim to partner the research community and authors to enable access to the scientific and scholarly insights that are helping to solve some of the world's biggest challenges. Wiley Blackwell are our Publisher of the Month for October.
Wiley Blackwell publish internationally across a diverse range of academic and professional fields, including biology, medicine, environmental & social studies, evolutionary biology, ecology and the natural science.
Throughout October we will have special offers on many Wiley Blackwell titles, giving you an opportunity to explore their varied and authoritative range of titles and we have selected some highlights below:
Population Ecology in Practice
Edited by: Dennis L Murray, Brett K Sandercock
Paperback| Feb 2020| £37.99 £44.99
This textbook covers all the analytical methods commonly used by population ecologists. The use of empirical examples and real datasets makes this particular relevant to students and practising ecologists.
Practical Field Ecology: A Project Guide
By: Charles Philip Wheater, Penny A Cook, James R Bell
Paperback | Second Edition | July 2020| £37.99 £44.99
A hands-on guide full of practical advice, a must-read for anyone embarking on a career as a  field ecologist.
Avian Evolution: The Fossil Record of Birds and its Paleobiological Significance
By: Gerald Mayr
Hardback | November 2016| £57.50 £67.50
Gives an overview of the avian fossil record and its paleobiological significance. Covers both Mesozoic and more modern-type Cenozoic birds in some detail.
Cowen's History of Life
Edited by: Michael J Benton
Paperback | Sixth Edition | Oct 2019| £47.99 £54.99
For anyone with an interest in the history of life on our planet, the new edition of this classic text describes the biological evolution of Earth's organisms and reconstructs their adaptations and their ecology.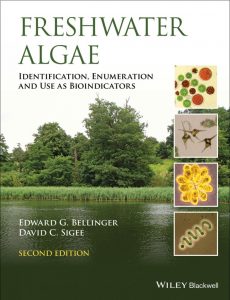 Freshwater Algae: Identification, Enumeration and Use as Bioindicators
By: Edward G Bellinger, David C Sigee
Hardback | Second Edition | Feb 2016| £62.75 £72.75
A comprehensive guide to temperate freshwater algae, with additional information on key species in relation to environmental characteristics and implications for aquatic management.
The Royal Entomological Society Book of British Insects
By: Peter C Barnard
Hardback | Oct 2011| £47.50 £51.50
A key reference work for entomologists, and for all professionals who need a comprehensive source of information about the insect groups of the British Isles.
The Braconid and Ichneumonid Parasitoid Wasps: Biology, Systematics, Evolution and Ecology
By: Donald LJ Quicke
Hardback | Jan 2015 | £119.50 £142.50
The Ichneumonoidea is a vast and important superfamily of parasitic wasps, with some 60, 000 described species.
Handbook of Road Ecology
Edited by: Rodney van der Ree, Daniel J Smith, Clara Grilo.
Hardback | June 2015 | £82.75 £98.75
Offers a comprehensive summary of approximately 30 years of global efforts to quantify the impacts of roads and traffic and implement effective mitigation.
Paleoclimatology: From Snowball Earth to the Anthropocene
By: Colin Peter Summerhayes
Paperback | August 2020 | £54.99 £64.99
An invaluable course reference for undergraduate and postgraduate students in geology, climatology, oceanography and the history of science

Ecological Methods
By: Peter A Henderson, Thomas RE Southwood
Paperback | Forth Edition | Mar 2016 | £47.50 £54.50
The first edition of Ecological Methods was published in 1966 and became an instant classic text. While still relevant to experienced researchers, the 4th edition has text which is accessible and useful to students.
Browse all our Wiley Blackwell books at NHBS
All prices correct at the time of this article's publication.