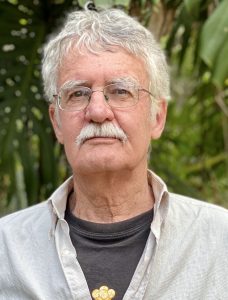 Behavioural ecologist and entomologist William Eberhard is an emeritus scientist at the Smithsonian Tropical Research Institute in Panama and emeritus professor at the Universidad de Costa Rica. His research interests include sexual selection, evolution, and animal behaviour, and one group of organisms he has worked on in particular is spiders. Based on half a century of study, Spider Webs is an unprecedented and very large book on their biology, evolution, and diversity. Leading up to publication, we dipped into the book and asked him some questions.
As I was reading your book, it seemed all the spiders in my garden were out to build webs and I found myself barred from reaching my laundry one morning. How bad should I feel for accidentally destroying a web?
Out of consideration for my fellow inhabitants of the Earth, I always walk around webs rather than through them. But that is my own idiosyncrasy. Many spiders make a new web every day, so having a web knocked down is not a big disaster. Some move away from sites where their webs have been destroyed, so you might decide where to walk, depending on whether you do or do not want the spider to stay at the same site.
Spider webs are marvellous contraptions, even more so when you realise how they are made. You explain how spiders are virtually blind to their own web lines and that webs are often built at night. This implies an important role for tactile senses. Yet, construction starts by floating so-called bridge lines to distant objects, suggesting a role for vision. How good is spider eyesight and how much do we know about their visual acuity?
Eyesight has little and probably nothing to do with their floating bridge lines. Casting those lines down the wind constitutes a blind bet that maybe there is some object there that they will snag on.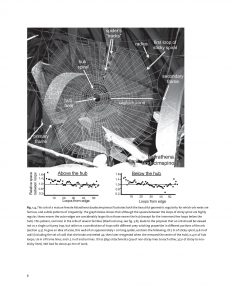 You point out that the majority of published behavioural observations have been of mature females. What do we know about males and immature spiders? Is web construction specifically a female activity? Or have we just not looked hard enough?
In most spider families, mature males dedicate themselves nearly strictly to sex –finding receptive females is probably a tough job. They stop making prey capture webs and lose the glands that made the sticky silk in these webs. They also stop eating, except, in a few species, in which males occasionally temporarily appropriate a web from a smaller, immature individual. Immature individuals, both male and female, make webs.
A web is built from various different kinds of silk, and different parts have different functions, from structural support to prey capture. How do spiders control what kind of silk they release, especially given that some species can build a complete web in as little as half an hour?
Presumably valves in the ducts of different types of silk glands open or close to control which types of silk are extruded from the corresponding spigots. Even in a given orb, the kinds of silk that are used to cement lines together are turned on and turned off hundreds of times in an extremely precise manner during the construction of a single web.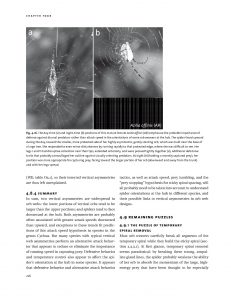 You mention that orb webs are neither the pinnacle of web evolution nor necessarily the optimally designed structures that they are often claimed to be. Most organismal traits are a product of history and contingency as much as natural and sexual selection. I might be asking you to speculate here, but, in your opinion, are there any particular evolutionary thresholds that spiders have not been able to cross that would make a big difference for web construction?
There is a small section in the book (Section 9.8) where I discuss web designs that are possible but that have not arisen in spiders. In general, they have used radial rather than rectangular arrangements of lines; I do not know whether the widespread adoption of and ensuing variations on rectangular arrangements would have made a big difference or not.
Do you find that technological advances have changed the way arachnologists work and the sorts of questions they ask?
Yes, very much so. Important techniques that have begun to be used and that have produced new kinds of data during my lifetime include electron microscopy (especially scanning electron microscopy), molecular comparisons to produce phylogenies, digital movies, virtual sections ("micro-CT scans"), and large scale, computerized data analysis. At the same time, fads for using these techniques have led to less frequent use of simpler but powerful types of observations such as study of the details of behaviour.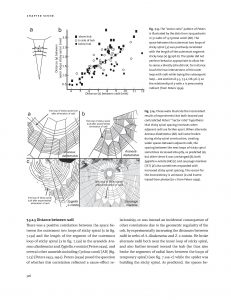 Producing a book of this scope must have been a tremendous job, and you remark that a thorough, book-length review of spider webs had yet to be written, despite more than a century of research on spiders. With the benefit of hindsight, would you embark on such an undertaking again?
I seriously underestimated how difficult it would be. I had written two books previously, both largely concerned with ideas, rather than being attempts to review previous work as was the case in this book. My previous experience did not prepare me for the challenges of reviewing and evaluating – and in some cases arguing against (hopefully sympathetically and constructively) – conclusions from previous work.
You mention this book's coverage is inevitably idiosyncratic. What lacunae remain in our knowledge that future authors could fill with further work?
My major deficiencies are in the chemical and mechanical aspects of silk – a field that is currently very active and that will undoubtedly eventually (perhaps soon) result in book-length treatments. A second major blank space that I hope will be filled with future work is linking web construction behaviour to the slowly emerging but very important field of animal cognition. The many advantages of orb webs for studying the details such as errors and other difficult questions in the behaviour in animals whose behaviour has a major innate component (and probably little in the way of learning) have yet to be exploited.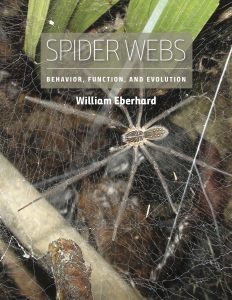 Spider Webs: Behavior, Function, and Evolution
By: William Eberhard
Hardback | November 2020 | £59.99
All prices correct at the time of this article's publication.